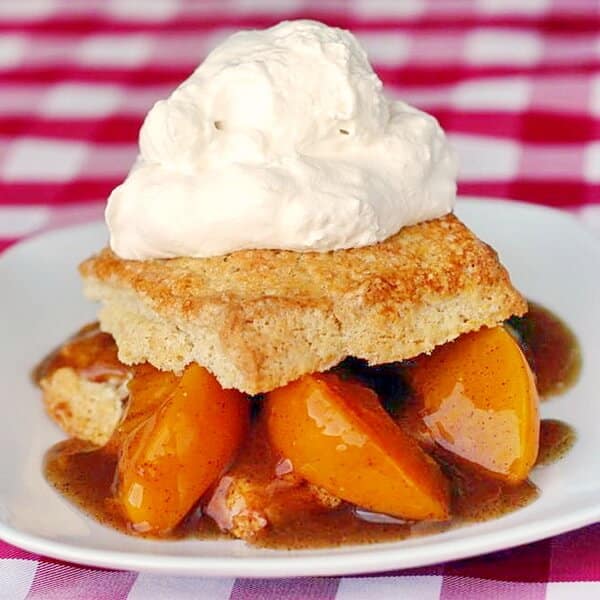 Easy Peach Shortcakes
Unable to find fresh peaches to grill one day this past week, I resorted to an old standby recipe using canned peaches. Another great barbeque dessert that will have to do until some good peaches show up in the local markets.
Shortcake Biscuits:
In a food processor, combine:
1 ¾ cups flour
½ cup sugar
2 tsp baking powder
Cut in:
½ cup very cold butter cut in cubes
Pulse process until this mixture resembles a coarse meal. It is very important that pea sized pieces of butter remain in this mixture. Transfer from processor to a large bowl.
Mix together:
2 tsp vanilla extract
2 tbsp lemon juice
½ cup milk
Pour over the dry ingredients and toss together lightly just until a soft dough forms. Do not over mix. Drop the dough in rounded tablespoons onto a parchment lined or silicone lined baking sheet about 2-3 inches apart leaving room for them to spread as they bake. Bake in a preheated 375 degree oven for 12-15 minutes or until evenly golden brown. Makes 1 dozen.
Peach Compote:
One 28 ounce can sliced peaches in light syrup
½ cup brown sugar
1 tsp cinnamon
½ cup water
Bring to a gentle simmer and then thicken the compote with a cornstarch slurry of
2 tbsp corn starch dissolved in 2 ounces water
Simmer for an additional minute and allow to cool thoroughly.
Split the biscuits in half, spoon on some peach compote and serve with vanilla whipped cream.
Vanilla Whipped Cream
2 cups whipping cream
2 tsp vanilla extract
4 tbsp icing sugar (powdered sugar)
Beat all together until firm peaks form.