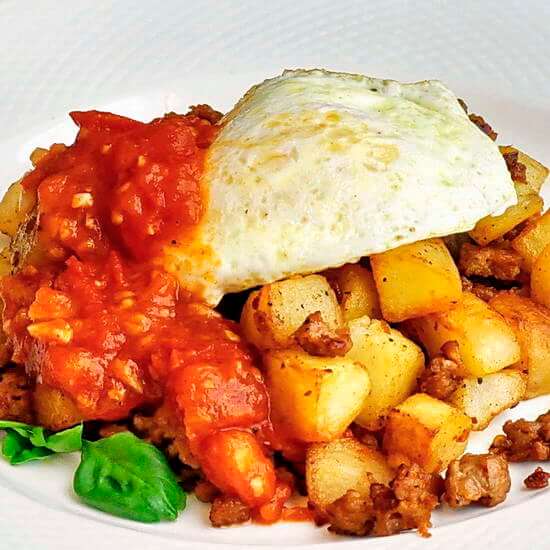 Italian Sausage Hash with Quick Tomato Compote
It's never too early to start thinking about a delicious, satisfying weekend brunch and I have to admit that I have been indulging in variations of this particular idea for the last few weeks. Drawing on the fried tomatoes that so often accompany a full English style breakfast for inspiration, I came up with this quick and easy Tomato Compote that goes so well with all of the components of this brunch dish and helps to pull the whole thing together. I really enjoy poached or over-easy fried eggs on top of this brunch but if you are not fond of runny yolks, over-hard or scrambled eggs will work well too. The compote doesn't take long at all and is easily accomplished in the time it takes to fry the hash browns
Serves 4
Quick Tomato Compote
2 cloves minced garlic
3 tbsp olive oil
4 large ripe tomatoes diced
1 tbsp brown sugar
3 tbsp balsamic vinegar
salt and pepper to season
Saute the garlic in the oil over medium heat for just a minute before adding the tomatoes, brown sugar, salt, pepper. Continue to cook until the tomatoes soften and the compote reduces to a jam-like consistency. Add the balsamic vinegar in the final minute or two of cooking before serving.


Italian Sausage Hash
4 large potatoes, peeled, washed and diced
3 tbsp butter
3 tbsp olive oil
salt and pepper to season

Heat the oil and butter over medium heat and add the potatoes. Season with salt and pepper And cook until golden brown. In the last couple of minutes of cooking time add:

2 cloves minced garlic
1/4 cup minced red onion

Cook just until the onions and garlic have softened before removing the hash browns from the pan and setting aside for a few minutes.
To the pan add:

12 ounces loose Italian Sausage meat (if you can't find loose sausage meat, just buy sausage links and remove the casings)

Break up the sausage meat into small pieces while cooking and when fully cooked add:
3 tbsp hot sauce (more or less to taste)
Return the hash browns to the pan and toss together with the cooked sausage. Serve with a fried or poached egg on top along with the Quick Tomato Compote.