Is it an Apple Crisp or an Apple Crumble? And does it really matter? Get our 5 Top Tips for a perfect apple crumble along with an incredible old fashioned style recipe.



Originally published October 2014.
Maybe I've watched too many British cooking shows where they always say Apple Crumble but Google tells me that Apple Crisp is searched about 4 times more often. It doesn't really matter what you call it, it's the flavour that counts.
A very good place to start in talking about back to basics in dessert recipes, is the humble Apple Crisp…or is it Apple Crumble?
It's Thanksgiving Day here in Canada and I don't think we are as bound to the idea of "Thanksgiving Pie" as our US neighbours to the south. However you'll still find quite a few examples of favourite pies on the holiday feast tables here too.
Inevitably though, there will be a time when it happens to all of us. When plans get interrupted, or time just didn't allow those homemade pies to happen.
This is when something like a simple but amazing apple crumble comes to the rescue at any time of the year.
Apple favourites.
It doesn't take long, looking around this website to know that I am very fond of working with apples in the kitchen. Apple desserts are among many of my favourites.
Rock Recipes even have a dedicated Apple Board on Pinterest with links to everything from Apple Braised Pulled Pork to Sticky Toffee Apple Cake.
While I love all fruit crumbles without exception, the joy of a simple but perfect Apple Crumble is what I enjoy most.
Apple Crumble is the absolute ideal fall harvest dessert in my opinion. With the bounty of the fall harvest in the markets and plenty of beautiful apples varieties to choose from.
Turning them into a wholesome comfort food dessert could not put them to better use.
So don't feel guilty if those Thanksgiving pies never happened. You can still have this spectacular Fall harvest dessert in the oven in 20 minutes or so.
Absolutely nobody is going to object once they experience it's wholesome delicious taste.
The keys to the best apple crumble.
Without a doubt, BUTTER! Real dairy butter. No exceptions. When a recipe uses just a few quality ingredients, corner cutting becomes less and less of an option. Nothing is going to replace the buttery flavour in this recipe and nothing is going to provide the crisp texture of a great crumble like butter. My crumble has to have enough butter to hold it together like cookie dough before baking. Dry, dusty crumbles just do not compare.

Fresh crisp apples. If you have apples on hand that need to used up quickly, make applesauce…use only crisp apples at their peak like the Golden Delicious variety in this recipe. Softer apples like Macintosh, disintegrate to mushy applesauce in the baking time and while the flavour will be there, the texture of having a little bite to the apple will not and will be missed.

Don't over sweeten the apples. Many a great crumble has been ruined by too sweet a fruit layer. Taste the apples and determine if they might need a little more sugar than called for in the recipe but always err on the low side of the sugar amount; better to risk a slightly tart apple layer than to lose their flavour altogether to overwhelming sweetness.

Always include rolled oats.

A great fruit harvest crumble includes rolled oats. The wholesome nutty flavour is just irreplaceable. Rolled oats just have to be in my fruit crumbles, and they have to be plain large rolled oats in my opinion. When you look at the photos of this crumble you can easily identify the rolled oats in it, which I think adds to the homey appeal. Quick oats, minute oats or instant oats can be steamed, cooked, processed and chopped and are just not the same. They can also interfere with the texture of the crumble, so stick with plain rolled oats for best results.

My best secret for the crispiest apple crumble is to take particular care when adding the crumble on top of the fruit. It may seem a little fussy to press the crumble dough into balls and break off small pieces to drop them individually over the surface of the fruit, but this allows for good air circulation when the crumble hits the hot oven. The result are perfectly formed little crispy pieces of crumble that are almost like nuggets of oatmeal cookie. This method ensures a perfectly delicious crunchy texture and actually accentuates the crumble's buttery flavour. It's definitely worth the extra couple of minutes to do it right.
Looking for more holiday dessert inspiration?
If you are a big pie lover like me, be sure to check our collection of Rock Recipes Best Pies.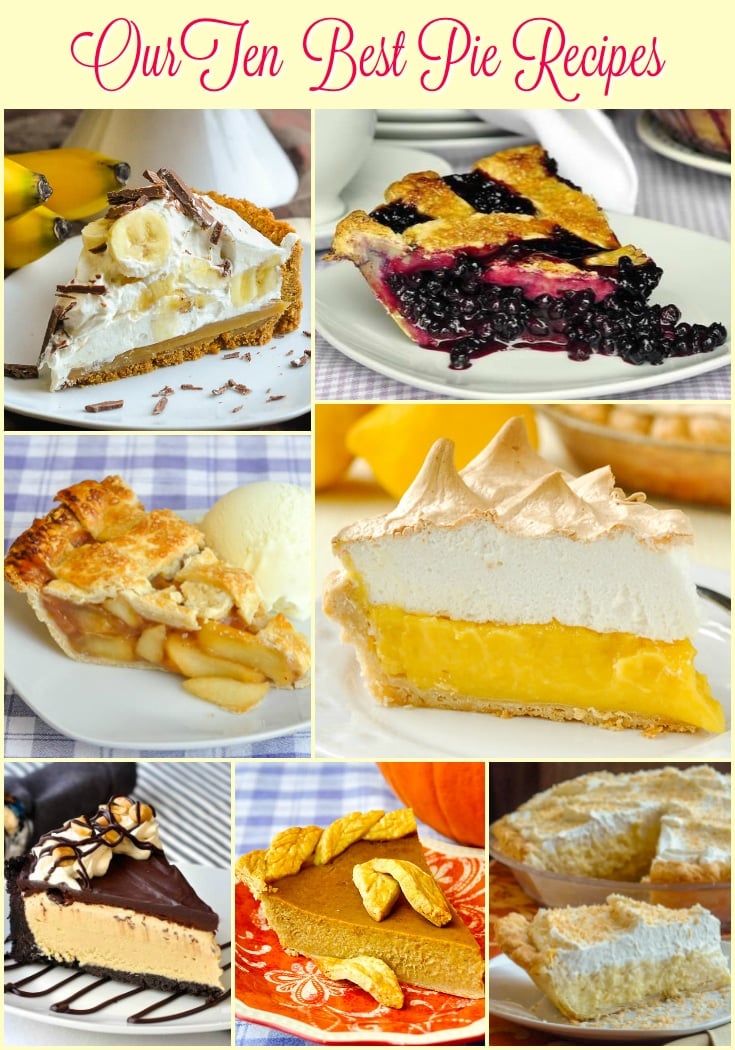 Like this Apple Crisp recipe?
You'll find hundreds of other sweet ideas in our Cakes & Pies Category and even more in our Desserts Category.
To keep up with the latest home style cooking & baking ideas from Rock Recipes plus daily recipe suggestions from decadent desserts to quick delicious weekday meals, be sure to follow Rock Recipes Facebook Page and follow us on Instagram.
You can also sign up for our FREE newsletter to know immediately when we add new recipes. You'll also get weekly suggestions for great family friendly meals and desserts too!

Rock Recipes a participant in the Amazon Services LLC Associates Program. An affiliate advertising program designed to provide a means for us to earn fees by linking to Amazon.com and affiliated sites. Our product recommendations are almost exclusively for those we currently use or have used in the past.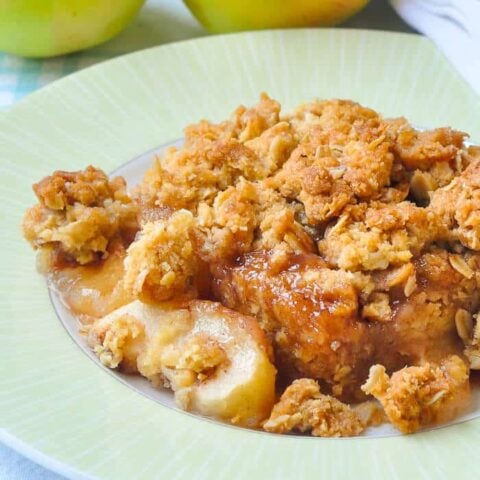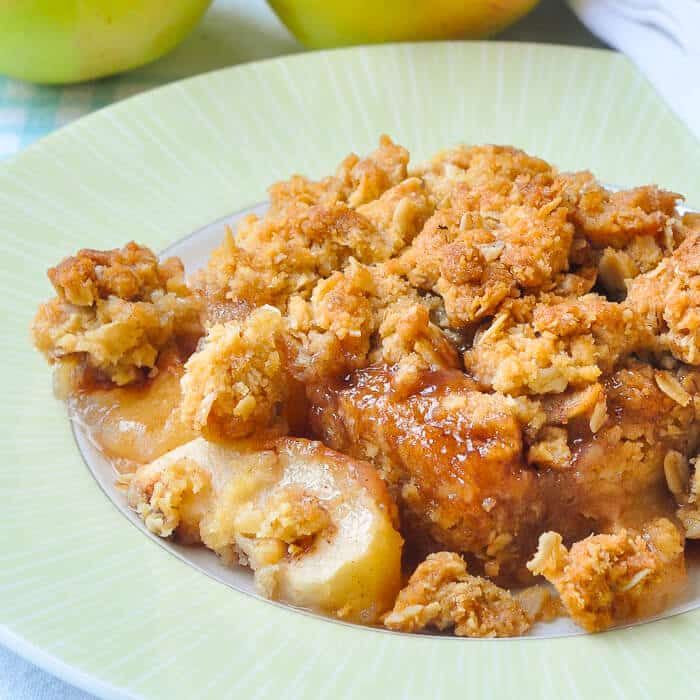 Yield:

9 servings
Apple Crisp
Total Time:
1 hour
10 minutes
Is it an Apple Crisp or an Apple Crumble?...and does it really matter? Follow my 5 TIPS FOR A PERFECT APPLE CRUMBLE and you will get rave reviews for this simple, homey, comfort food dessert every time.
Ingredients
For the fruit layer
8 small to medium sized apples
⅓ cup white sugar
2 tsp corn starch
½ tsp cinnamon
½ tsp nutmeg
1 tsp vanilla extract
3 tbsp melted butter
For the crumble layer
1 cup all purpose flour, or whole wheat flour
1 cup large rolled oats
½ cup brown sugar
1 tsp baking powder
¾ cup cold butter, cut in small cubes
Instructions
To prepare the apple layer
Peel, core and cut the apples into thick wedges.
Mix together the sugar, corn starch, cinnamon and nutmeg until well combined then toss together with the apples.
Stir together the melted butter and vanilla extract. Pour over the apples and once again, toss together well.
Transfer the prepared apples to an ungreased 8x8 glass baking dish or one of similar size. I sometimes use a deep dish pie pan.
To prepare the oatmeal crumble top
Preheat oven to 350 degrees F.
Mix together the flour, baking powder, brown sugar and rolled oats. Rub this together with your hands to break up any lumps in the brown sugar.
Add the cubes of cold butter and start pinching them together with your fingertips and incorporating them into the dry ingredients until the mixture forms a a ball like cookie dough.
Press small handfuls of the dough into balls, then break off small pieces of the dough, about the size of the top of your thumb, and scatter them evenly all over the surface of the prepared apple layer. Do not press them down at all. They will settle naturally as the crumble bakes. This is key to getting a crispy crumble.
Bake in the preheated oven for about 45 minutes. The apple layer should be bubbling and the surface of the crumble should be an even medium golden brown. If you are using a shallower, slightly larger baking pan like a 9x9, watch it closely, the crumble may be done in 5 or 10 minutes less time.
Nutrition Information
Yield
9
Serving Size
1/9 of recipe
Amount Per Serving
Unsaturated Fat

0g