Bakeapple Jam. Known elsewhere as Cloudberry Jam, this uniquely flavoured Newfoundland berry makes the most prized and coveted jam in only 2 ingredients.
As I recently said when I posted a recipe for Easy Dulce de Leche, I am sometimes remiss in posting very simple recipe ideas. This one is another good example of that.
Bakeapples are what locals here call what are known as cloudberries in other parts of the Northern Hemisphere, including Scandinavia. First appearing as bright red raspberry look-alikes, they ripen into a golden amber color.
They have a sweet, slightly tart flavour that has hints of orange and apricot and is absolutely delicious.
Bakeapple Jam is the very simplest of recipes. It is basically only the berries and sugar.
What I fail to realize sometimes though, is that there is always a first time that folks make anything, including this jam. Without guidance you won't know how much sugar or how long to cook it.
I am very comfortable with winging it when it comes to things like this, but not everyone is. I inevitably get emails and messages asking for advice.
Such was the case again recently when I posted a photo on social media of a selection of Newfoundland Jam Tarts. I immediately began getting questions about the jams used in the photo.
I did have recipes for Blueberry Jam and Partridgeberry Jam added to the site, but after almost 13 years online, no Bakeapple Jam.
I also then realized if I wanted to post a recipe for the tarts specifically, I would need to reference a recipe for all of the jams.
So, to that end, I've decided to add it here today. I do use it in other recipes sometimes, like jam turnovers or everyone's favourite Bakeapple Cheesecake.
The best way to make bakeapple jam.
The other reason for posting this simple recipe, is that there is not all that much to be found online about making bakeapple jam.
Some of what is out there is quite non-traditional. I have never used pectin in bakeapple jam, for example, not ever felt the need to.
Still other versions, are frankly undercooked and not properly bottled. If any recipe suggests not properly water processing jam bottles, I would NOT follow that suggestion.
Food safety is of the utmost importance and if you are going to make homemade preserves and jams, it is your responsibility to do it properly and safely.
One of the best places to find this information is from the jar manufacturers themselves. I have recommended the Bernardin website many times over the years for their clear, concise information outlining proper safe procedures for bottling/canning jam.
I recommend reading all of the sections of their How-To Guide including the step by step instructions.
Recipes that call for cooking the berries for mere minutes is also not a good call, in my opinion. The berries do need time to stew and soften and for the sugar to penetrate the berries.
I have no objection to anyone adjusting the sugar amount to their personal taste. That isn't an issue.
Undercooking the berries though, leaves them far too tart in my opinion and sort of raw tasing too. I just find it unpleasant and a waste of good berries.
Properly cooked jam should have a translucent, jewel-like depth. For me that is always the mark of a properly cooked jam.
Bakeapple jam, so good in so many ways.
Of course, nothing beats bakeapple jam on your morning toast, or with clotted cream on a fresh from the oven scone or biscuit.
Another favourite of mine is to swirl it through plain yogurt at breakfast or as a snack. I do that with all of my homemade jams.
That's a great idea because plain yogurt is cheaper first of all and you can control the amount of sugar in your jam. That amount is likely much lower than the fruit mixture they add to commercial, single serve yogurt.
Once you start using low sugar, real fruit jams in your yogurt, you won't go back to the store bought fruit yogurt.
On a sadder note, one of my beautiful bottles of jam suffered a terrible fate, as it was being added to the canning pot. Having to throw out something as good as this would bring a tear to a glass eye!
If you'd like to see more traditionally inspired recipes from our province, please check out this collection on some of our Most Popular Newfoundland recipes.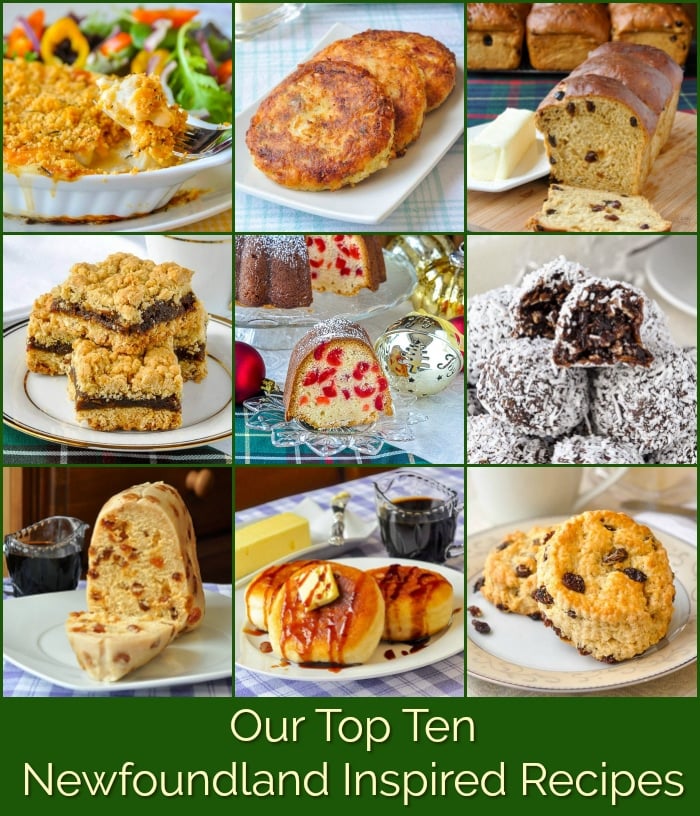 Like this Bakeapple Jam recipe?
You'll find many more traditional and Newfoundland inspired recipes in our Newfoundland section and even more great dishes in our Fish & Seafood Category
It's easy to keep up with the latest home style cooking & baking ideas from Rock Recipes. Be sure to follow Rock Recipes Facebook Page and follow us on Instagram.
Plus you'll see daily recipe suggestions from decadent desserts to quick delicious weekday meals too.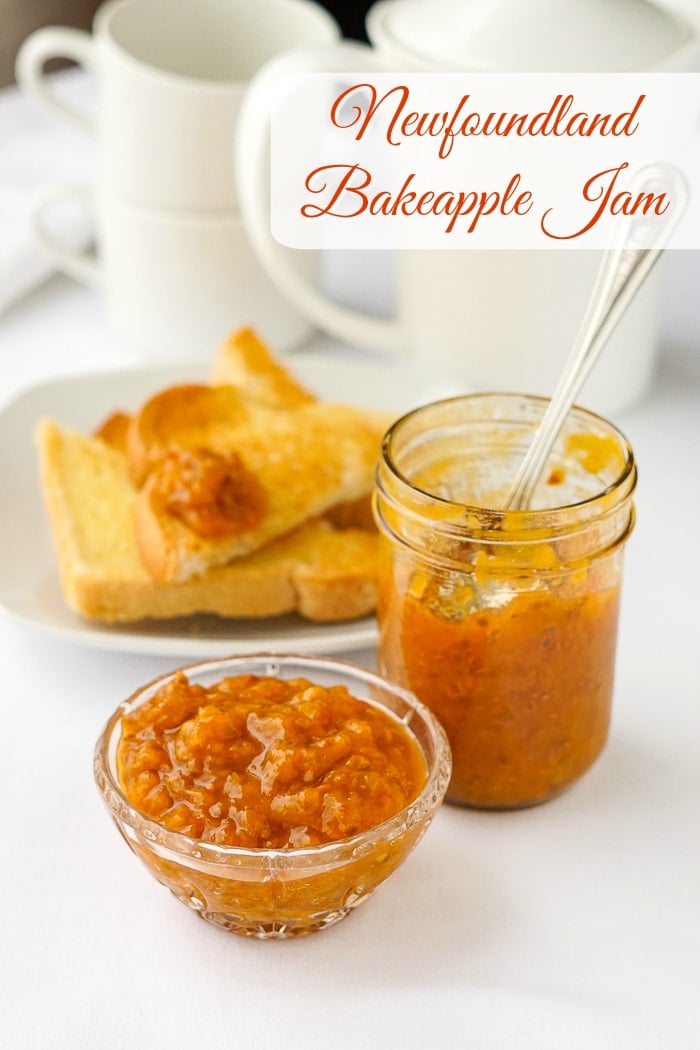 You can also sign up for our FREE newsletter to know immediately when we add new recipes. You'll also get weekly suggestions for great family friendly meals and desserts too!

Rock Recipes a participant in the Amazon Services LLC Associates Program, an affiliate advertising program designed to provide a means for us to earn fees by linking to Amazon.com and affiliated sites. Our product recommendations are almost exclusively for those we currently use or have used in the past.
Visit my Amazon Store for my favourite kitchen gadgets and appliances, plus recommendations from my personal cookbook collection.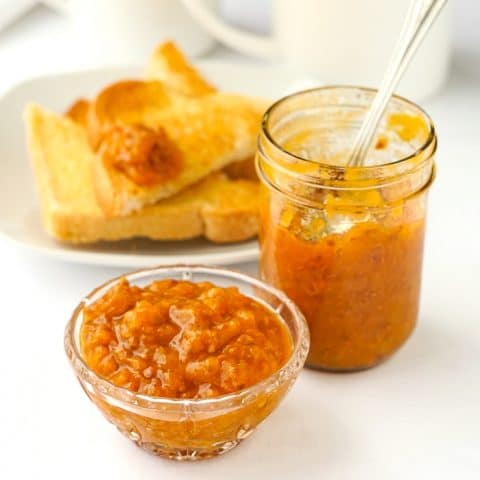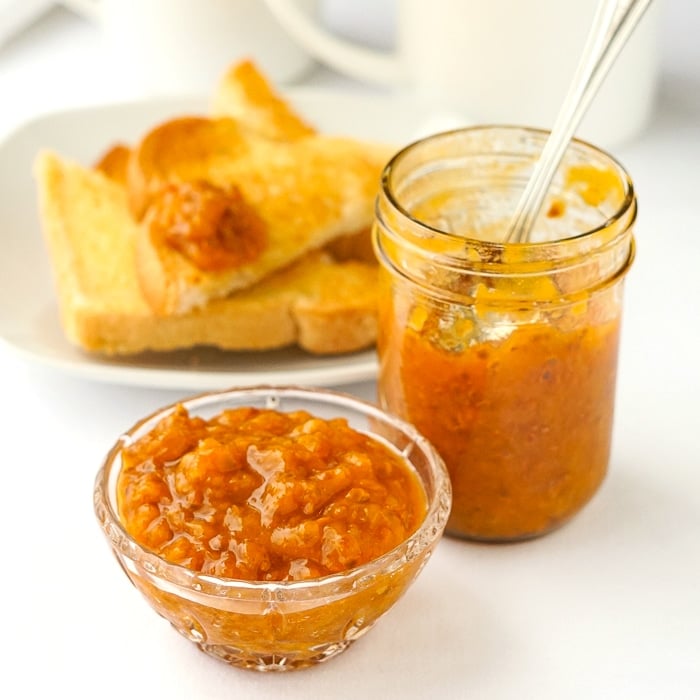 Yield:

3 cups (approximately) (1 Tbsp serving)
Bakeapple Jam
Bakeapple Jam. Known elsewhere as Cloudberry Jam, this uniquely flavoured Newfoundland berry makes the most prized and coveted jam in only 2 ingredients.
Ingredients
4 cups Bakeapples (cloudberries)
3/4 cup sugar (more or less to taste)
a few tbsp water (if necessary)
Instructions
Add all of the ingredients to a medium sized pot. I find that a few tablespoons of water added to the pot, does help to break down the berries a little faster and possibly prevent burning during the early cooking process. Frozen berries are less likely to need this but I tend to add it all the time. It does no harm in either case.
Slowly bring the pot to a gentle simmer over low to medium-low heat, stirring occasionally, about every 5 minutes, so as to prevent scorching the jam on the bottom of the pot.
The more berries you use, the longer it should cook in general. Cook a small batch like this for about a half hour, or until the berries have softened completely and most of the liquid has boiled off, leaving an easily spoonable jam. The jam will thicken slightly as it cools as well.
Sterilize your mason jars and lids and water process the jam as directed in this canning guide.
Store in a cool place for months afterward. Although, I can't see it lasting that long!
Notes
If you want to decrease the sugar, start with a half cup and taste the jam after about 15 minutes cooking to see if it is sweet enough to your taste. More sugar can be added at this point if necessary.
Nutrition Information
Yield
50
Serving Size
1
Amount Per Serving
Calories

12
Total Fat

0g
Saturated Fat

0g
Trans Fat

0g
Unsaturated Fat

0g
Cholesterol

0mg
Sodium

0mg
Carbohydrates

3g
Fiber

0g
Sugar

3g
Protein

0g
The nutritional information provided is automatically calculated by third party software and is meant as a guideline only. Exact accuracy is not guaranteed. For recipes where all ingredients may not be used entirely, such as those with coatings on meats, or with sauces or dressings for example, calorie & nutritional values per serving will likely be somewhat lower than indicated.