Blueberry Barbecue Pulled Pork. A deliciously different version of pulled pork that you can cook in the oven or in an outdoor barbecue or smoker for even more flavour.
I can't imagine how many times I have tried pulled pork in my travels. It really is one of our family's favourite barbecue foods, especially my son 13 year old Noah who orders it almost every time he sees it on a menu. Last summer we embarked on a southern road trip through some amazing barbecue territory in Tennessee, Louisiana, Alabama, Florida, South Carolina and Georgia. I'm not even going to try and attempt to name my favourite pulled pork destination. They all do it a little differently and they all do it very well.
So, with all that delicious southern pulled pork experience I had to experiment with creating a local twist on the dish, way up here in the great white north. With the recent delicious success of our Blueberry Barbecue Sauce using wild local Newfoundland blueberries, it was, in my mind anyway, a natural marriage of northern and southern flavours and it certainly did not disappoint.
My only mistake was not making more at the time because we all wanted even more the next day. I served it on toasted artisan bread from our neighbourhood Georgestown Bakery as fantastic sandwiches. Next time I will be serving it with some great cornbread and Bacon and Brown Sugar Baked Beans for another southern feast. Can't wait for that one!
Find the Blueberry BBQ Sauce recipe that's mentioned in the recipe here.
Like this Pulled Pork recipe?
You'll find hundreds of other great ideas in our Beef Recipes Category and even more in our BBQ & Grilling Category.
To keep up with the latest home style cooking & baking ideas from Rock Recipes plus daily recipe suggestions from decadent desserts to quick delicious weekday meals, be sure to follow Rock Recipes Facebook Page and follow us on Instagram.
You might also like: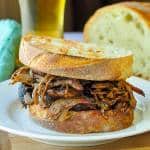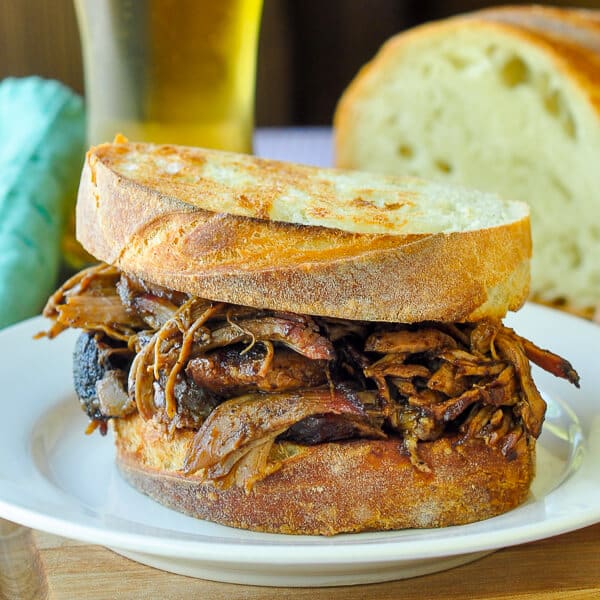 Blueberry Barbecue Pulled Pork
Blueberry Barbecue Pulled Pork - a deliciously different version of pulled pork that you can make in the oven or cook in an outdoor smoker for even more flavour.
Ingredients
7-8

lb

pork shoulder roast or larger
For the dry rub
1

tbsp

paprika

2

tsp

smoked paprika

1

tbsp

kosher salt

1

tsp

powdered ginger

1

tsp

chipotle powder

1

tsp

black pepper

1

tsp

ground nutmeg

1

tsp

ground thyme

2

tsp

dry mustard powder

2

tsp

garlic powder

1

tbsp

onion powder

1/2

tsp

ground cumin

1/2

tsp

cinnamon
To add to the roasting pan (mix together well):
1

medium sized onion chopped

4

medium sized firm apples peeled and chunked

4

cloves

minced garlic

½

cup

apple cider vinegar

½

cup

brown sugar

¼

cup

Worcestershire sauce

6

tablespoons

hot sauce

adjust to taste

1 ½

tsp

salt

1

tsp

freshly ground black pepper

1 1/2

cups

apple juice

2

cups

Blueberry Barbeque Sauce

<a href="https://www.rockrecipes.com/blueberry-barbecue-sauce/"><span style="color: #ff0000;"><strong>Find that recipe here</strong></span></a>.
Instructions
Begin by mixing together all of the ingredients for the dry rub well.

Rub all over the surface of the roast, cover and let sit in the refrigerator for several hours or overnight.

There are two ways to approach beginning to cook the pork. A stove top method and a BBQ smoking method. I of course prefer the smoked version but in the winter months, I will be using the stove top method.

OVEN METHOD

Heat 4 tbsp oil in a large heavy bottomed skillet over medium heat and brown the roast lightly on all sides. Transfer the roast to a covered roasting pan.

BBQ METHOD

If you are using your gas grill to barbeque, place the meat on one side of the grill and use the burner or burners on the opposite side so that it is not directly over heat. Regulate the gas to keep the temperature at about 250 for slow barbequed flavor. The same technique can also be used with a charcoal grill, just keep the charcoal on one side and the meat on the opposite side.

You can add smoke flavor by soaking hardwood chips like mesquite, apple, cherry or hickory in warm water for about a half hour. A couple of handfuls will do. Wrap the soaked wood chips in a double layer of heavy duty aluminum foil and poke only two holes in the foil, one at either end to allow the smoke to escape. I place the foil packets in a vegetable grill pan so that the packet is not sitting directly on the gas burner. The packet can be directly placed on the coals if you are using a charcoal barbeque. Smoke for only a only an hour or so, you don't want to heavily smoke the pork too much in this particular recipe. After an hour, transfer the roast to a covered roasting pan.

To the roasting pan, along with the roast, add all of the ingredients mentioned above.

Cover with aluminum foil then the lid of the roasting pan. Roast in a 300 degree oven for several hours ( approximately 4-5) until the meat is very tender and falling off the bone.

Remove the braising liquid to a saucepan, skim all the excess fat and reduce the liquid if necessary until it slightly thickens. At this point you can puree the sauce with an immersion blender or in a food processor to smooth it out and incorporate the cooked onions and apples. Serve over the pulled pork, tossing it well to completely coat the pieces of meat..
Recipe Notes
If you are smoking the pulled pork, you can just use the blueberry barbecue sauce in the recipe link provided, or you can add all of the ingredients that you would add to the roasting pan for the oven method to a separate saucepan and simmer until the apples and onions are very soft and the mixture is well reduced. You can then puree the mixture to make the sauce in which you toss the pulled pork .
[asa2]1550816551[/asa2][asa2 country_code="CA"]1550816128[/asa2][asa2]1550815555[/asa2]
Rock Recipes a participant in the Amazon Services LLC Associates Program, an affiliate advertising program designed to provide a means for us to earn fees by linking to Amazon.com and affiliated sites. Our product recommendations are almost exclusively for those we currently use or have used in the past.