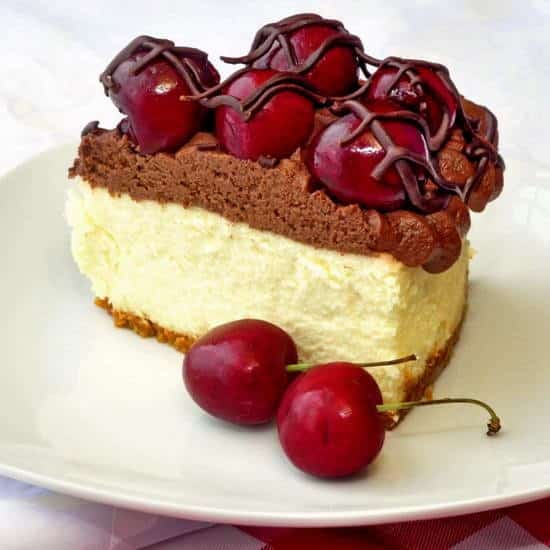 This experimental little cheesecake taste and calorie "bomb" was the result of a frozen leftover cheesecake that needed a little dressing up. The concept of an entire "leftover" cheesecake may be a little strange to most readers but the truth is that I made ten White Chocolate Cheesecakes the day before Christmas Eve to give to friends as gifts and one did not make it to it's intended destination, so I wrapped it well and put it in the freezer. The result of that action demonstrated to me how well that particular cheesecake recipe actually does freeze. Taste and texture wise, it was practically indistinguishable from a freshly baked cheesecake.
So when a group of friends was dropping by for a visit this past weekend, I freed my cheesecake from it's frozen prison, let it thaw, then topped it with a shortcut version of chocolate mousse, some fresh sweet pitted cherries and a drizzle of chocolate ganache. It was amazing and my guests just raved about it.
I think this version will make it to the top of my dessert pot-luck list because it is so delicious and is utterly drool inducing to look at. Raspberries instead of cherries would also be excellent, I'm sure. I'll definitely be making two of those White Chocolate Cheesecakes next time just to keep one in the freezer when I need a dessert at short notice too; now that I know how well that works. The recipe for the shortcut chocolate mousse topping follows. Find the original recipe for the White Chocolate Cheesecake here:
http://rockrecipes.blogspot.com/2009/12/white-chocolate-cheesecake-with.html
Shortcut Chocolate Mousse
Heat to scalding but not boiling:
1/2 cup whipping cream
In a small glass bowl, pour the hot cream over
8 ounces dark chocolate chips
Set aside for 5 minutes, then stir until smooth. All ow to cool to lukewarm if the mixture is very hot. You can reserve a little of this ganache to crizzle over the cheesecake at the end if you like. ( A few seconds in the microwave should melt it enough to drizzle if it solidifies.)
Whip to firm peaks
1 1/2 cups whipping cream
1 tsp vanilla extract
1/2 cup icing sugar (NOT regular granulated sugar)
Using a rubber spatula, gently fold the chocolate into the whipped cream. Chill for a couple of hours or until firm before piping it on top of the White Chocolate Cheesecake. Top with
1 pint fresh pitted cherries
Drizzle with chocolate ganache or chocolate curls.