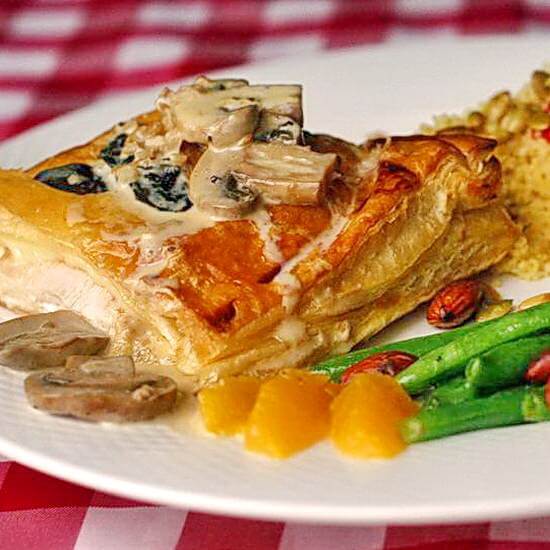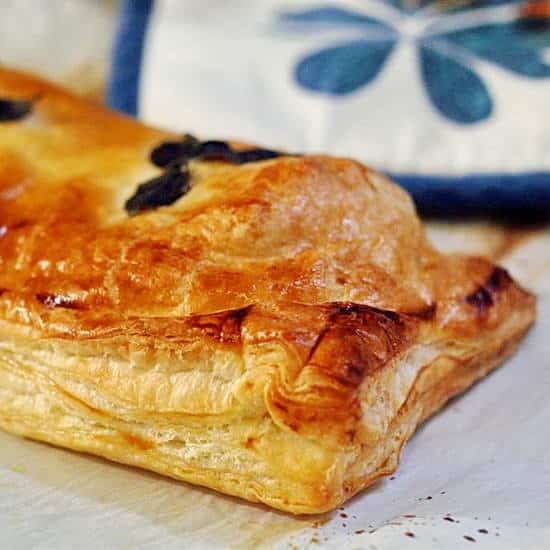 Serves 6
3 tbsp olive oil
4 cloves chopped garlic
6 boneless skinless chicken breasts
1 pound package of frozen puff pastry
8 tbsp chopped fresh oregano
1/3 cup freshly grated parmesan
6 ounces part skim mozzarella cheese
1 egg + 1 tbsp water beaten for egg wash
½ cup chopped mushrooms
1/3 cup chicken stock
¼ cup white wine
½ tsp ground cumin
Salt and pepper to season
½ cup whipping cream
Heat olive oil over medium heat and pan fry the chicken breasts. Toss in chopped garlic during the second half of the cooking time. Season with salt and pepper. Be careful not to overcook the chicken.
Remove chicken from the pan and cool slightly.
For the Mushroom Sauce:
Deglaze the pan with the white wine. Add the chicken stock and cumin and reduce the liquid to half over medium heat. Add the mushrooms and simmer for an additional 2 minutes before adding the whipping cream and simmer until sauce thickens slightly, enough to thinly coat a metal spoon.
Lay out 2 ten inch squares of the frozen puff pastry on a parchment lined baking sheet. Lay three chicken breasts on one side of each piece of pastry. Sprinkle on the chopped oregano, then the cheeses. Brush the edges of the pastry with the egg wash. Fold the other half of the pastry over th filling pressing the edges of the dough together slightly to seal. Place in the fridge for about 20 minutes to cool the pastry down. Puff pastry bakes best when coming from a cold fridge into a very hot oven. Pop the cold baking sheet into a preheated 425 degree F oven for 20- 25 minutes or until the pastry puffs up and is evenly dark golden brown all over. Allow to rest for 10 minutes before slicing into individual servings. Top with the mushroom sauce and serve.
Pictured with Orange Ginger Couscous and Chile Buttered Green Beans and Almonds.