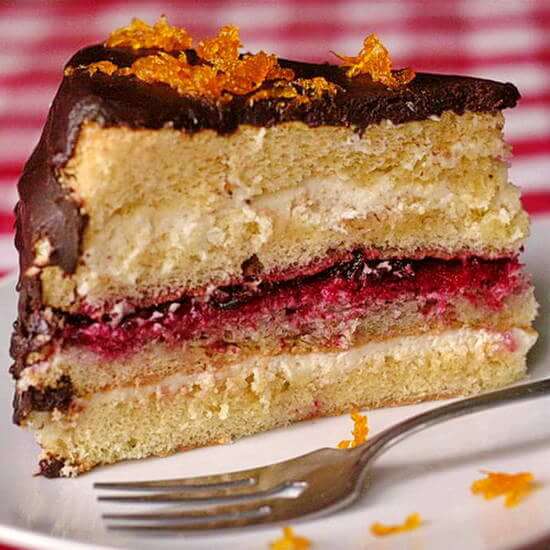 This is a real kitchen sink recipe that resulted from the leftovers from a couple of days of baking. In my fridge were a pot of chocolate ganache, some orange syrup, candied orange zest, cream cheese mousse and partridgeberry jam. I whipped up a quick Victoria Sponge Cake, threw it all together and sent it to the staff at my kids school for a recess treat.
6 eggs separated, room temperature
1 cup sugar
½ tsp lemon flavouring
1 tsp vanilla extract
Sift together:
1 cup flour
1 tsp baking powder
Beat egg yolks and ½ cup sugar until foamy and thickened.
Beat egg whites until foamy. Add ½ cup sugar gradually until eggs are stiff. Slowly and gradually fold in flour and baking powder until almost completely incorporated into the egg whites. Fold beaten egg yolks into batter along with flavourings until well blended but do not over mix.
Pour into greased and parchment lined 9 inch round cake pans and bake at 325 degrees F for 25-30 minutes or until center springs back when touched. Cool completely and cut each layer in half horizontally.
Orange Syrup
Boil gently for about 10 minutes
Juice and zest of 1 orange
1/4 cup water
1/2 cup sugar
Strain through a sieve and set aside to cool. You can reserve the candied orange zest to garnish the cake. Just spread it out on some paper towels and let it dry.
Partrideberry Jam
You can use store bought or you can easily make your own simply by boiling together for about 20 minutes:
1 ½ cups partridgeberries
¾ cup sugar
1/8 cup water
Cream Cheese Filling
4 ounces cream cheese
1/3 cup sifted icing sugar
½ cup whipping cream
½ tsp vanilla extract
¾ cup sifted icing sugar
1 tablespoon Grand Marnier, brandy or rum (optional)
Whip cream to soft peaks with 1/3 cup icing sugar. Add cream cheese slowly, beating continuously. Add 3/4 cup sifted icing sugar beating well. Add vanilla and Grand Marnier and beat until smooth. Keep filling chilled until ready to use.
Chocolate Ganache
1 pound package semi-sweet chocolate chips
¾ cup scalded whipping cream
Heat gently over boiling water until smooth with absolutely no lumps.
Cover the entire cake with chocolate ganache that you can pour or spread over the entire cake. Decorate and garnish as desired.
To assemble the cake
, split the Victoria Sponge into four layers. Brush each of the layers with the orange syrup. Fill with alternating layers of cream cheese filling and partridgeberry jam. Cover the entire cake with the chocolate ganache and garnish with candied orange zest if desired.