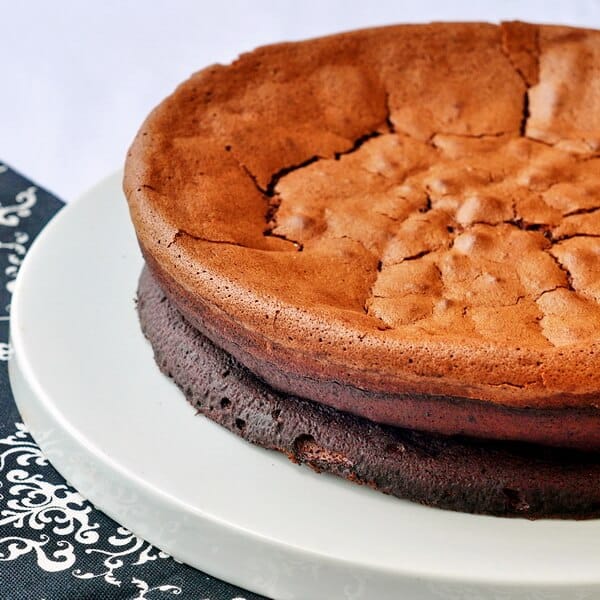 Gluten Free Chocolate Souffle Cake
Today's recipe is a study in pure chocolate indulgence. Calorie counters should run screaming from this amazing chocolate cake. I hadn't made this one in a while and was happily reminded of just how delicious it is when I made it for a dinner party a couple of nights ago. It is a flourless cake and therefore one that I make for friends with gluten allergies but that doesn't mean that it is, by any measure, inferior to a normal chocolate cake. Many folks will actually prefer this one for the deep rich chocolate flavour and the absolute melt-in-your mouth texture.
A note on baking this cake. It will rise like a souffle and you will be able to use the toothpick test to see if it is fully baked but it will fall and shrink as it cools. Don't freak out, this is perfectly okay and to be expected.
The cake is pictured below with sliced strawberries that have been mascerated in just a few tablespoons of sugar and some vanilla whipped cream. For an indulgent alternative serving suggestion, click here to see it served as a 2 layer cake served withBailey's Whipped Cream and Caramel Sauce.
We've also featured it topped with a Raspberry Whipped Cream Fool
Chocolate Souffle Cake
1 pound dark chocolate, chopped
1 cup unsalted butter
10 extra large eggs, room temperature
1/2 tsp fine salt
3/4 cup sugar
1 tsp vanilla
½ cup cocoa
Grease two 9 inch cake pans and dust with cocoa.
Melt the butter and chocolate in a double boiler just until melted, set aside to cool almost to room temperature. Stir in the cocoa, vanilla and salt until smooth.
Separate the eggs and beat the whites to soft peaks. Slowly beat in the sugar to form a meringue. Beat the egg yolks and fold into the meringue along with the chocolate mixture. Divide the batter equally into the cake pans and bake at 350 degrees F for about 30 minutes or until a toothpick inserted in the center comes out clean. Cool in the pans for 10-15 minutes before turning the cake out onto a wire rck to cool completely.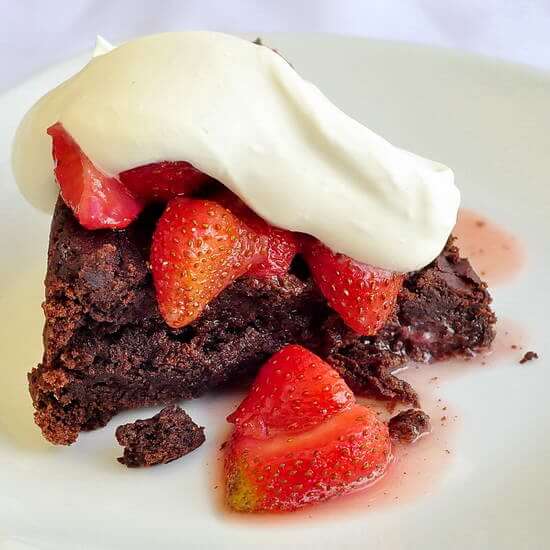 Chocolate Souffle Cake