Ham Omelet Grilled Cheese Sandwich, on Ben's Honey Wheat Bread – a real morning kick-starter breakfast with the wholesome taste of real honey baked into the bread.
There's no doubt that we are a sandwich family. From bacon and egg breakfast sandwiches to a quick grilled cheese lunch, and even a hearty, satisfying club sandwich for dinner, the versatile sandwich often comes to the rescue; especially on those busy days when work and after school commitments leave the whole family most pressed for time. So, when Ben's asked us to try their new Honey Wheat Bread, we were quickly onboard.
This delicious bread is new to Canadian stores, has no artificial colours or flavours, and is only available for a limited time. It features the delicious taste of real Canadian honey baked right in… and you can really taste it too. One of the first things we tried with this bread was French toast with strawberries at a weekend brunch. It was as if this honey kissed bread was actually made for that purpose. It was totally delicious.
The trend toward natural sweeteners instead of refined sugars is on the rise in Canada, so it's lucky that the production of honey is actually on the increase here too. 43,277 tonnes of honey were produced in 2015, an 11.4% increase over the previous year. Those bees aren't called busy for no reason.
The sandwich idea I've posted today is inspired by my own kids who are big fans of anything under the "grilled Cheese" banner. This is a great sandwich idea for weekends, or mornings when you have a few extra minutes. Wrap them in aluminum foil and they even make a convenient meal-on-the-go for early morning practice. My perennially hungry son ate one on his way to guitar class after school just last week.
We had some baked ham left over from a dinner last week that I cut that thin slices and chopped it into smaller pieces. Mixing it straight into the scrambled egg omelet makes the sandwich easier to handle and less messy for the little ones too.
The Ben's Honey Wheat Bread crisped up beautifully to a gorgeous golden brown in the pan, and the flavour of the honey really added a delicious counterpoint to slight saltiness of the ham in the omelet. Give them a try in your family. I'll bet they'll love them too.
Check back soon for other great lunch and dinner sandwich ideas that we'll be featuring using Ben's Honey Wheat Bread in the coming weeks.
For more information on the entire line of Ben's Breads as well as their other baked goods, be sure to visit the Ben's website.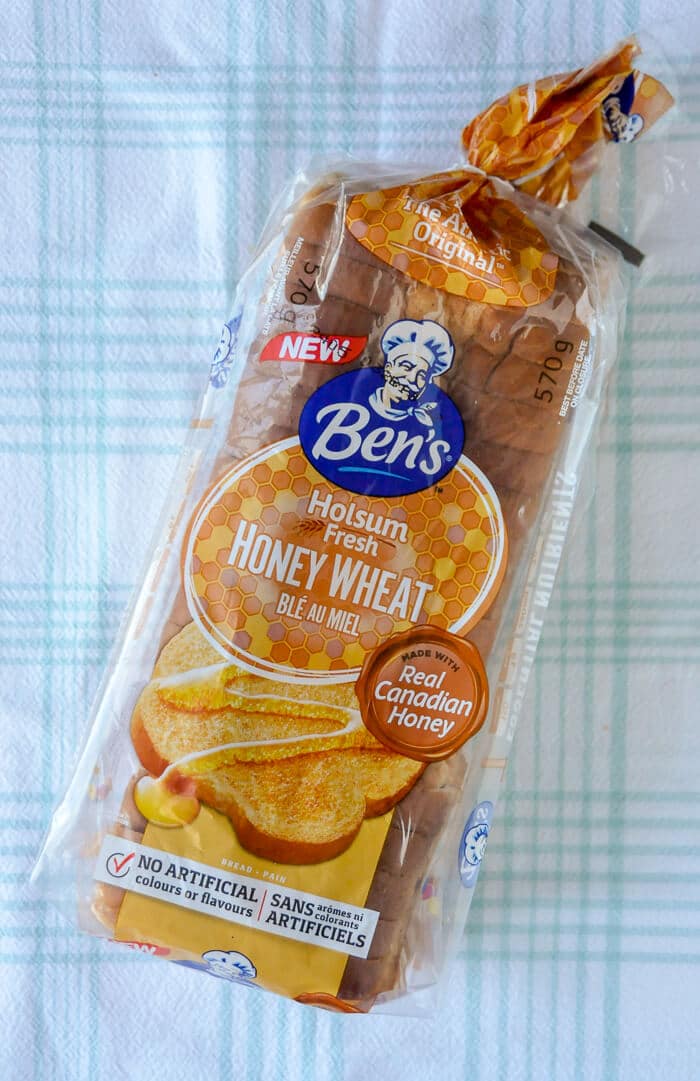 Rock Recipes is very pleased to have Ben's Honey Wheat Bread as sponsor of this recipe post. Both product and compensation were provided in exchange for this recipe post. The opinions expressed are based solely upon my experience and are entirely my own.
Ham Omelet Grilled Cheese Sandwich, on Ben's Honey Wheat Bread
Ham Omelet Grilled Cheese Sandwich, on Ben's Honey Wheat Bread - a real morning kick-starter breakfast with the wholesome taste of real honey baked into the bread.
Ingredients
3

large eggs

2

tablespoons

milk

pinch of salt and pepper

2

ounces

to 3 of thinly sliced ham

chopped

4

slices

cheddar cheese

4

slices

of Ben's Honey Wheat Bread

a little butter
Instructions
Heat a large non-stick skillet over medium heat.

Whisk together the eggs, milk, salt and pepper.

Add a teaspoon or so of butter to the pan, then add the egg mixture.

Sprinkle the ham evenly over the eggs.

As the omelet cooks, begin folding in the edges to form the omelet into a rectangle about the size of 2 slices of the bread.

Flip and cook well on the other side.

Transfer the omelet to a plate and cut it in half. Wipe the pan clean with a paper towel and return it to the heat.

Lightly butter the 4 slices of bread and place 2 slices, butter side down, in the heated pan.

Add a slice of cheese to each piece of bread, followed by half of the ham omelet and another slice of cheese.

Top with the remaining two slices of buttered bread, butter side up.

Cook for only a couple of minutes until the bread is golden brown, then flip and do the same for the second side.

Cut each sandwich in half and serve immediately.