The Best Homemade White Bread. Nothing says home baked comfort food goodness like a perfectly baked crusty loaf of homemade bread, fresh from the oven. This recipe is well over 40 years old and turns put perfectly every time.
When I think of Newfoundland baking, the first thing that comes to mind is homemade bread rising high above large bread pans in 2 or 3 bun loaves. As a child of the 60's and 70's in Newfoundland, it was still the rule rather than the exception to find homemade bread in many homes.
The women in my extended family all still made homemade bread during my childhood. With freezers in most homes by that point, though, daily bread baking was no longer necessary. Still many baked at least once or twice a week.
Debates within the family were common on the topic of who made the best bread and a good deal of pride was taken in the ability to turn out a good batch. (psst…I always liked my moms twin sister, Aunt Moo's (Muriel), the best. 😉
Some senior ladies with large families of 10 or more children have told me numerous stories over the years of baking large batches of 8, 10, 12 or more loaves every day and twice on Saturdays so as to avoid baking on a Sunday. It was hard work back then keeping all of those kids fed. I don't think most would be up to the task these days.
Nan's Homemade White Bread loaves were huge!
The loaves seemed much larger in those days and not just because I was much smaller; I've seen some pretty big bread pans used in my time. I remember it was necessary to trim the side off a slice of Nan Morgan's bread just to get it in her drop down side toaster; the kind that only toasted on one side and you had to turn the slice over to toast the other side.
Coming from a large family myself, the second side was almost never toasted because it would have taken too long to make toast for all of our tribe. I must have been about 10 before I had bread toasted on both sides. LOL!
It is now much more of a rarity to find families who bake bread on a regular basis. I have tried to keep that tradition as part of my own family life and have been baking bread with my own children since they have been able to stand on chairs at the table and knead their own little balls of dough.
They still love making it and my son in particular cannot go more than a few days without his fix of homemade bread and although we try to encourage more whole grain varieties these days, he'd still take plain homemade white bread over any other kind.
Homemade White Bread in smaller batches.
These days we make much smaller batches in much smaller bread pans, usually no more than a couple of loaves at a time. Often, I now prefer to use disposable aluminum loaf pans that make more toaster friendly sized slices. Recently I've acquired some very nice narrower, longer pans that make ideal sized slices. I find it much less likely to over bake your bread in aluminum pans as they do not carry the heat as much as heavier pans.
I received an email request for a good basic homemade bread recipe from a young Newfoundlander living in Alberta who wanted a recipe for "real Newfoundland Homemade bread." I don't know that such a thing definitively exists but I can give you the recipe that I have been using myself with slight evolutions for over 30 years. So go make bread and share it. You're bound to make someone happy.
There is no way to talk about making homemade bread in Newfoundland without mentioning the joys of one of the province's favourites, Toutons! If you've never tried these pan fried pieces of leftover bread dough, you are in for a serious treat. I talk all about Toutons in this post.
Like this Homemade White Bread recipe? 
You'll find many more locally inspired recipes in our Newfoundland Category.

To keep up with the latest home style cooking & baking ideas from Rock Recipes plus daily recipe suggestions from decadent desserts to quick delicious weekday meals, be sure to follow Rock Recipes Facebook Page and follow us on Instagram.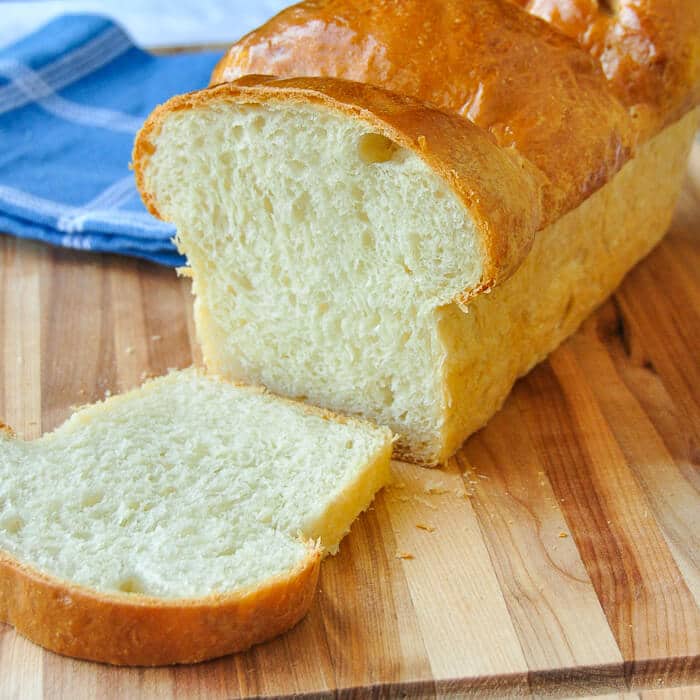 The Best Homemade White Bread
The Best Homemade White Bread - nothing says home baked comfort food goodness like a perfectly baked crusty loaf of homemade bread, fresh from the oven. This recipe is well over 40 years old and turns put perfectly every time.
Servings
:
2
medium sized loaves
Ingredients
6 1/2

cups

(approximately) all purpose or bread flour

1

pkg

5 grams traditional active dry yeast

2

tsp

fine salt

3

tbsp

sugar

3

tbsp

melted butter

2

cups

lukewarm whole milk

1/2

cup

lukewarm water
Instructions
Dissolve 1 tbsp of the sugar in the half cup of lukewarm water. Sprinkle the yeast over the surface of the water and let stand for about 15 minutes until the yeast foams well, then stir it up.If you prefer to use instant yeast, just add it to the flour mixture in the instruction below.

Combine 3 cups of the flour along with 2 tbsp sugar and salt in a large bowl or in the bowl of a large electric mixer that uses a dough hook.

Add the prepared yeast, melted butter and warm milk.

Using a wooden spoon or the regular paddle of your electric mixer mix for 4-5 minutes until the mixture is smooth with no lumps.

If using an electric mixer, switch to the dough hook at this point and begin to slowly incorporate the remaining 3 1/2 cups of flour. If not using an electric mixer keep mixing in the flour gradually until a soft dough forms that leaves the sides of the bowl. (Note: You may need to use a little more flour. Depends on the time of year and humidity sometimes. If you have a to add another 1/2 cup or so, don't worry. Add only enough flour to form a dough that releases from the sides of the bowl and remains slightly tacky but able to be handled with your bare hands.)

Turn the dough out onto the counter top or bread board to knead.

Knead the dough for an additional 10 minutes either in the electric mixer or using your hands on a bread board or counter top.

Cover dough and leave to rest and rise for one hour. Punch the dough down and knead it for a few minutes by hand before letting it rest for another 10 minutes.

Grease 2 medium loaf pans. Divide the dough into 4-6 equal portions. Form each division into a ball. Place 2 or 3 balls of dough in each loaf pan. Cover with a clean tea towel and allow the dough to rise until it is about 2 inches above the rim of the pan, about 2 hours depending on room temperature. (NOTE: At this stage, the bread dough can be cold proofed overnight in the fridge if you want to serve it freshly baked early the next day or just want to save time in advance. Just cover the pans with a clean tea towel. You can spray the surface of the dough with water from a spray bottle to prevent the surface of the dough balls from becoming too dry if you like but this is not really necessary with the humidity in most fridges. Just remove the pans from the fridge in the morning and allow them to finish raising to about 2 inches above the pan rim as shown in the photo above, which could be another 1-2 hours and bake as directed below.)

Bake at 350 degrees F for 30-40 minutes depending on the size of the pans that you are using. The loaves should have a golden crust and sound hollow when tapped to be fully baked.

When baked, turn loaves out onto a wire rack to cool. Brush the tops with melted butter if desired to soften the top crust.
[asa2]1550816551[/asa2][asa2]B0032JRVCG[/asa2][asa2]1550815555[/asa2]
Rock Recipes a participant in the Amazon Services LLC Associates Program, an affiliate advertising program designed to provide a means for us to earn fees by linking to Amazon.com and affiliated sites. Our product recommendations are almost exclusively for those we currently use or have used in the past.