Newfoundland Toutons. The delight of every Newfoundlander, especially served with melting butter & a drizzle of molasses.
Originally published on November 5, 2008
Toutons: Pronounced tout(rhymes with pout)-ens.
All readers from Newfoundland or those have had some connection with this province, will undoubtedly know what Newfoundland toutons are, most others will not. A touton is simplicity itself and perfect simplicity at that. As uninspired as it may seem, a touton is merely a piece of fried bread dough.
While that may not seem particularly appealing, it is an age old culinary tradition in Newfoundland, whose virtues are universally enjoyed by all who have known it. A crispy outside and a tender slightly chewy inside make them very texturally appealing, which in my humble opinion has accounted for a large part of their long time popularity.
I have never seen anything similar or heard reference to anything similar to a touton in any other place but Newfoundland. Likely an invention to use up leftover bread dough from the daily baking of bread that was very prevalent in Newfoundland kitchens until recent decades.
The dough was flattened into small rounds and traditionally fried in rendered fatback pork. Toutons would then be served with 'Scruncheons', which are the crunchy little cubes that are the result of frying the diced fatback pork.
Toutons are traditionally considered a breakfast or brunch item and can still be found quite commonly on the breakfast menus of many local restaurants. It is much rarer to find them cooked in fatback pork, as modern day dietary considerations have seen an evolution to more healthy fats.
The toutons you order in Newfoundland restaurants are far more likely to be fried in canola oil than anything else these days. I confess that I fry mine in a combination of olive oil and clarified butter, a flavour which I have become accustomed to over the years.
The other very traditional accompaniment to toutons, still very much appreciated by purists, is a drizzle of molasses. A pat of butter melting over the top is a tasty indulgence as well.
I use my standard white bread recipe for toutons which you can find by clicking here.
One other idea that I incorporate them into are Toutons Benedict as pictured above or in place of an English Muffin in breakfast sandwiches.. I make slightly thicker toutons than I normally do, split them like an English muffin and use them to sandwich bacon, cheddar, garlic scrambled egg and roasted red pepper. Definitely one of my brunch favourites!!
Like this Newfoundland Toutons recipe?
You'll find dozens of other great recipes like this in our Breakfast & Brunch Category and even more ideas in our Muffins, Tea Buns & Scones Category.
For more Newfoundland inspired recipe suggestions for both cooking and baking, be sure to visit out Newfoundland Recipes Category.
To keep up with the latest home style cooking & baking ideas from Rock Recipes plus daily recipe suggestions from decadent desserts to quick delicious weekday meals, be sure to follow Rock Recipes Facebook Page and follow us on Instagram.
2017 UPDATE: One other recipe suggestion, and one I have absolutely fallen in love with in the past few years is this Crab Cakes Eggs Benedict. This could be my favourite brunch ever!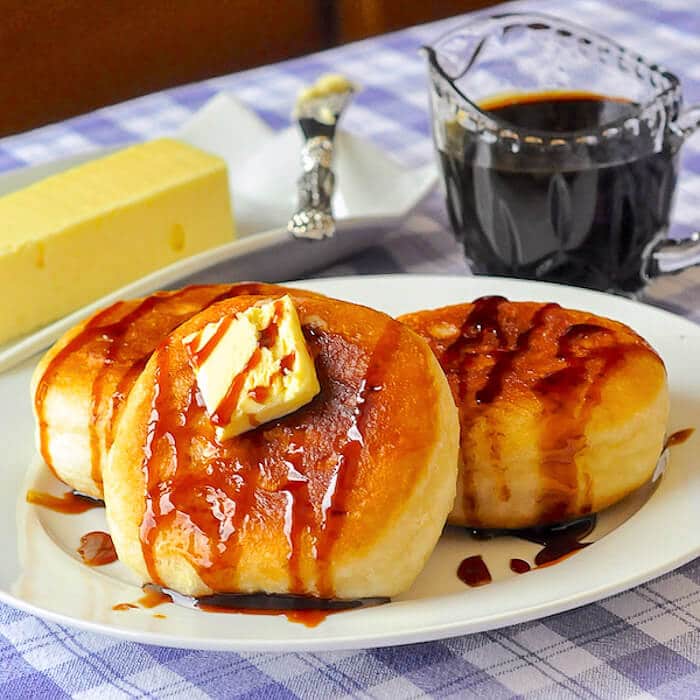 Newfoundland Toutons
Newfoundland Toutons. The delight of every Newfoundlander, especially served with melting butter & a drizzle of molasses.
Ingredients
1

pound

leftover white bread dough

(Approximately)

canola oil for frying
Instructions
Form dough into about 2 ounce balls and flatten into 3 to 4 inch rounds, about a 1/2 inch thick.

Let rest on a well floured surface for 15-20 minutes to rise a little. This will ensure that they won't be doughy at the centre.

I use e a combination of olive oil and butter to fry the toutons in for more flavour. You can also fry them in traditional rendered pork fat if you choose. Otherwise heat about a half inch of canola oil over medium low heat to about 275 degrees F in a large skillet. (Over that temperature may result in toutons with a doughy centre. You want these to bubble and begin to fry immediately so that they don't absorb a lot of oil but frying as slowly as possible is very important.)

When they are golden on one side flip them and fry for an equal amount of time on the opposite side. About 4-5 minutes per side if fried slowly, with the oil just bubbling at the edges.

You can place them on a parchment lined aluminum cookie sheet in a 250 degree F oven for another 10 minutes or so to ensure that they are cooked through if you like.

Serve warm with butter and a drizzle of fancy molasses.
Nutrition Facts
Newfoundland Toutons
Amount Per Serving
Calories 155
Calories from Fat 36
% Daily Value*
Total Fat 4g 6%
Sodium 245mg 10%
Potassium 57mg 2%
Total Carbohydrates 24g 8%
Protein 4g 8%
* Percent Daily Values are based on a 2000 calorie diet.
[asa2]1550816551[/asa2][asa2 country_code="CA"]1550816128[/asa2][asa2]1550815555[/asa2]
Rock Recipes a participant in the Amazon Services LLC Associates Program, an affiliate advertising program designed to provide a means for us to earn fees by linking to Amazon.com and affiliated sites. Our product recommendations are almost exclusively for those we currently use or have used in the past.