How to Make Dried Bread Crumbs – the cheap & easy way. Use them in everything from stuffing & meatloaf to our fantastic Homemade Shake 'n Bake recipe!
So why does anyone need to know how to make dried bread crumbs? Am I really that big of a cheapskate that I can't just buy them in those cardboard cylinders at the supermarket?
Well, the cheapskate part is debatable. Spouse says I spend like a kid in a candy store on allowance day most times, and it's true that I am not known for self denial in the pursuit of savings. The truth is what I really hate is waste.
There are countless examples here on Rock Recipes of how I despise food waste in particular. I always encourage readers to think of new ways to repurpose leftovers and to stretch their food budgets.
Yes, it is only a couple of bucks for a can of dried bread crumbs but you probably are already throwing out the remnants of loaves of bread that would mean that you could have as much as you wanted for next to nothing. Theres also the fact that you can use one of our seasoning blends to custom make your own seasoned bread crumbs. Our Homemade Italian Seasoning, Montreal Steak Spice or Barbecue Spice Mix Seasoning Blend added to some of these crumbs would make amazing would all make amazing version of seasoned breadcrumbs.
Use them in meatloaf, in poultry stuffing, as a burger binder, to coat baked fish, to make delicious real chicken nuggets with chicken breasts, there are plenty of great uses. I even use them as the binder in my sausages!
Of course the number one use lately in our hose is as the base for our homemade version of Shake n' Bake! "We call it Better than Shake 'n Bake" because we honestly think the flavour is far better! it's a recipe that You'll definitely have to try for yourself.
If you're interested in trying it for your self, you can find my recipe for Homemade Shake 'n Bake right here.
If you liked this "How to Make Dried Bread Crumbs" post.
You'll find hundreds of other great ideas in our Quick & Easy Dinners Category and even more in our Chicken Recipes Category.
To keep up with the latest home style cooking & baking ideas from Rock Recipes plus daily recipe suggestions from decadent desserts to quick delicious weekday meals, be sure to follow Rock Recipes Facebook Page and follow us on Instagram Instagram.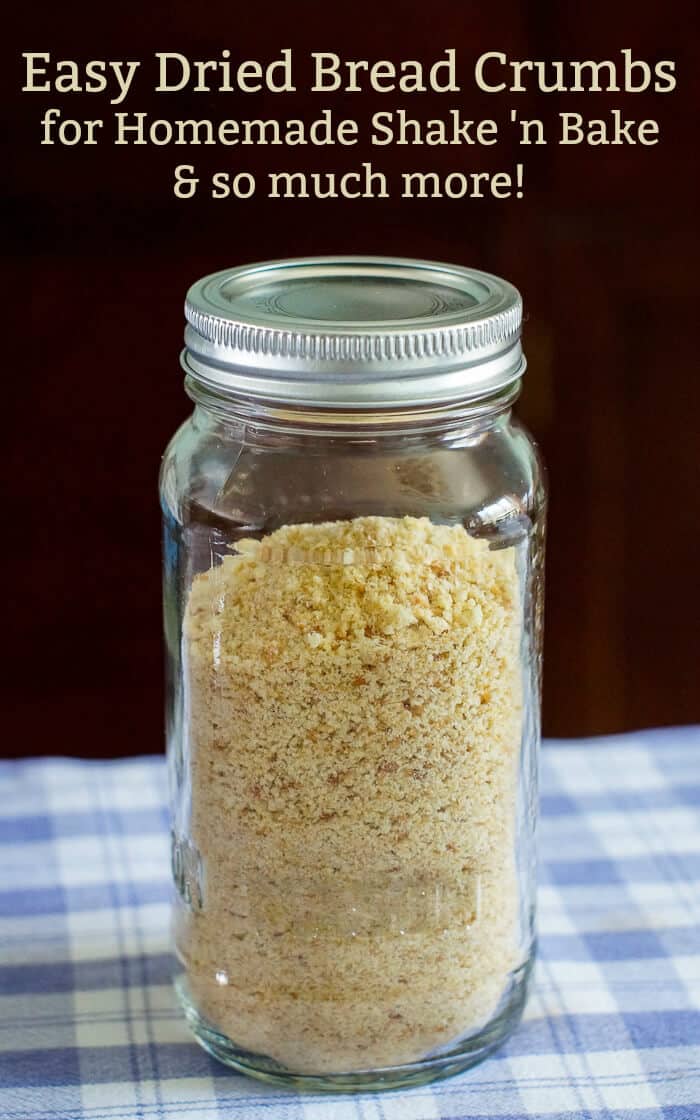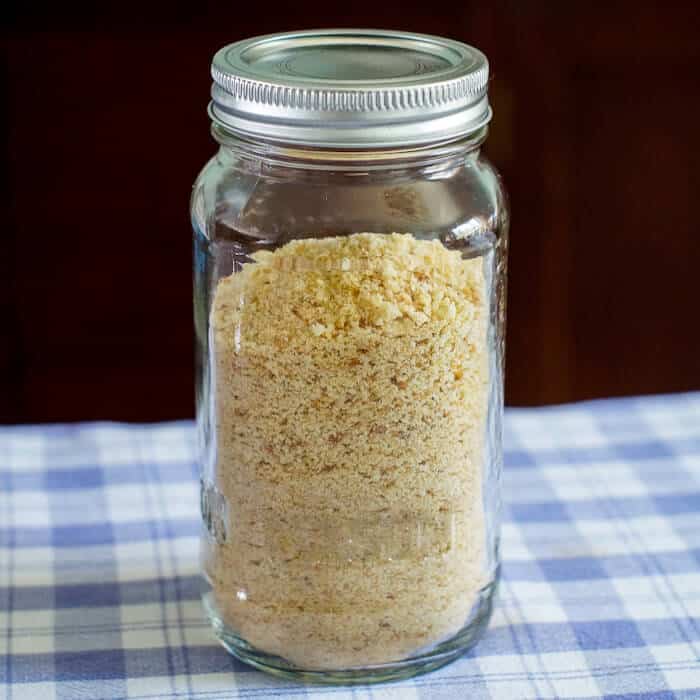 How to Make Dried Bread Crumbs - the cheap & easy way.
How to Make Dried Bread Crumbs - the cheap & easy way. Use them in everything from stuffing & meatloaf to our fantastic Homemade Shake 'n Bake recipe!
Servings
:
3
to 4 cups fine dried bread crumbs
Ingredients
8

cups

coarsely ground bread crumbs
Instructions
Use bread that is about 3 days old but not completely stale. You can use a box grater or a food processor or to make coarse bread crumbs from bread slices.

Preheat oven to 250 degrees and spread the coarse crumbs out evenly on a baking sheet.

Bake for 30 minutes and then toss the crumbs before returning them to the oven for another 30 minutes or more.

The length of time in the oven varies between bread types and their moisture content. Some may need up to 90 minutes. Just be sure the crumbs are very dry and crumble easily when squeezed between your fingers.

Let the crumbs cool off for about 20 minutes, then return them to the food processor and grind them to as fine a consistency as you require. Some people like to grind smaller portions as they need them for specific recipes.

In any case, store your dried bread crumbs in an airtight container and they will last for several weeks.