Homemade Italian Seasoning. A delicious multipurpose blend for salad dressing, roast chicken, veggie dips and so much more.
This Homemade Italian Seasoning is a good example of why I rarely, if ever buy blended herbs and spices. I prefer to put my own stamp on what I like in them to customize my own flavour profile.
Besides, I have a couple of very well stocked spice drawers and it is regularly restocked with fresh supplies of dried herbs and spices. You may likely have all the ingredients already on hand for the spice mix that you are buying 0ff the supermarket shelves….and those can get pretty pricey!
Homemade herb and/or spice blends are also a good way of keeping your supplies in good rotation. If you use your herbs and spices in practical blends for every day, you will like use them up before they begin to become stale. We buy our spices at the bulk store but not in very large quantities, so that they are not wasted.
My goal is to use everything in a 3 to 4 month period. There isn't a lot of point in keeping a lot of dried herbs past that window of time as they will loose some of their flavour. I was at a friends house recently cooking dinner and he handed me a spice bottle with the expiry date in 2012! Time to clean out your cupboard my friend!

I use this particular blend mixed with olive oil and white wine vinegar to make a very nice Italian dressing. I also add it to drained yogurt for a veggie dip.
Just the other night there was only my son Noah and I home for dinner, so I sprinkled some of this Homemade Italian Seasoning on chicken pieces and roasted on a parchment paper lined cookie sheet for 45 minutes. It is exceptionally good on roast chicken for a quick, easy delicious weekday dinner.
UPDATE April 10 2017: Just this past weekend I used this Italian Seasoning on a Prime Rib beef roast. I did first season it with additional salt and pepper before liberally covering it on all sides with the seasoning mix. The whole Sunday dinner table absolutely loved it!
Like this Homemade Italian Seasoning recipe.
Please be sure to check out our absolute favourite Summer Spice Barbecue Blend as well. Plus for over 200 more delicious ideas for chicken, browse our extensive Chicken Recipes Category.
To keep up with the latest home style cooking & baking ideas from Rock Recipes plus daily recipe suggestions from decadent desserts to quick delicious weekday meals, be sure to follow Rock Recipes Facebook Page and follow us on Instagram.
You might also like to try our low sodium version of Montreal Steak Spice.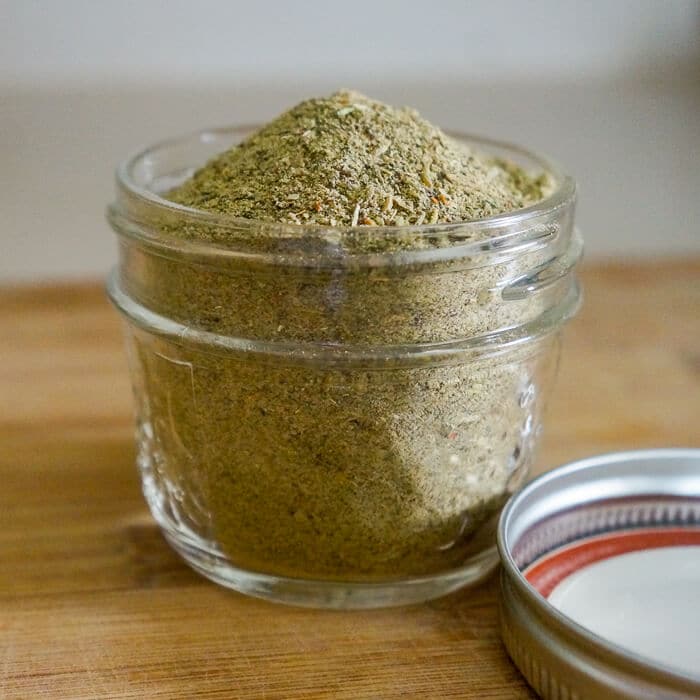 Homemade Italian Seasoning
Homemade Italian Seasoning - a delicious multipurpose blend for salad dressing, roast chicken, veggie dips and so much more.
Ingredients
1

tbsp

crushed fennel seeds

or ground fennel seeds

2

tsp

dried rosemary

1

or 2 tsp crushed chili flakes

optional

2

tsp

dried thyme

1

tbsp

salt

2

small dry Bay leaves or 1 large dry Bay leaf

1

tbsp

brown sugar

3

tbsp

dried basil

2

tbsp

dried oregano

2

tbsp

onion powder

1

tbsp

garlic powder

1

tbsp

ground black pepper
Instructions
Add the crushed fennel seed, dried rosemary, chili flakes, thyme salt Bay leaves and brown sugar to a food processor or blender. If using ground fennel add it later with the other ingredients.

Pulse a dozen times or so for couple of seconds or so at a time to break down the larger herb pieces until they are fine.

Pulse in the basil, oregano, onion powder, garlic powder and black pepper until very well combined.

Store in an airtight container or mason jar, preferably in a cool dark place.
Recipe Notes
There is very little salt in this blend of a couple of reasons. If making salad dressing or dip, this is generally enough salt of me to season the dressing. If using for roast chicken or fish, I would want to add a little more salt and pepper to season those before adding a dusting of the Italian Seasoning anyway.
To make the roast chicken as pictured, simply lightly season the chicken pieces with salt and pepper, then generously sprinkle on the Italian Seasoning on all sides. Roast on a parchment paper lined cookie sheet in a preheated 400 degree F oven for about 45 minutes depending upon the size of the chicken pieces. For large chicken pieces, from a 4 pound or larger bird, I'd recommend another 10 minutes or so.

Rock Recipes a participant in the Amazon Services LLC Associates Program, an affiliate advertising program designed to provide a means for us to earn fees by linking to Amazon.com and affiliated sites. Our product recommendations are almost exclusively for those we currently use or have used in the past.