Who doesn't love great fried chicken? I make a few different recipes for fried chicken myself, and I love to try different versions when travelling down south. One of the things I'm always happy to see on the table with fried chicken is a bottle of sweet, fragrant natural honey. If you've never had a thin drizzle of good quality honey on fried chicken , then you are seriously missing out on something delicious.
Today's recipe had just that in mind when I made a third in this series of great sandwiches, featuring the brand new, Ben's Honey Wheat Bread. The series highlights sandwiches for breakfast, lunch and dinner, so be sure to check out the recipes for Ham Omelet Grilled Cheese Sandwiches and Ham Apple and Brie Monte Cristo Sandwiches too. (Note recipe text will be linked to the 2 prior posts)
One of the things that really impressed me most about the new Ben's Honey Wheat Bread was the actual taste of the honey. With the popular healthy eating trend of using natural sweeteners, like honey, in place of refined sugars, it's easy to put the word on the label but the taste is what counts…and you can definitely taste the honey in this soft wheat bread that's perfect for great sandwiches.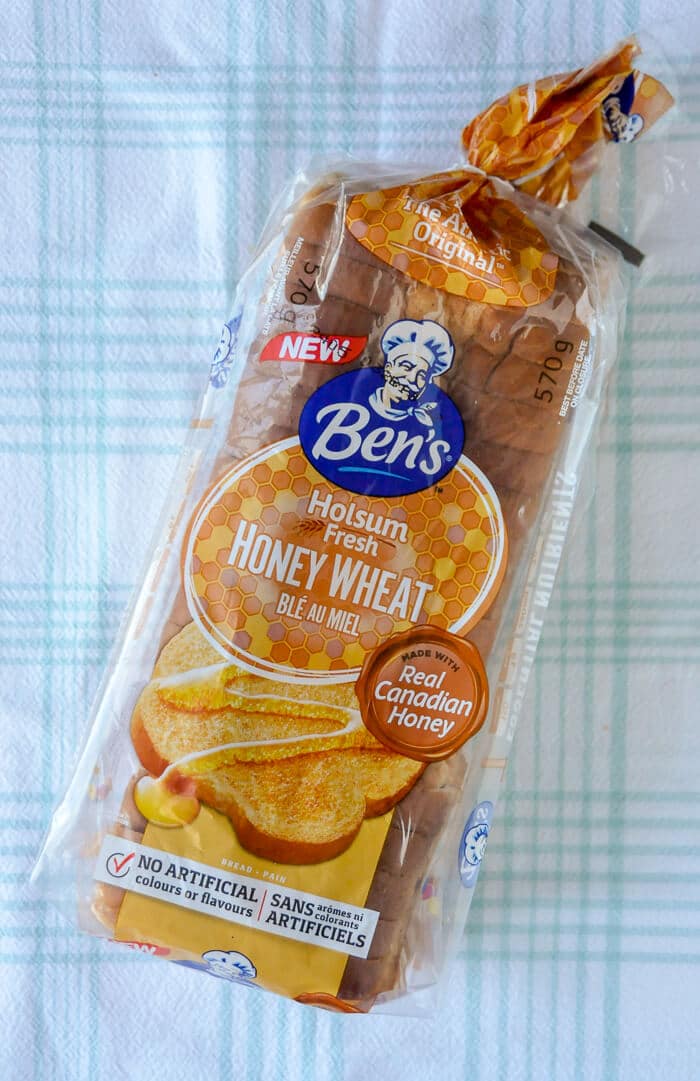 Ben's Honey Wheat Bread certainly is part of the growing popularity of honey based products in recent years. Did you know that just over 1500 new honey based products were introduced between 2010 and 2015 alone? …and of course, the majority of those were food related.
The taste of pure, natural Canadian honey does take centre stage in this bread, so for my dinner sandwich in this series, I wanted to pair it with the flavour of great fried chicken. This recipe brings together some of my very favourite ingredients in one amazing collision of flavours. When sandwiches are as substantial as this one, they really can make a full dinner, worthy of the biggest meal of the day. A small salad or some baked sweet potato fries would be terrific on the side.
I hope you enjoyed this sandwich series and for more information on the entire line of Ben's Breads as well as their other baked goods, be sure to visit the Ben's website.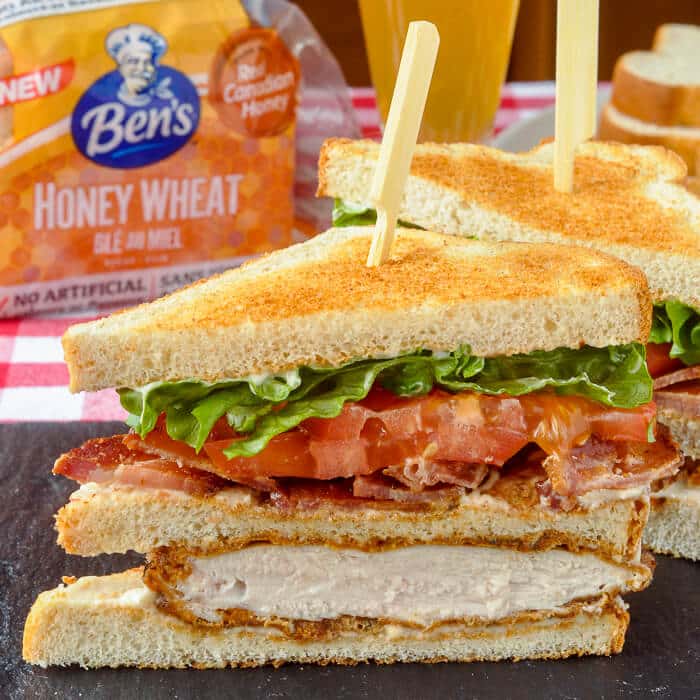 Smoked Paprika Fried Chicken Club Sandwich
Smoked Paprika Fried Chicken Club Sandwich - a deliciously juicy fried chicken breast in a triple decker sandwich that's a complete dinner in itself.
Ingredients
For the Fried Chicken
3/4

cup

flour

1

tsp

smoked paprika

pinch salt and pepper

1/4

tsp

garlic powder

1/2

tsp

dry thyme

2

boneless skinless chicken breasts

pounded to a 1/2 inch thickness

an egg was made from 1 egg and 1 1/2 tbsp water

canola oil for frying
Remaining sandwich ingredients include
6

slices

Ben's Honey Wheat Bread

6

slices

crisp cooked smoked bacon

sliced tomatoes

lettuce

mayonnaise
Instructions
Mix together the flour, smoked paprika, salt, pepper, garlic powder and thyme.

Whisk together the egg and water to make an egg wash.

Pound the chicken breasts to about a half inch thickness between two sheets plastic wrap.

Heat the canola oil in a cast iron skillet over medium heat; just enough oil to cover the bottom of the pan by about a half inch.

Dredge the chicken breasts in the flour mix, then dip them into the egg wash and back into the flour dredge again.

When the oil is heated, place the breasts in the pan and cook for about 4 minutes per side until golden brown and crispy.

Drain the chicken breasts on paper towels before assembling the sandwich.

Lightly toast the Ben's Wheat bread and spread mayonnaise on all slices.

Place the chick breasts between 2 of the slices each, top with the bacon, lettuce and tomato and finally the last slice of bread.

Wooden skewers can help keep the sandwich in place as you cut through them with a serrated knife before serving.
Recipe Notes
As an alternative to frying, you can heat a baking sheet in a 425 degree oven while coating the chicken breasts as directed. Heating the baking sheet, helps ensure that the chicken breasts do not stick. You can also oil a piece of parchment paper on top of the sheet if you want to be doubly sure . When the oven comes up to temperature, brush the hot pan with canola oil and lay the chicken breasts on the oiled surface. Get the pan quickly back into the oven and bake for 10 minutes before flipping the chicken breasts and baking for an additional 10 minutes. It is important to ensure your chicken breasts are pounded evenly to a half inch thickness so that they will cook evenly, Whatever method of cooking, use a meat thermometer to ensure that the centres of the cooked chicken breasts reach 175 - 185 degrees F.
Rock Recipes is very pleased to have Ben's Honey Wheat Bread as sponsor of this recipe post. Both product and compensation were provided in exchange for this recipe post. The opinions expressed are based solely upon my experience and are entirely my own.