Smokin' Summer Spice Dry Rub. The only barbecue spice dry rub you will need for the entire season. A delicious blend of smoky herbs and spices that's delicious on burgers, chicken, steak, beef brisket, pork. Absolutely anything that comes off your backyard grill or out of your back yard smoker.
With the barbecue and grilling season now upon us, I have already been using the backyard grill and barbecue smoker quite a bit.
One of my backyard summer cooking essentials is this versatile dry rub spice and seasoning mix. I have tweaked it over the last couple of years to suit my preference.
You can adjust any of the ingredients to get your own personally balanced version. Though, I think all of the players in this mix bring something to the flavour party.
The first photo at the top of the page shows one of my favourite things to smoke using this rub, a brined centre loin of pork.
The few seconds of video below shows the pork loin after several hours of slow smoking at 250 degrees F.
You can tell from the video just how juicy it is inside! Sliced thinly, it goes great with beans, cornbread and coleslaw or it makes terrific sandwiches, hot or cold.
If you have never had smoked chicken wings, you are in for a treat with these. Large wings take only about 2 hours at 250 degrees to fully cook in the smoker. You'd better fill it to capacity!
When your family and friends get their first taste of these there's going to be a stampede to get to them.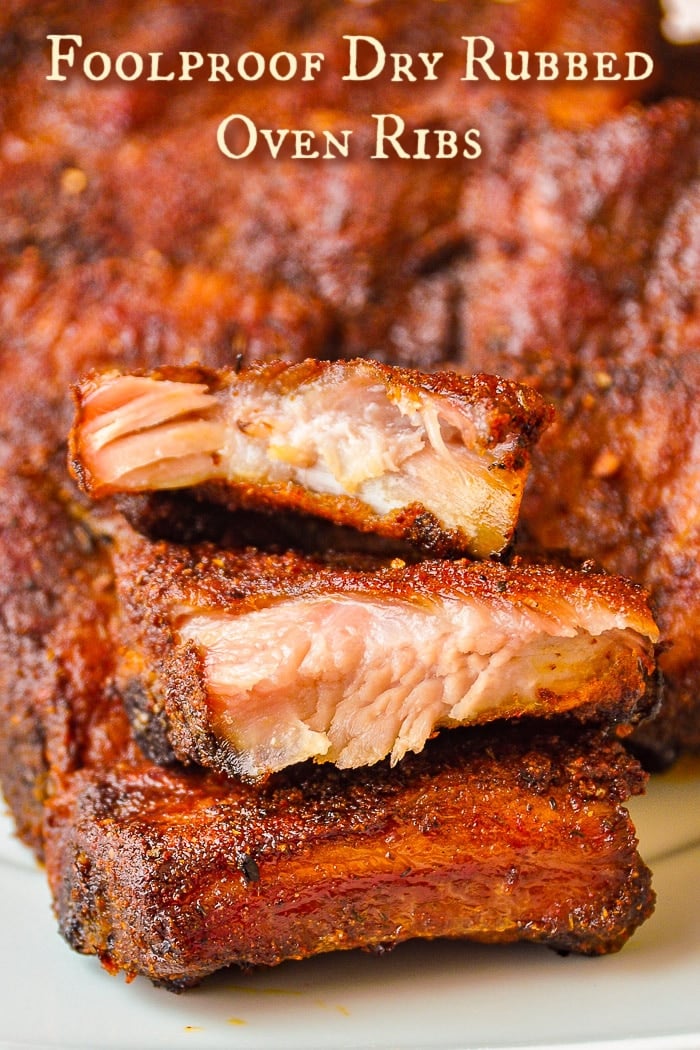 The dry rubbed ribs above are very slowly open baked in the oven and the smoked version of the exact same ribs is pictured below.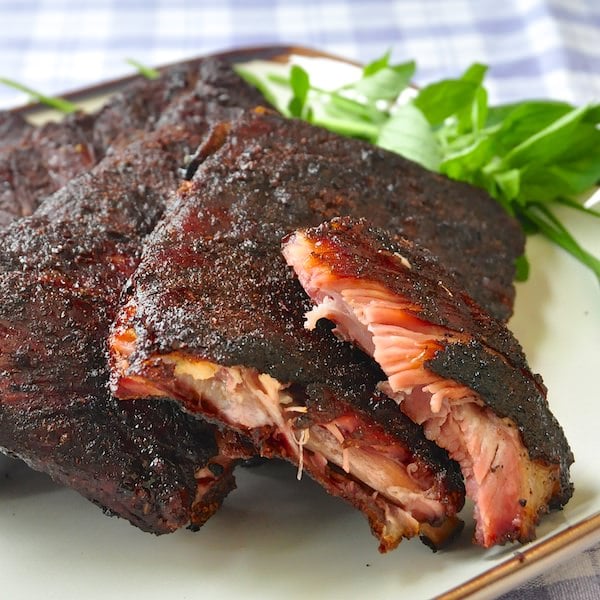 Smokin' Summer Spice Dry Rub: super versatile
I use this has a spice dry rub for slowly barbecued or smoked ribs, pork loin or beef. It also makes a delicious seasoning for grilled pork chops or steak.
Also, it is now my go to-seasoning for grilled hamburgers. I sprinkle it liberally on both sides of the burger patty before grilling. Honestly, I think is one of the best seasoned burgers you can find.
This flavourful summer spice dry rub can also be liberally rubbed all over the outside of larger pieces of meat. Just rub it on pork loin, tenderloin or beef roasts and then slowly barbecued or smoked under indirect heat.
You do this at about 225-250 degrees until the internal temperature reaches 145-150 degrees F for pork and about 130-135 degrees F for beef roast.
I sometimes smoke a pork loin roast, as pictured below, or an eye of round roast just to serve them as cold cuts during the week. Thinly sliced, they both make phenomenal sandwiches!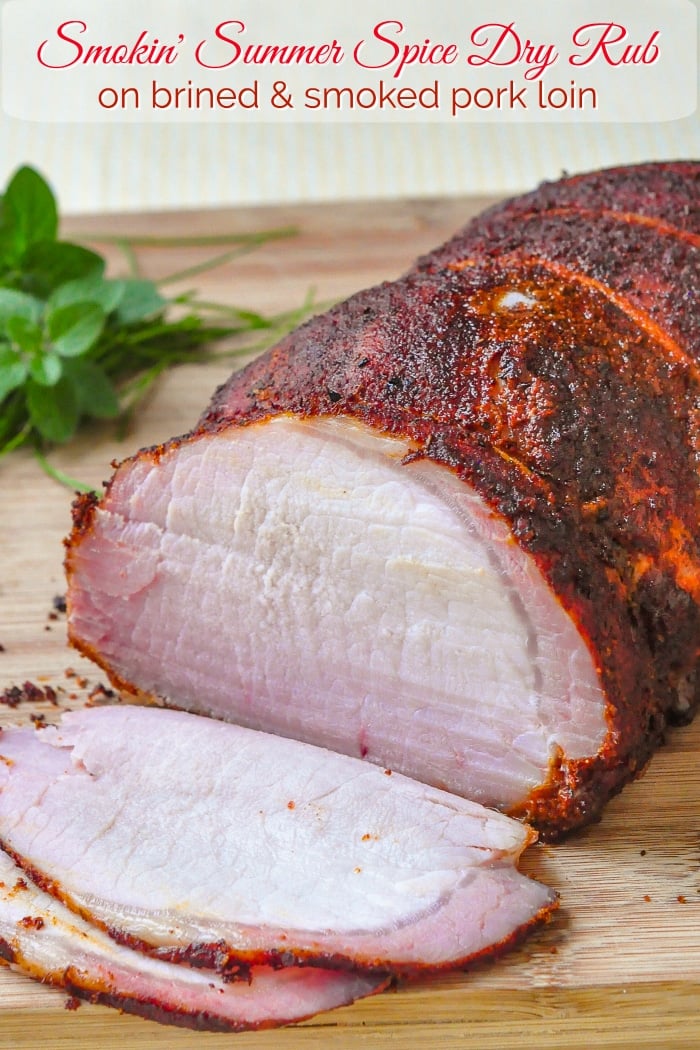 If you are using your gas grill to barbecue, place the meat on one side of the grill. Use the burner or burners on the opposite side so that it is not directly over heat.
Regulate the gas to keep the temperature at about 250 for slow barbecued flavour. The same technique can also be used with a charcoal grill, just keep the charcoal on one side and the meat on the opposite side.
Adding Smoke Flavour
You can add smoke flavour by soaking hardwood chips like mesquite, apple, cherry or hickory in warm water for about a half hour. A couple of handfuls will do.
Wrap the soaked wood chips in a double layer of heavy duty aluminum foil. Poke only two holes in the foil, one at either end to allow the smoke to escape.
I place the foil packets in a vegetable grill pan so that the packet is not sitting directly on the gas burner. You can add more soaked wood chip packets as they burn out.
It all depends on how much smoke flavour you wish to add.
Update.
We still use this amazing spice blend all year long. I was just recently making a double batch for the spring grilling season ahead.
Unknowingly, I had been adding all of the ingredients to one side of the food processor as I was measuring them out. I was about to hit the start button when my eye caught the colourful layers in this flavourful, versatile dry rub mix.
Some of the lightly smoked pork loin pictured above provided the inspiration for one fantastic brunch dish too. Warmed and thinly sliced, the pork sits on some buttered and pan fried artisan bread.
It's topped with an over easy egg and my favourite, quick-cooked, spicy tomato compote. Find that recipe in the notes below.
Originally published May 2013. Updated June 2020.
Like this Smokin' Summer Dry Rub recipe?
You'll find hundreds of other great ideas in our Beef Recipes Category and even more in our BBQ & Grilling Category.
It's easy to keep up with the latest home style cooking & baking ideas from Rock Recipes. Be sure to follow Rock Recipes Facebook Page and follow us on Instagram.
Plus you'll see daily recipe suggestions from decadent desserts to quick delicious weekday meals too.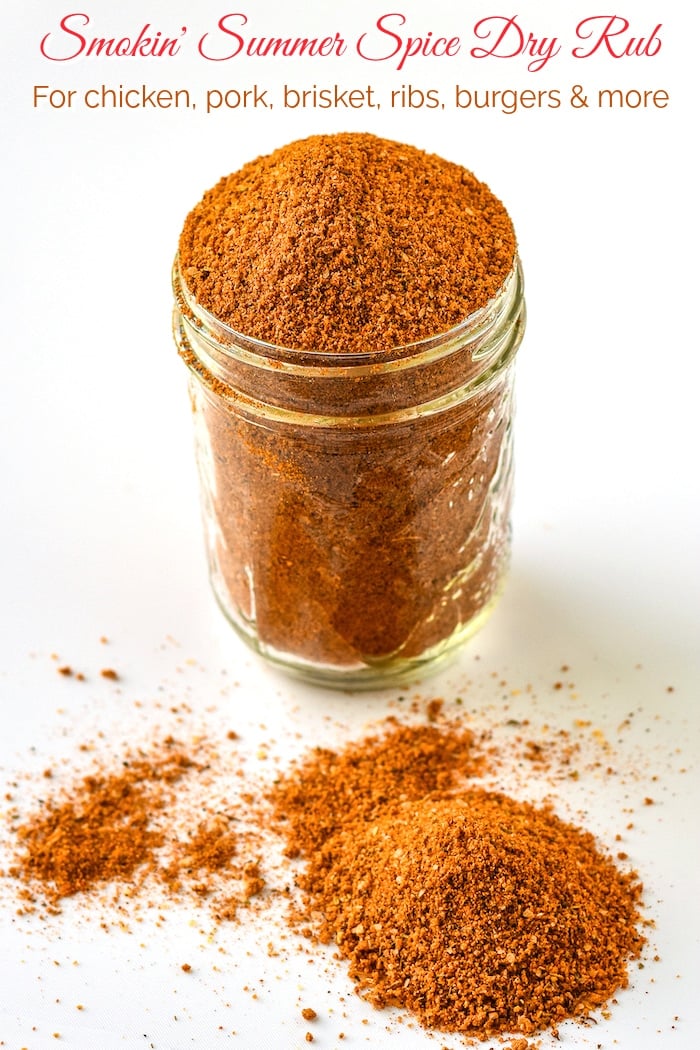 You can also sign up for our FREE newsletter to know immediately when we add new recipes. You'll also get weekly suggestions for great family friendly meals and desserts too!

Rock Recipes a participant in the Amazon Services LLC Associates Program, an affiliate advertising program designed to provide a means for us to earn fees by linking to Amazon.com and affiliated sites. Our product recommendations are almost exclusively for those we currently use or have used in the past.
Visit my Amazon Store for my favourite kitchen gadgets and appliances, plus recommendations from my personal cookbook collection.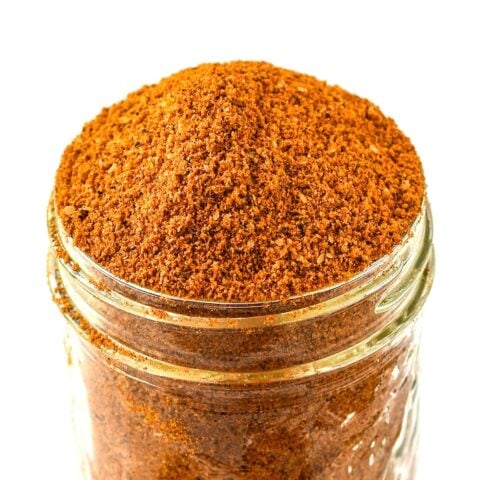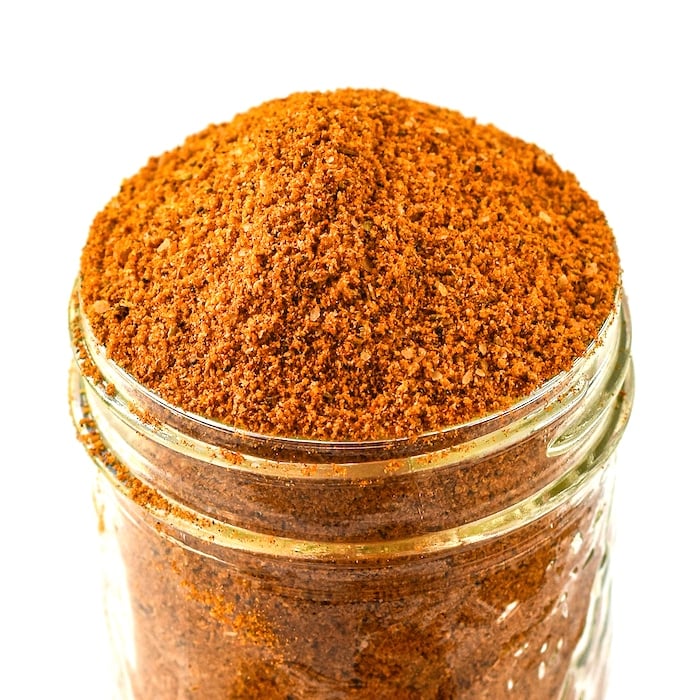 Yield:

100 Servings of 1 tsp each
Smokin' Summer Spice Dry Rub
Smokin' Summer Spice Dry Rub A versatile summer spice rub recipe to season anything on the grill or in the backyard smoker. For ribs, chicken, burgers, pulled pork, brisket...anything!
Ingredients
3 tbsp paprika
2 tbsp smoked paprika
2 tbsp chili powder
3 tbsp kosher salt
1 tbsp powdered ginger
1 tbsp chipotle powder
6 tbsp brown sugar
1 tbsp black pepper
1 tbsp ground nutmeg
2 tbsp dry mustard powder
1 tbsp ground oregano
1 tbsp ground thyme
2 tbsp garlic powder
1 tbsp ground coriander
3 tbsp onion powder
1 tsp ground cumin
1 tsp cinnamon
Instructions
Mix together well and store any unused dry rub in an airtight container in a cool place. I like to mix it together by pulsing it together in the food processor. This ensures it is very well blended and also breaks up any lumps in the brown sugar.
Notes
Spicy Tomato Compote
4 cloves minced garlic
6 tbsp olive oil
8 large ripe tomatoes diced
2 tbsp brown sugar
3 tbsp balsamic vinegar
1/2 tsp crushed chili sauce or ¼ tsp chili flakes
salt and pepper to season
Sauté the garlic in the oil over medium heat for just a minute before adding the tomatoes, brown sugar, chili sauce, salt, pepper. Continue to cook until the tomatoes soften and the compote reduces to a jam-like consistency. Add the balsamic vinegar in the final minute or two of cooking before serving.
Recommended Products
Rock Recipes a participant in the Amazon Services LLC Associates Program, an affiliate advertising program designed to provide a means for us to earn fees by linking to Amazon.com and affiliated sites. Our product recommendations are almost exclusively for those we currently use or have used in the past.
Nutrition Information
Yield
100
Serving Size
1 serving
Amount Per Serving
Calories

7
Total Fat

0g
Saturated Fat

0g
Trans Fat

0g
Unsaturated Fat

0g
Cholesterol

0mg
Sodium

215mg
Carbohydrates

1g
Fiber

0g
Sugar

1g
Protein

0g
The nutritional information provided is automatically calculated by third party software and is meant as a guideline only. Exact accuracy is not guaranteed. For recipes where all ingredients may not be used entirely, such as those with coatings on meats, or with sauces or dressings for example, calorie & nutritional values per serving will likely be somewhat lower than indicated.