Nanaimo Bars. Building a better version. Try this revamped version of the classic Canadian treat with a more substantial base layer and an improved filling.
Yes, I dared to toy with a Canadian classic! The recipe has been around forever but this version might be the best I've had. Well in my opinion at least… but I think you might just agree.
I've had several requests over the years for a standard Nanaimo Bar recipe but I'd never posted one. There are practically thousands of websites and blogs online that have the recipe published, so I figured, why one more?
All of those recipes are practically the same, using all of the same ingredients in almost always the same proportions or even exact measurements. It was a question from a friend who asked about the recipe that got me re-thinking it once again.
I found myself doing so after each similar request. I guess it was nagging away at me subconsciously all along.
The inspiration for an improved Nanaimo Bars recipe.
My old friend and work colleague, Irene, wrote to me on Facebook, "Hey Super Barry-do you have a recipe for Nanaimo Bars where you can actually taste the custard vs. the typical sugar-y attack on the palate?"
Immediately, I thought she had pinpointed a specific issue that I also often had with the recipe.
Let's face it, it is going to be difficult to cut the sweetness of a Nanaimo Bar. Because with a filling of thick icing sugar frosting, they are naturally quite rich.
I do like to cut these in smaller portions because of that (I get at least 36 squares out of a 9×9 baking pan
). But I also thought that if I played with increasing the amount of the base layer, that could help to balance the sweeter centre better.
After a couple of attempts, I got that part exactly as I wanted it. In order to make the centre a bit more firm, I increased the butter a little and added only whipping cream as the liquid ingredient to bring the frosting together.
I saw this in several recipes I'd seen online. I found that the higher fat cream in a small amount, actually worked better because it did not split the frosting and loosen it, as low fat milk can tend to do.
Improving the flavour.
I also added substantially more custard powder to the recipe than many recipes called for. Irene was right, what's the point of the custard powder if there isn't a discernible flavour from it?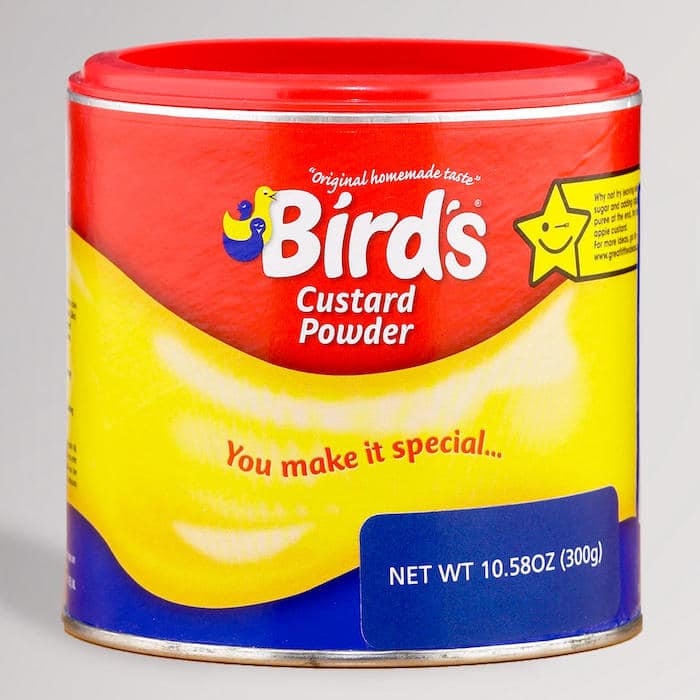 You can find custard powder on Amazon by clicking the affiliate link photo.
The result of adding more custard powder also added more firmness and smoothness to the filling.; another bonus.
All in all I was very, very pleased with the result. I shared them with some of my friends who are devoted Nanaimo Bar lovers and they all agreed. Perfection!
Originally published Aug 2017.
Are you a Nanaimo bar lover?
Be sure to check out all the other flavours in our Nanaimo Bars Collection!
Like this Nanaimo Bars recipe?
Be sure to browse the photo index of over 200 cookie and cookie bar recipes is in our expansive Cookies Category.
To keep up with the latest home style cooking & baking ideas from Rock Recipes plus daily recipe suggestions from decadent desserts to quick delicious weekday meals, be sure to follow Rock Recipes Facebook Page and follow us on Instagram.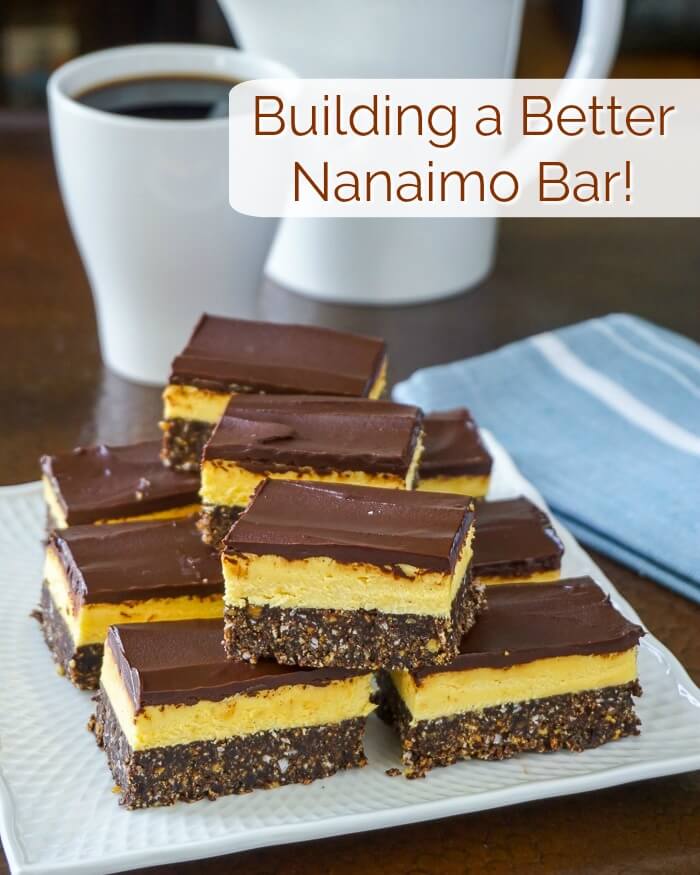 You can also sign up for our FREE newsletter to know immediately when we add new recipes. You'll also get weekly suggestions for great family friendly meals and desserts too!

Rock Recipes a participant in the Amazon Services LLC Associates Program, an affiliate advertising program designed to provide a means for us to earn fees by linking to Amazon.com and affiliated sites. Our product recommendations are almost exclusively for those we currently use or have used in the past.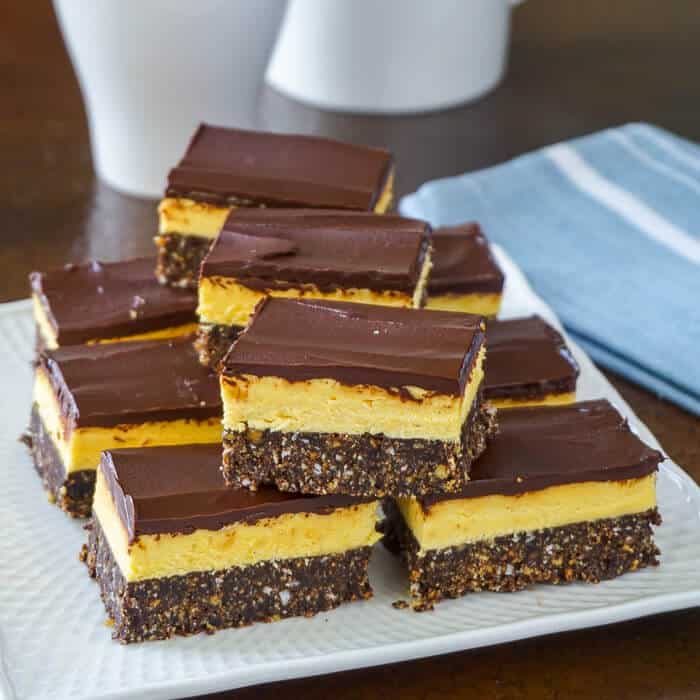 Yield:

36 cookie squares
Nanaimo Bars - building a better version.
Nanaimo Bars - building a better version. Try this revamped version of the classic Canadian treat with a more substantial base layer and an improved filling.
Ingredients
Bottom Layer
3/4 cup butter
1/3 cup sugar
8 tbsp cocoa
2 eggs, beaten
2 1/4 cups graham crumbs
3/4 cup fine or medium unsweetened coconut
1/2 cup chopped walnuts toasted
Middle Layer (filling)
2 1/4 cups icing sugar
1/2 cup custard powder
2/3 cup butter, at room temperature
1 tsp vanilla paste or extract
2 tbsp whipping cream
Top Layer (chocolate)
1 cup chocolate chips
2 tbsp butter
Instructions
To prepare the Base Layer
Melt together the butter, sugar and cocoa over low heat.
Add the eggs continue to cook, stirring constantly to fully cook the egg to a soft scrambled texture.
Add the graham crumbs, coconut and walnuts.
Mix together until well combined then, press into the bottom of a parchment paper lined 9x9 inch baking pan.
To prepare Filling
With an electric mixer, beat together the butter, custard powder and icing sugar until it starts to come together.
Add the vanilla paste and whipping cream and beat well until smooth.
This frosting should be very stiff but spreadable. ( Much thicker than you would use to frost a cake for example) If you think it's too thick, you may add a few drops of whipping at a time to bring it to the right consistency.
Spread evenly over the bottom layer. Chill in the fridge for a couple of hours before adding the chocolate topping.
To prepare the Chocolate Topping
Melt together the chocolate chips and butter over low heat, just until the chocolate is melted, don't over heat it.
Spread quickly over the chilled frosted layer. Return to the fridge until the chocolate sets.
Cut into squares or bars. These freeze very well.
The nutritional information provided is automatically calculated by third party software and is meant as a guideline only. Exact accuracy is not guaranteed. For recipes where all ingredients may not be used entirely, such as those with coatings on meats, or with sauces or dressings for example, calorie & nutritional values per serving will likely be somewhat lower than indicated.
Nutrition Information
Yield
36
Serving Size
1 cookie bar
Amount Per Serving
Calories

187
Total Fat

12g
Saturated Fat

7g
Unsaturated Fat

0g
Cholesterol

32mg
Sodium

113mg
Carbohydrates

18g
Fiber

1g
Sugar

13g
Protein

1g