Traditional Newfoundland Pea Soup and Dough Boys. Made with leftover ham or salt beef, it's a hearty local favourite that has warmed many a belly over the decades.
Our Easter ham leftovers, almost always go into a big pot of this fantastic, hearty, favourite local soup. Actually, practically any baked ham dinner throughout the year, eventually ends with the leftovers being used in this recipe.
Everybody who ever grew up in Newfoundland, and I mean everybody, had pea soup and dough boys. Dough boys is the local name for what folks in most parts of North America would refer to as dumpling,
They are very simple, flour-based dough balls that are dropped into simmering soups or stews. They then gently cook to fluffy perfection in the last few minutes before the meal was served.
A great traditional Newfoundland pea soup with our version of dumplings, which we call Dough Boys.
This delicious soup harkens back to the days when stretching the family food budget was much more a necessity than a culinary expression.
Hmmm… come to think of it, with the cost of groceries these days, perhaps it is still a necessity. If not, it's still very smart and economical meal planning.
Even in my own upbringing, nothing in our kitchen was wasted and that's how I still do it today.
The centre bone from a smoked baked ham on a Sunday would be boiled to create the stock that would become the base for a pea soup on Monday. The leftover ham, if there was any, would be cut into small chunks to add to the soup as well.
In Newfoundland, salt brined, cured beef is also a very traditional ingredient in split pea soup. You can replace the ham in this recipe with about half the amount of salt beef.
Just be sure to soak the salt beef in water for 24 hours before using it in the soup and please change the water at least once during that time or you risk your soup being far too salty.
Cut the salt beef in small cubes and add to the pot with the peas and use water or vegetable stock instead of ham stock (Corned beef is also a good choice if salt beef is not available in your area.)
Newfoundland pea soup, seasoned for modern times.
Traditional Newfoundland pea soup would have been very simply seasoned with only yellow onions, pepper and salt if necessary.
Garlic, thyme and bay leaves would have been unknown in these parts to my grandmother's generation. So if you want to enjoy the traditional version, please feel free to omit these ingredients, I don't object.
I'm a believer that all food cultures are continuously evolving, so I tend to meld the old with the new to create my updated versions of many recipes.
It's always good, however, to pay homage to our culinary heritage by preparing the simple and delicious version that so many have enjoyed and gained sustenance from for generations.
In need of a great ham recipe?
For those who have been asking, this Brown Sugar Dijon Glazed Ham is my ultimate favourite baked ham recipe, because it is so simple but so very delicious. Save the scraps and bone to make a ham broth for this soup.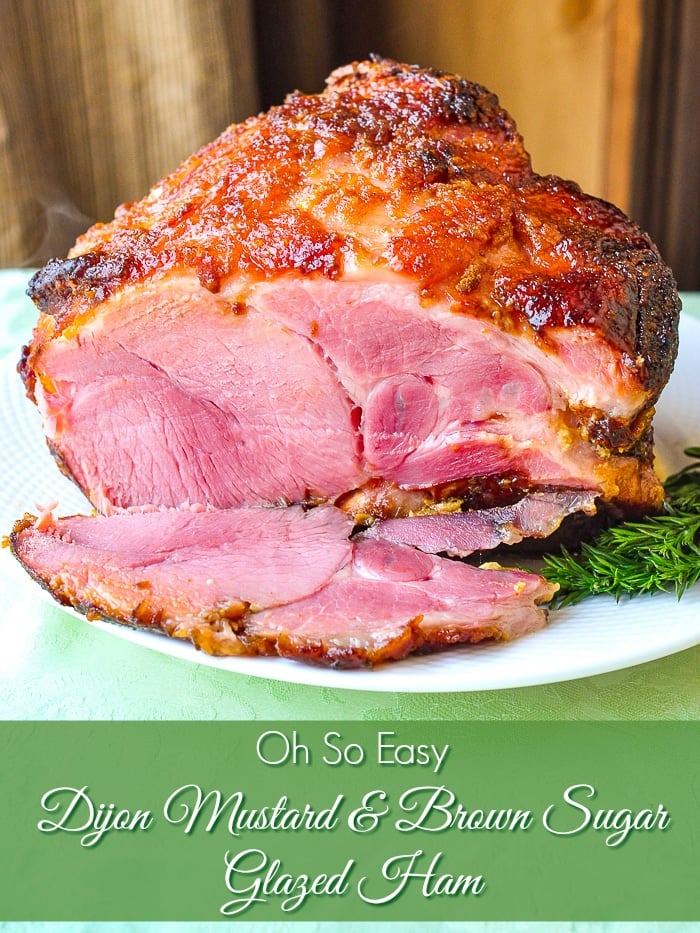 This is a terrific meal idea for a time-pressed workday and since popular wisdom says that pea soup is always better the next day. Why not make a big pot on the weekend and warm it up the next day?
With the dough boys ready in about 15 minutes, there's one quick and delicious weekday dinner sorted. We also freeze this soup in individual servings for quick lunches too.
Looking for more Newfoundland-inspired dishes?
If you'd like to see more traditionally inspired recipes from our province, please check out this collection on some of our Most Popular Newfoundland recipes.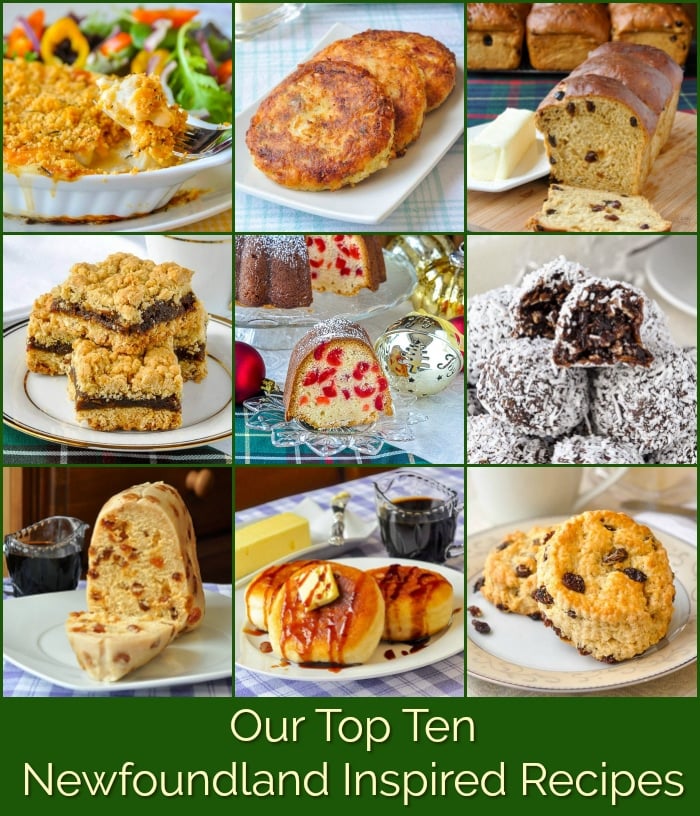 Originally published Oct 2012
Like this Newfoundland Pea Soup and Dough Boys recipe?
You'll find plenty more locally inspired food ideas in our Newfoundland Recipes Category and many delicious ideas in our Soup Category!
To keep up with the latest home style cooking & baking ideas from Rock Recipes plus daily recipe suggestions from decadent desserts to quick delicious weekday meals, be sure to follow Rock Recipes Facebook Page and follow us on Instagram.
You can also sign up for our FREE newsletter to know immediately when we add new recipes. You'll also get weekly suggestions for great family friendly meals and desserts too!

Rock Recipes a participant in the Amazon Services LLC Associates Program, an affiliate advertising program designed to provide a means for us to earn fees by linking to Amazon.com and affiliated sites. Our product recommendations are almost exclusively for those we currently use or have used in the past.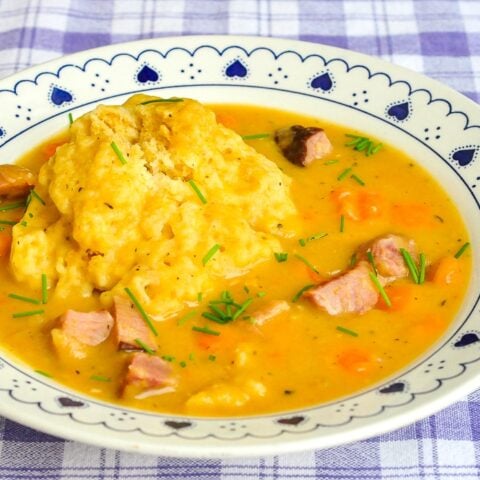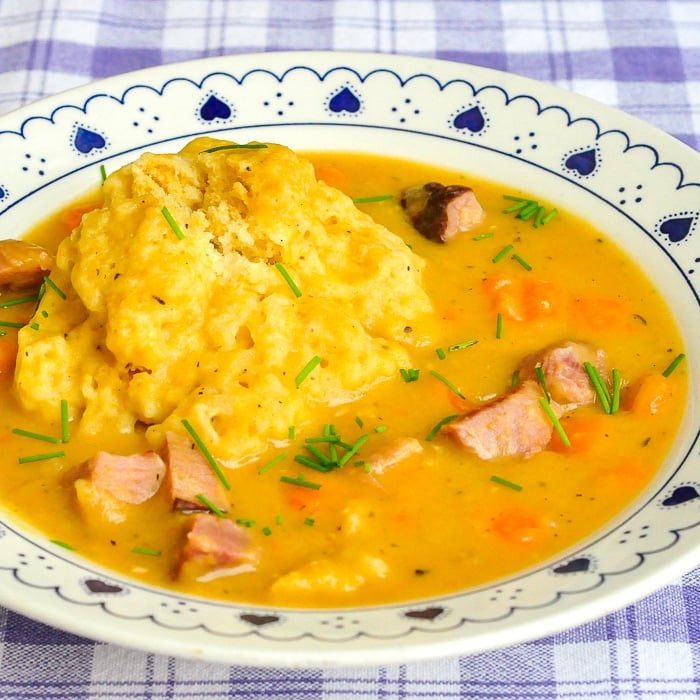 Yield:

10 or more servings
Newfoundland Pea Soup and Dough Boys
Cook Time:
2 hours
30 minutes
Traditional Newfoundland Pea Soup and Dough Boys. A hearty local favorite that has warmed many a belly over the decades.
Ingredients
1 ham bone
4 cloves roughly chopped garlic
1 large coarsely grated carrot
1 small onion, , chopped
12 cups water
2 cups dried yellow split peas
3-4 bay leaves
1 tbsp dried thyme
1 tsp coarsely ground white or black pepper, , your preference.
3 cups diced carrots
1 large red or sweet white onion, , about 1½ cups diced (yellow onions are traditional, so use them if you want but I use sweeter onions to balance the saltiness of the ham.)
3 cups diced baked smoked ham
For the Dough Boys
2 cups flour
2 tbsp sugar
1 tsp baking soda
2 tsp baking powder
½ tsp salt
Very quickly mix in with a wooden spoon:
1 cup warm milk
¼ cup melted butter
Instructions
Simmer the ham bone, garlic, carrot, small onion and water slowly in a large covered pot for 1½ hours. Strain the stock through a colander and return it to the pot. Skim excess fat from the surface of the stock.
Add the split peas, bay leaves, dried thyme, pepper and red onion. If you are using salt beef, add it here.
I don't add any salt at this point, the salt content of the ham you are using will determine if you need to add a little at the end. Let your own taste be the guide.
Simmer slowly and gently for about 45 minutes, stirring occasionally so that the peas do not stick to the bottom of the pot.
Add the diced carrots and diced ham.
Simmer for an additional 10 minutes stirring occasionally. Taste the soup at this point to determine if any additional salt is necessary. In all likelihood, it will not. Now add the dough boys to a very gently simmering pot
To make the Dough Boys (makes about 10)
Sift together the flour, sugar, baking powder, baking soda and salt.
Using a wooden spoon, very quickly mix in the milk and melted butter.
Do NOT over-work this dough. Stir in the liquid as quickly as possible and as soon as a soft dough forms , STOP mixing.
Make sure you give the soup one last good stir to make sure that that nothing is sticking to the bottom of the pot then immediately drop the dough by heaping tablespoonfuls into the slowly simmering soup.
Place the cover on the pot and do NOT remove it for 15 minutes. After 15 minutes, remove the dough boys from the pot and give the soup a final stir and remove the bay leaves before serving.
Nutrition Information
Yield
10
Serving Size
One tenth of pot
Amount Per Serving
Calories

309
Total Fat

7g
Saturated Fat

4g
Trans Fat

0g
Unsaturated Fat

3g
Cholesterol

32mg
Sodium

929mg
Carbohydrates

44g
Fiber

7g
Sugar

8g
Protein

18g
The nutritional information provided is automatically calculated by third party software and is meant as a guideline only. Exact accuracy is not guaranteed. For recipes where all ingredients may not be used entirely, such as those with coatings on meats, or with sauces or dressings for example, calorie & nutritional values per serving will likely be somewhat lower than indicated.