Pecan Peach Crumble Pie. A simple fresh peach filling in an all butter flakey crust, crowned with a buttery pecan & cinnamon crumble topping.
Pecan Peach Crumble Pie may be my summer peach last hurrah. September has quietly crept in and everyone seems to be in full back-to-school mode this week. My son Noah has started his final year of high school. How did that happen?  My daughter Olivia has already been gone for over a week, to start her first year of university at Ryerson in Toronto.
It's definitely a lot quieter around here these days but she'll be back for Thanksgiving in a few weeks when I'll be cooking up a storm, no doubt.
All of this leaves me at home with a lot more time for baking and with some great summer peaches still available I've been wanting to try this pie idea for a while. It was on one of our family trips to Savannah where I had a great peach crumble pie and the star of that crumble were crunchy, tasty pecans.
Peaches and pecans are a couple of southern staples so it makes sense to me to have them join forces in a pie. This one was just fantastically delicious and I must confess to eating about half the pie myself. I even had it for breakfast the morning after I made it. Well, fruit snd nuts is a good breakfast, right? 🙂
It's been a tradition for me to make my Old Fashioned Peach Pie every single summer. That won't change, but now this recipe gives me even more of an excuse to make even more peach pies!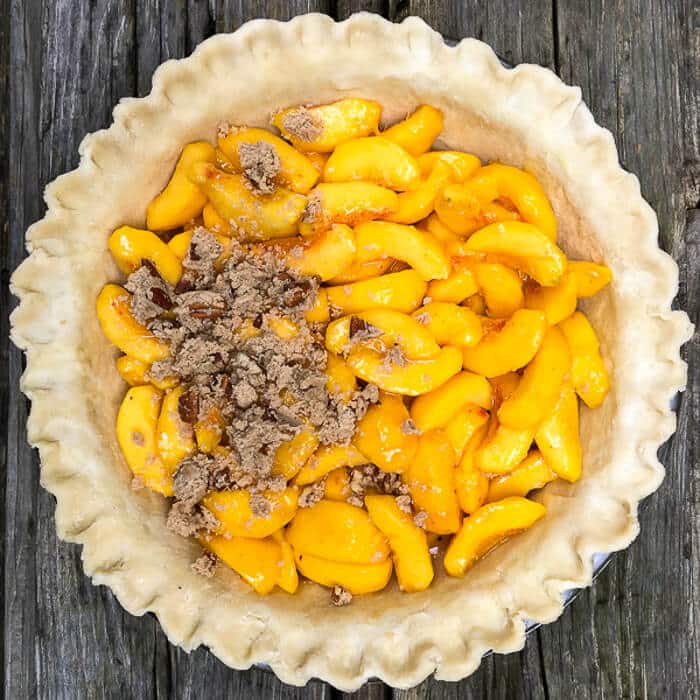 Like this Peach Crumble Pie recipe?
Find hundreds more great dessert recipes in out Cakes and Pies Category and in our Desserts Category. Take a look at those pages where recipes are easy to browse by their photos.
To keep up with the latest home style cooking & baking ideas from Rock Recipes plus daily recipe suggestions from decadent desserts to quick delicious weekday meals, be sure to follow Rock Recipes Facebook Page and follow us on Instagram.
You might also like: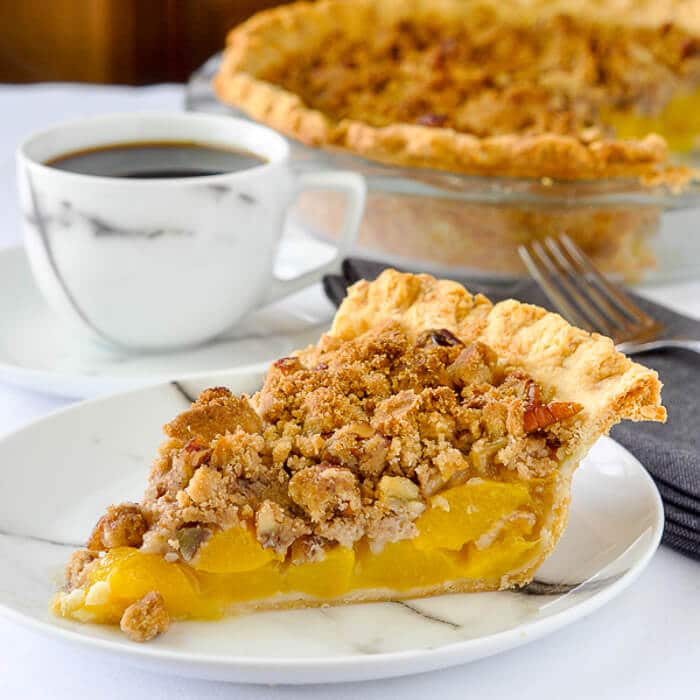 Pecan Peach Crumble Pie
Pecan Peach Crumble Pie - a simple fresh peach filling in an all butter flakey crust, crowned with a buttery pecan & cinnamon crumble topping.
Ingredients
For the pastry
1 1/4

cups

flour

1/2

cup

cold butter

1

tbsp

brown sugar

pinch salt

1

tsp

white vinegar

3-4

tbsp

ice water
For the filling
6

cup

sliced peaches

3 lbs

1

tbsp

lemon juice

1/2

cup

sugar

1

tbsp

corn starch
For the topping
1

cup

flour

⅓

cup

brown sugar

⅓

cup

+ 1 tbsp cold butter

1

tsp

baking powder

½

tsp

cinnamon

1

cup

roughly chopped pecans
Instructions
To prepare the pastry
Pulse the cold butter into the flour, sugar and salt using a food processor until the shortening or butter is reduced to pea sized pieces.

Remove to a large bowl. Sprinkle the water over the surface and toss with a fork until the water is just incorporated into the dough. Do not over work the dough; handle it only enough so that the dough stays together.

From the dough in about a 6 inch circle and wrap in plastic. Place in the fridge to chill well.

Roll out into a 12 inch round and place into a 9 inch pie plate. Tuck the excess pastry under the edges and flute the edges with your fingers or a fork.

Hold the pastry shell in the fridge while you prepare the filling and topping.
To prepare the peach filling
Peel and pit the peaches and cut them into thick slices.

Toss the peach slices in the lemon juice.

Mix together the corn starch and sugar (this helps prevent lumps in the filling)

Sprinkle 1/3 of the sugar and cornstarch mixture over the peaches and toss lightly. Repeat this twice with the remaining sugar and cornstarch mixture.

Pour the fruit filling into the prepared crust.
To prepare the pecan crumble topping
Rub all the ingredients together with your hands until the butter is fully incorporated into the flour.

Sprinkle the crumble mixture over the peaches. I like to squeeze it together in my hand and break of thumbnail sized pieces to drop over the surface of the pie. Chill the pie until the oven is preheated.
To bake the pie
Preheat oven to 400 degrees F and lower the oven rack to the lowest level.

Bake for 20 minutes at this temperature then move the rack up one level and reduce the temperature to 350 degrees F.

At this point, I usually add an aluminum foil collar around the pie plate to keep the crust at the edge from browning too much.

Bake for an additional 40-50 minutes or until you can see the filling bubbling.

At any point, if you feel that the topping is browning too much, simply lay a single sheet of aluminum foil over the pie in the oven.

Allow the pie to cool completely to room temperature before serving