Quick & Easy Homemade Butter Chicken. A simplified version of the Indian take-out classic Butter Chicken. Deeply flavourful, rich and spicy without an overwhelming amount of heat.
So many people search for a really great homemade butter chicken recipe and I think this is a great one. If you are looking for the definitive recipe for butter chicken, keep looking and good luck.
There are many different recipe versions out there, geared to many different tastes.
While most start with the essential ingredients of tomato, garlic, onions and of course butter, the spices and dairy ingredients can vary considerably.
Some recipes use milk or cream, others yogurt and still others, combinations of all three. I like to use mostly yogurt and balance it with a finish of honey and cream.
There are also many, many different spice blends under the umbrella name of "garam masala". I use one from my local South Asian grocery which I like very much but also to which I add more of the spices I like best.
Butter Chicken to suit your own taste.
My own recipe for homemade butter chicken is one that is suited to my own taste. It is really a dish that has been created from cherry-picking the best of several recipes that I have tried or read.
Some recipes for example do not include cardamom which has become an essential spice in my version.
The bottom line is that, like many dishes I cook, I use a good recipe as only a starting point from which I add to or subtract from to suit my own taste. I encourage anyone to do the same. and lots more recipes for chicken in our
The best Homemade Butter Chicken recipe needs the best Homemade Naan recipe too or try Coconut Cashew Raisin Naan
NEW SUGGESTION! Try our very quick and easy Yogurt Flatbread recipe, which is also great served with any curry dish you like.
May 20, 2017 Butter Chicken Update! A vegetarian option!
My daughter Olivia is home from university in Toronto for the summer, so with a vegetarian now in the house, we are making more of these types of recipes but in a meatless version.
The photo above shows the exact same sauce recipe but, instead of using chicken, right at the end in the last few minutes of cooking time, I added 2 cups each of cooked chickpeas and green lentils.
Olivia and her vegetarian friends loved it!
I had some the next day over steamed rice for lunch and it was quite delicious. This is one we will be adding to our meatless Monday regularly, I predict.
For another utterly delicious version of chickpea curry please check out this recipe for Coconut Chickpea Korma.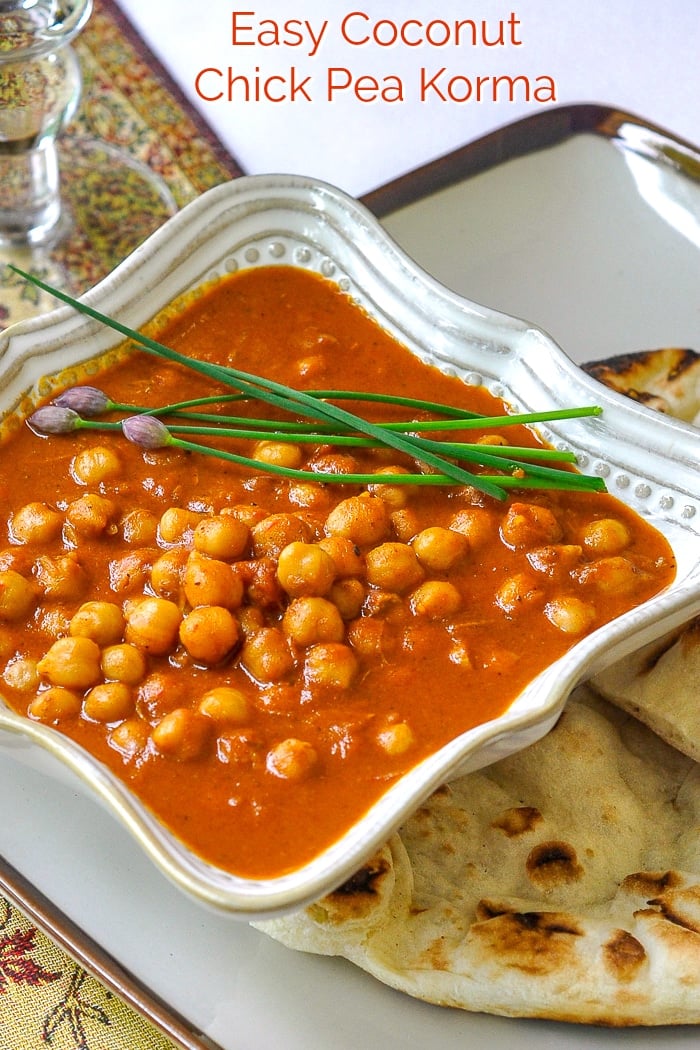 Looking for more chicken dinner ideas. Be sure to check out this collection of our Most Popular Chicken Recipes of the last decade.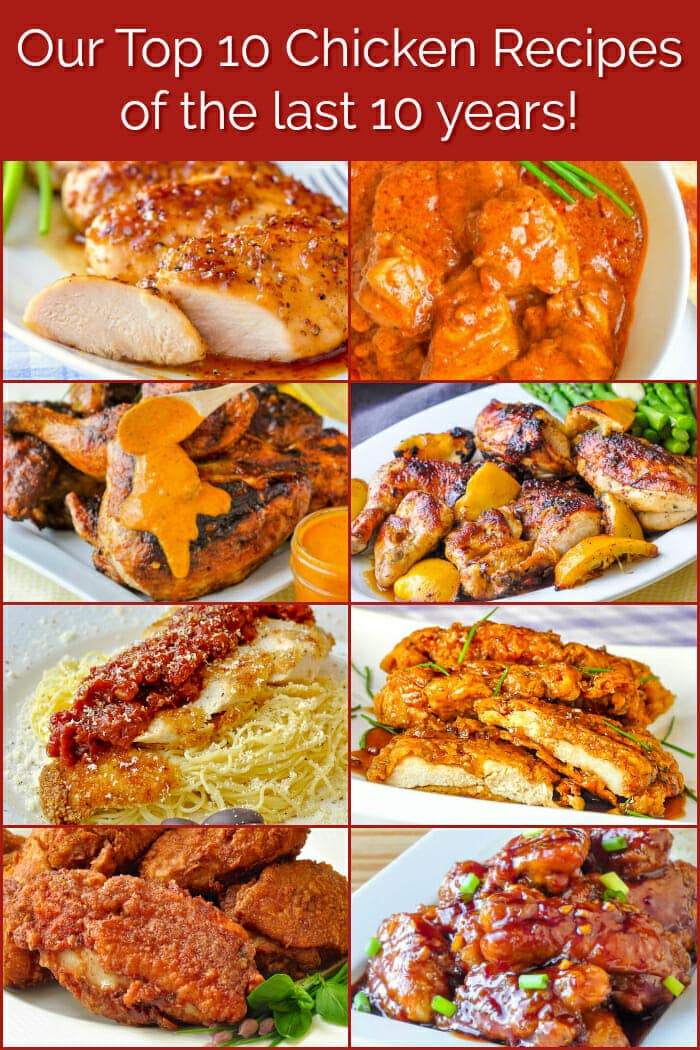 Like this Homemade Butter Chicken recipe?
Find many more tasty dishes like this in our Indian Inspired Dishes Category and lots more recipes for chicken in our Chicken Recipes Category.
It's easy to keep up with the latest home style cooking & baking ideas from Rock Recipes. Be sure to follow Rock Recipes Facebook Page and follow us on Instagram. Plus you'll see daily recipe suggestions from decadent desserts to quick delicious weekday meals too.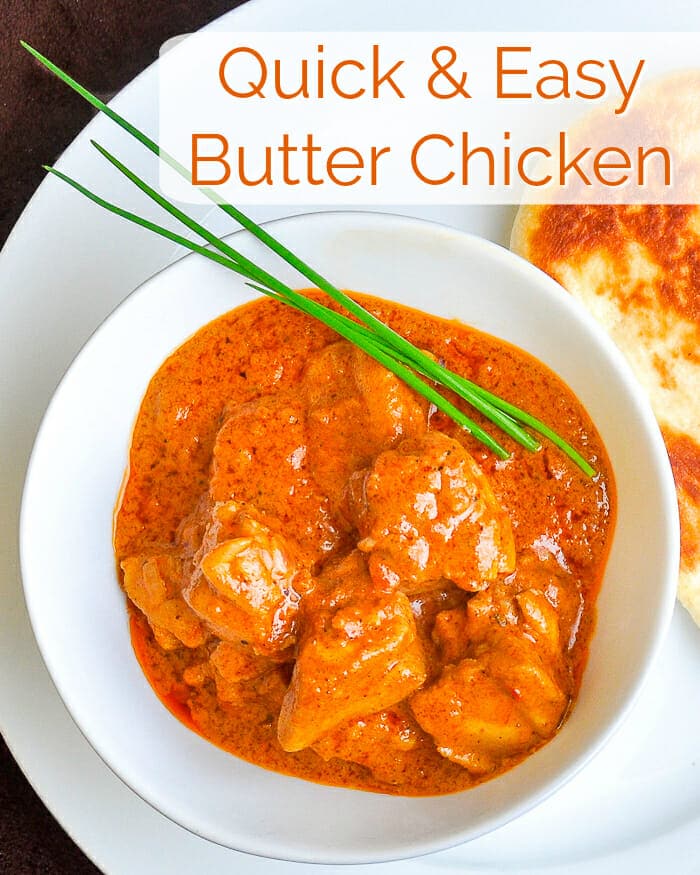 You can also sign up for our FREE newsletter to know immediately when we add new recipes. You'll also get weekly suggestions for great family friendly meals and desserts too!

Rock Recipes a participant in the Amazon Services LLC Associates Program, an affiliate advertising program designed to provide a means for us to earn fees by linking to Amazon.com and affiliated sites. Our product recommendations are almost exclusively for those we currently use or have used in the past.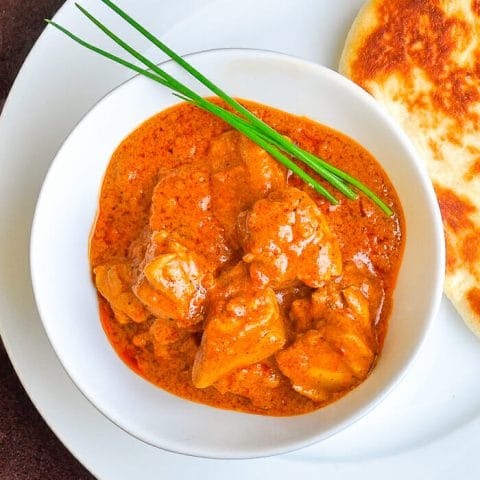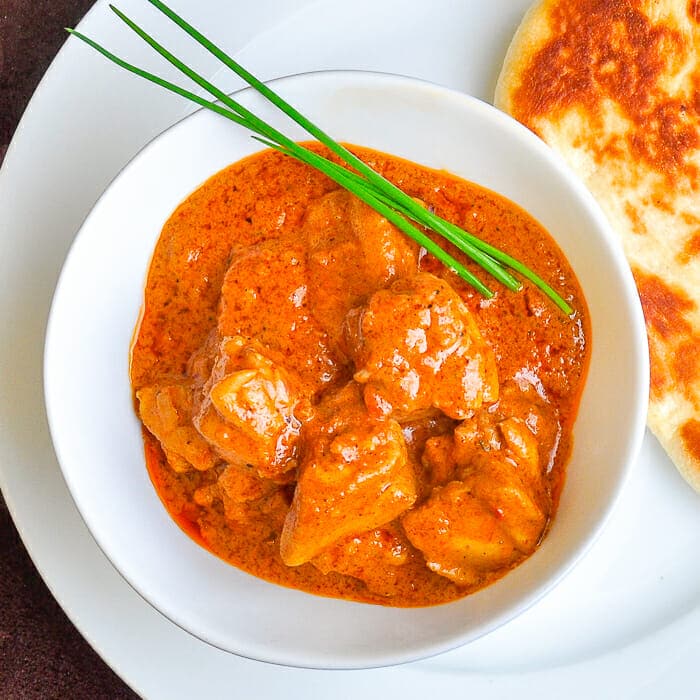 Yield:

6 servings
Quick & Easy Homemade Butter Chicken
A simplified version of the Indian take-out classic Butter Chicken; rich and spicy with not an overwhelming amount of heat.
Ingredients
8 large boneless skinless chicken thighs cut into bite sized pieces
3 tbsp butter
3 tbsp peanut oil
3 tsp + 4 tbsp garam masala
Salt and pepper to season
6 + 1 cloves minced garlic
1 large white onion diced
6 large ripe tomatoes, diced (about 4 cups or use 3 cups canned tomatoes)
4 seeded green chilies chopped, if green chilies are not available, substitute crushed red chili paste or cayenne pepper to taste
½ cup plain, unsweetened yogurt
1 tsp ground cardamom
1 tsp freshly ground nutmeg
1 tsp ground cumin
2 tbsp chili powder
2 tbsp lemon juice
4 tbsp finely grated fresh ginger
¼ cup melted butter
1 cup chicken stock
2 tbsp honey, more or less to taste
½ cup cream
Instructions
I use boneless skinless chicken thighs in this recipe, which I cut into bite-sized pieces because it's faster than using whole chicken pieces and because I like to simmer the chicken in the sauce for a while before serving. You can use chicken breast pieces if you like, but simmering chicken breast for any length of time will dry it out considerably, so you may just want to add it back to the sauce for only a minute or two to reheat it before serving.
The chicken for this recipe can simply be sautéed as in the recipe but when I have access to the backyard grill, I like to gill it for extra smoky flavor.
To a large covered Dutch oven over medium heat add the 3 tbsp butter and peanut oil. Season the chicken thighs with salt and pepper as well as the 3 tsp garam masala. Add to the pot and brown the pieces for 4 to 5 minutes. Remove chicken from pan and set aside. Add 6 cloves of minced garlic and the diced white onion.
Sauté the onions and garlic in the butter and oil until softened. Increase the heat to medium high and add the diced tomatoes.
Sauté the tomatoes until they break down and form a chunky sauce. Add the sautéed tomatoes and onions to a large blender or food processor along with the chopped green chilies, yogurt, 4 tbsp garam masala, cardamom, nutmeg, cumin, chili powder, lemon juice, ginger, 1 clove minced garlic, and ¼ cup melted butter.
Puree all ingredients together and return to the pot along with the chicken stock. Simmer together until the sauce is reduced in volume by about 1/4.
Add the chicken back to the pot and simmer slowly for 10 to 15 minutes. Finish the dish by adding the honey (more or less to taste) and cream.
Simmer for an additional minute or two before serving over rice or with naan.
Notes
2017 UPDATE: For my vegetarian version of this recipe, just make the sauce as normal, without the chicken pieces and add 2 cups of cooked chickpeas and 2 cups of cooked lentils to the sauce in the last few minutes of simmering time.
In either the chicken or vegetarian version, adjust any of the spice amounts you like to suit your own taste. "Make it the way you like it" is my motto. Never make apologies for making what tastes good to you.
TIP: When purchasing chicken thighs, I find it best to buy them already deboned with the skin removed. In my tests, I found that over half of the overall package weight was comprised of skin and bones. This means that even at double the price, the boneless skinless thighs are probably still a better value and you save yourself all the extra work too.
Nutrition Information
Yield
6
Serving Size
1 serving
Amount Per Serving
Calories

562
Saturated Fat

16g
Cholesterol

207mg
Sodium

469mg
Carbohydrates

28g
Fiber

4g
Sugar

11g
Protein

33g
The nutritional information provided is automatically calculated by third party software and is meant as a guideline only. Exact accuracy is not guaranteed. For recipes where all ingredients may not be used entirely, such as those with coatings on meats, or with sauces or dressings for example, calorie & nutritional values per serving will likely be somewhat lower than indicated.