Strawberry Pie. Southern style with no artificial colours or flavours. Why interfere with the sweet natural flavour of summer ripe strawberries?
I've been wanting to try making a Strawberry Pie like this for quite a while now but I always seem to miss out on the local strawberry season. The ripe season for strawberries comes to Newfoundland in early July rather than June in the rest of Atlantic Canada and other parts of the country.
Last week when I saw my cousin Eileen post on Facebook photos from her annual pilgrimage to Anna Mae's Bakery and Restaurant near St. Jacobs Ontario, for their seasonal strawberry pie, I determined I was not going to miss out this year.
Our strawberries are still not in season quite yet; no doubt the consequence of one of the coldest Springs I can remember in these parts. Some have arrived on our supermarket shelves from nearby Nova Scotia though, so I seized the opportunity while I could.
I have sampled quite a few versions of this pie over the years, especially in my extensive travels throughout the southern states. It's quite common to see in small diners or restaurants and even larger chains like Shoney's.
Many of them have been cloyingly sweet, ruining the flavour of the fresh strawberries and every one of them seemed to use artificially flavoured and coloured strawberry gelatine powder in the recipe. I believe this goes way back to a recipe that I seem to recall being printed on inserts or on the back of Jello packages back in the 70's…and who knows how much earlier. 
I always prefer the real thing to anything artificial so I set out to make a version that didn't use flavoured gelatine powder at all. Most of the recipes online are practically copies of each other, so I wanted to offer the version as something different, especially for folks who are sensitive or allergic to some of these chemicals.
Instead of making  gelatine syrup out of sugar and strawberry Jello powder as most of the online recipes instruct, I chopped fresh berries and cooked them down enough to release their natural juices, then added unflavoured gelatine to that, as well as the corn starch that is also used in practically every other recipe. Once cooled it was mixed with fresh sliced strawberries as usual to make the filling.
My finished pie was not overly sweet at all and all of the fresh strawberry flavour was present in abundance. Our family and neighbours thought it was delish! Success! 
Make one ofr your next summer BBQ or get together. I'll be enjoying it next on Canada Day tomorrow and it makes a terrific choice for the 4th of July as well. Just thrown on a few blueberries to garnish the cream in honour of the red white and blue.
Like this Strawberry Pie recipe?
You'll find hundreds of other sweet ideas in our Cakes & Pies Category and even more in our Desserts Category.
To keep up with the latest home style cooking & baking ideas from Rock Recipes plus daily recipe suggestions from decadent desserts to quick delicious weekday meals, be sure to follow Rock Recipes Facebook Page and follow us on Instagram.
You might also like: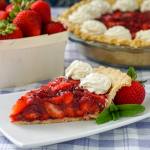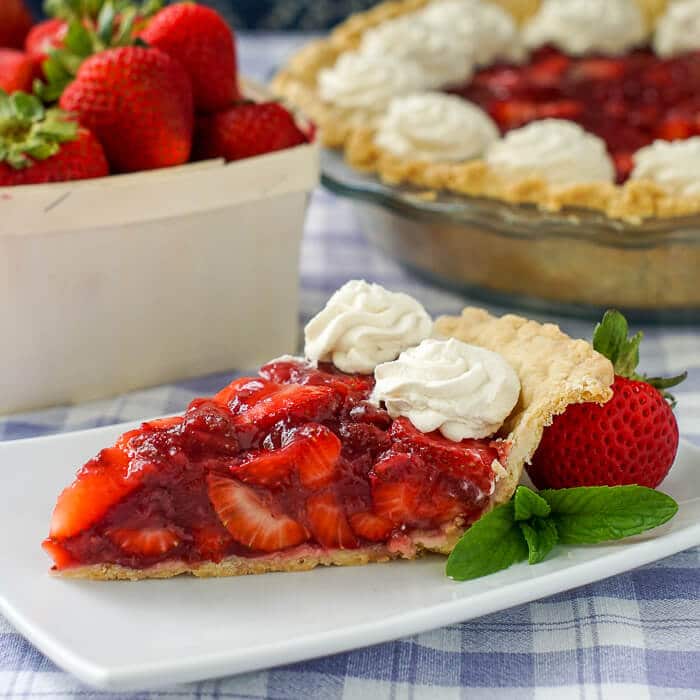 Strawberry Pie
Strawberry Pie - Southern style with no artificial colours or flavours. Why interfere with the sweet natural flavour of summer ripe strawberries?
Cuisine:
North American, Southern Inspired
Servings
:
8
to 10 servings
Ingredients
For the pastry (makes 2 pie shells)
3

cups

all purpose flour

1/2

tsp

salt

3/4 

cup

very cold butter

1/4

cup

very cold shortening

(you can use additional butter if you prefer)

1/4

cup

ice water
For the strawberry filling
2

tsp

unflavoured geletine powder

(stirred into 1/4 cup cold water)

6

cups

sliced strawberries

(Divided in 2 halves)

3/4

cup

sugar

( use up to 1 1/4 cups if you prefer it sweeter)

1/4

cup

water

2

tbsp

 corn starch

( dissolved in 1/4 cup water)
For the Vanilla Whipped Cream
1

cup

whipping cream

2

rounded tablespoons icing sugar

(powdered sugar)

1

tsp

vanilla extract
Instructions
To prepare the pastry
Using a food processor or a pastry blender cut cold butter & shortening into flour and salt until mixture resembles a coarse meal. Small pieces of butter should still be visible.

Pour cold water over the mixture and work in by tossing with a fork until dough begins to form. Use your hands as little as possible and work the dough as little as possible.

Divide dough into 2 balls, flatten into 2 rounds, wrap in plastic wrap and place in the refrigerator to rest for a minimum of 20 minutes. You can freeze the second round for another time.

You can make your dough the previous day but make sure you take it out of the fridge for 10 -20 minutes to warm slightly before rolling out.

Roll the dough into a 12 inch round and place in the bottom of a 9 or 10 inch pie plate.

Trim and flute the edges as desired.

Poke a few holes in the bottom of the pastry shell, rest in the refrigerator for an additional 20 minutes before baking at 400 degrees F for 12 – 15 minutes or until golden brown. ( Alternatively you can blind bake the pie shell using baking weights if you prefer.)

Cool completely before adding the filling.
To prepare the filling
Add the gelatine to the 1/4 cup cold water and set aside for a few minutes until needed.

Add 3 cups of the sliced strawberries, the sugar and 1/4 cup water to a small saucepan and simmer for only a few minutes until the strawberries have release most of their juice.

Dissolve the corn starch in the 1/4 cup of water and stir into the simmering strawberries.

Stir constantly for 2 to three minutes while the strawberry mixture thickens.

Remove from heat and stir in the gelatine mixture until it is fully dissolved.

Allow to cool to almost room temperature before stirring in the 3 cups of fresh sliced berries.

Pour into the baked pie shell and refrigerate for several hours or overnight until set.
To Prepare the Vanilla Whipped Cream
Simply beat all of the ingredients together with an electric mixer until firm peaks form.

Use the cream to garnish the pie or add a dollop of it to the top of the pie when serving.
[asa2]1550816551[/asa2][asa2 country_code="CA"]1550816128[/asa2][asa2]1550815555[/asa2]
Rock Recipes a participant in the Amazon Services LLC Associates Program, an affiliate advertising program designed to provide a means for us to earn fees by linking to Amazon.com and affiliated sites. Our product recommendations are almost exclusively for those we currently use or have used in the past.