The Best Buttermilk Biscuits & Honey Butter. This recipe uses less fat than a lot of others found online, resulting in lighter, flakier buttermilk biscuits; fantastic served with melting honey butter.
Followers of Rock Recipes will know that I love a great weekend brunch and look forward to it all week long. Brunch ideas have often made appearances here over the years. This week was extra special with my sister visiting from Alberta along with her husband and a friend, Kaitlyn.
She's a land locked Albertan who has come to love the natural beauty and warm spirit of Newfoundland, our incredible island home.
To watch Katie comb our rocky beaches for seashells and starfish with the wide-eyed wonder of a child, is to witness the spirit of so many who have discovered this place and now claim just a little piece of it as home.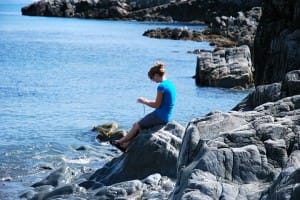 But more than the spirit gets fed here in Newfoundland, so back to that brunch. From the rocky shores of Newfoundland we travel to the sandy beaches of the US gulf coast for a southern breakfast specialty, the buttermilk biscuit.
Biscuits? Tea Buns?
In Newfoundland we are very fond of our raisin tea buns and the food culture equivalent in the southern states has to be warm, tender buttermilk biscuits.
I've sampled many in my travels in chain restaurants to roadside diners. Real buttermilk was not readily commercially available here until being recently introduced by Farmers brand. Before that, my attempts with buttermilk substitutes have always fallen just a little short of my expectations.
Not so now, as these beautiful little biscuits were a big hit with all 11 hungry appetites at yesterday's brunch. About three dozen were conquered with various combinations of sweet honey butter, homemade cherry apple jam, fresh strawberries and cream.
So many ways to enjoy Buttermilk Biscuits.
One or two adventurous experimenters who shall remain unnamed, piled all of those on as an over the top finale to a great meal. The meal also included scrambled eggs, sausage and one of my favourites, Prime Rib Hash. It was topped with what has become a favourite breakfast condiment at our house, Spicy Quick Tomato Compote.
There are a few tips that make this recipe work particularly well in my opinion. Although many traditional southern recipes call for all shortening in varying amounts, some of them leave the biscuits a little too oily for my taste. This one relies on a combination of a moderate amount of vegetable shortening and butter for a perfect combination of lightness and flavour.
The amount of baking powder required is about double what I would use for our traditional tea buns and is supplemented with just a little baking soda. Too much soda in other recipes I find I can taste quite strongly and really don't enjoy. ( See an update on this in Notes)
Other than that, the trick to really flaky biscuits is handling the dough as little as possible. Overworking the dough will produce much denser biscuits, although a couple of folds of the biscuit dough never hurts. Higher than usual oven temperature also makes these rise, bake and brown quickly making them extra flaky too.
For even more delicious ideas for scones, we have put them together into one amazing collection of our 25 Best Scone Recipes.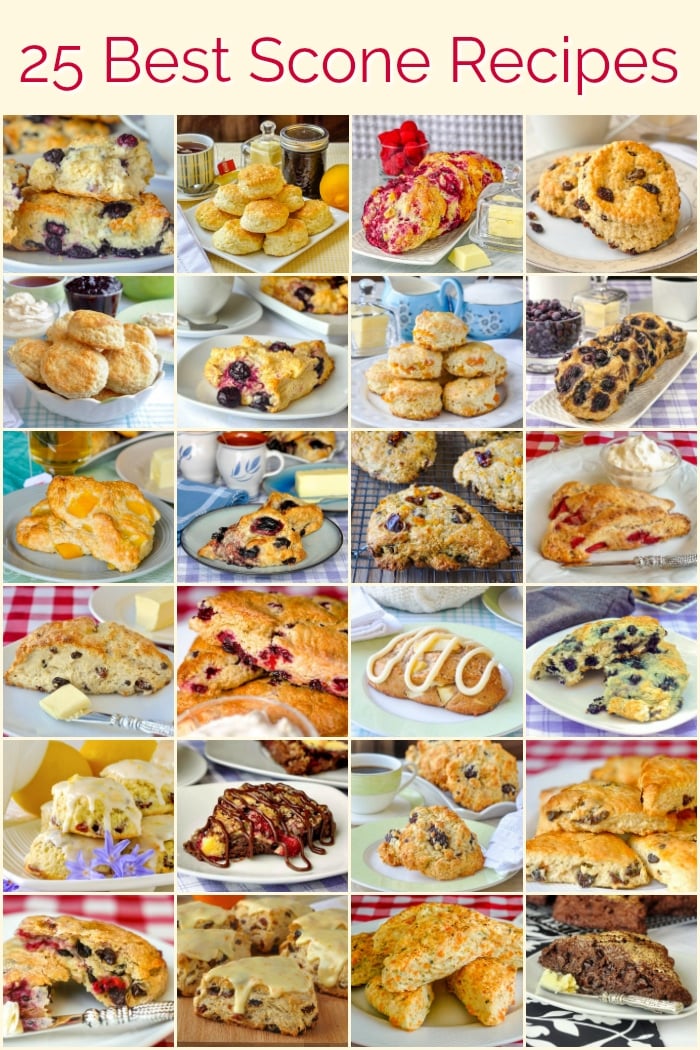 Like this Buttermilk Biscuit and Honey Butter recipe?
You'll find dozens of other great recipes like this in our Breakfast & Brunch Category and even more ideas in our Muffins, Tea Buns & Scones Category.
It's easy to keep up with the latest home style cooking & baking ideas from Rock Recipes. Be sure to follow Rock Recipes Facebook Page and follow us on Instagram.
Plus you'll see daily recipe suggestions from decadent desserts to quick delicious weekday meals too.
You can also sign up for our FREE newsletter to know immediately when we add new recipes. You'll also get weekly suggestions for great family friendly meals and desserts too!

Rock Recipes a participant in the Amazon Services LLC Associates Program, an affiliate advertising program designed to provide a means for us to earn fees by linking to Amazon.com and affiliated sites. Our product recommendations are almost exclusively for those we currently use or have used in the past.
Visit my Amazon Store for my favourite kitchen gadgets and appliances, plus recommendations from my personal cookbook collection.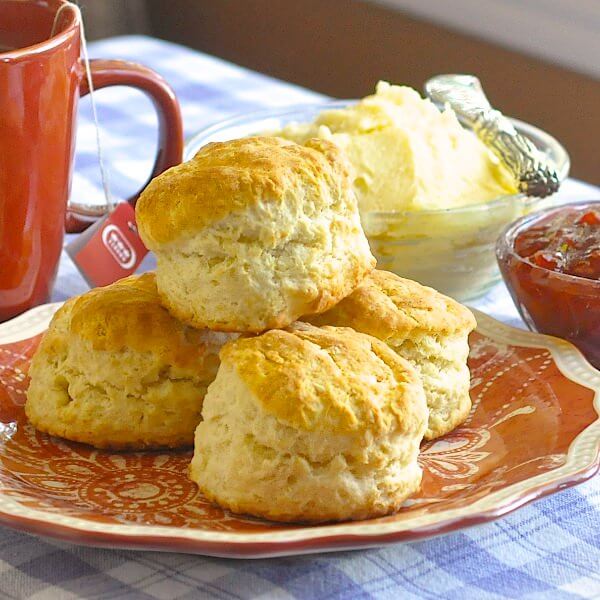 Yield:

18 2 inch biscuits
The Best Buttermilk Biscuits & Honey Butter
Give these a try to add a touch of homemade baking love to your next weekend brunch. I guarantee they will be much appreciated and enjoyed.
Ingredients
For the buttermilk biscuits
4 cups all purpose flour
6 tsp baking powder
1/2 tsp baking soda
Pulse in
1/4 cup + 1 tbsp very cold vegetable shortening, cut in small cubes (I store mine in the freezer)
1/4 cup + 1 tbsp very cold salted butter, cut in small cubes
2 cups buttermilk
For the honey butter
1 cup butter, not margarine or other horrible butter substitutes
1/2 cup honey
Instructions
To prepare the buttermilk biscuits
Preheat oven to 425 degrees F.
In a food processor, blend together the flour, baking powder and baking soda.
Pulse in the cold butter and shortening. Do not over incorporate the shortening and butter into the flour. Similar to making a flaky pastry, small pieces of butter should be visible in the flour.
Transfer this mixture from the food processor into a large mixing bowl and make a well in the center. Pour in the buttermilk.
Working very quickly with a wooden spoon, fold the dry mixture through the buttermilk, only until the flour disappears, then stop immediately.
Drop the sticky dough onto a well floured counter top or bread board. Sprinkle the top of the dough with additional flour as well as flouring your hands to handle the dough. I don't even use a rolling pin for these biscuits, the dough is soft enough to pat it out gently with floured hands to a thickness of about 1 & 1/2 inches.
Using a sharp 2 inch biscuit cutter cut the biscuits out an place them, almost touching, on a parchment paper lined baking sheet. I recommend aluminum baking sheets because they tolerate the higher oven temperature without burning the bottom of the biscuits.
Bake in the preheated oven for about 20 minutes or until the tops of the biscuits are evenly golden brown. Delicious served warm with Honey Butter.
To make the Honey Butter
Honey butter is simply honey beaten into plain butter in a 2 to 1 ratio of butter to honey.
Beat together with an electric mixer until smooth and fluffy.
Notes
The original recipe was based upon a very old recipe that I was given many years ago. It's been a while since this recipe was first published on Rock Recipes and some people have written over the years that they use considerably less baking powder in the recipe. Some have found that it affects the taste.
From my own experiments, though, I have found that you will still get very good results using 4 teaspoons of baking powder and 1/2 tsp soda.
You may want to consider those amounts first and increase it in later batches if you feel your biscuits need more lift.
The nutritional information provided is automatically calculated by third party software and is meant as a guideline only. Exact accuracy is not guaranteed. For recipes where all ingredients may not be used entirely, such as those with coatings on meats, or with sauces or dressings for example, calorie & nutritional values per serving will likely be somewhat lower than indicated.
Nutrition Information
Yield
18
Serving Size
1 grams
Amount Per Serving
Calories

286
Total Fat

16g
Saturated Fat

9g
Unsaturated Fat

0g
Cholesterol

36mg
Sodium

178mg
Carbohydrates

31g
Sugar

9g
Protein

3g