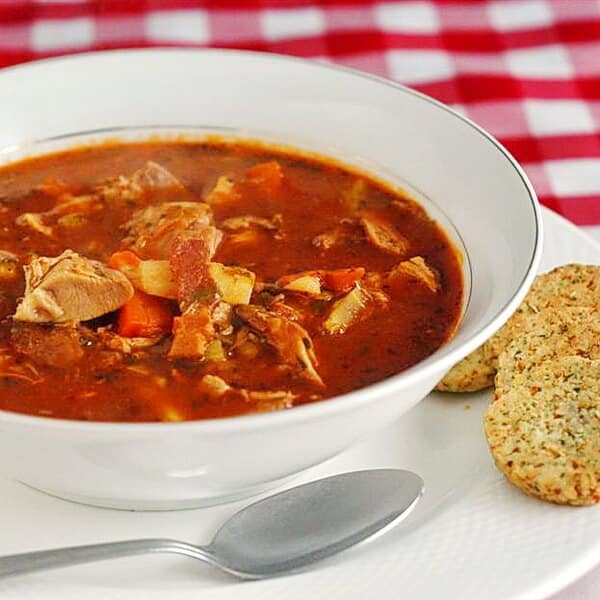 Turkey Bacon and Tomato Soup
During December we will be presenting turkey recipes in our continuing video series with CBC Newfoundland and Labrador to serve as a helping hand in getting the word out about their 9th annual Turkeys for Christmas Drive. Please take the time to drop off a turkey at one of the designated drop off points or make a cash donation in aid of local food banks, so that every family can enjoy a wonderful Christmas feast this Holiday season. Find all the information you need to make your donation by clicking the link right here.
Today we have a delicious leftover soup recipe that is inspired by another turkey leftover staple, the club sandwich. Hey, if the flavors work together in a sandwich, they will work together in a soup. One of my favorite additions to this recipe is the chopped fennel, a vegetable that I absolutely love for it's anise-like flavor. I think it adds a delicious note to the broth of this soup.
Homemade turkey stock is so easy to make and it is something that we always have at our house because we have roast turkey probably at least once a month. I simple break up the carcass of the turkey after using all of the leftovers and cover the bones with water. A little salt and pepper is all that you need to make a neutral stock that you can use for sauces, soups, and especially to give your turkey a helping hand and a flavor boost the next time you roast a turkey. At our house it's insurance that there will be plenty of luscious gravy, no matter how many people show up for dinner. Optional flavor additions to a good turkey stock can include, onions, celery, carrots, thyme or bay leaves in any combination. It really s your choice and depends on how you plan to use your stock.
I like to reduce stock considerably in order to concentrate the flavor, especially when using it for a deeply flavored, rich gravy.
Watch the video below and you will see just how easy this simple, delicious soup is to prepare.
To find the complete recipe for the soup, click here.
For some mobile users, if the video does not load below, please click here for an alternate link.