Bourbon Apple Fruitcake. A real old fashioned recipe thats simply mixed together in one bowl and baked. The shredded apples in the batter keep it moist and delicious, while the bourbon enhances the flavour of the cake beautifully.
This bourbon apple fruitcake is one like your grandmother or great grandmother might have made. Long before the days of heavy duty stand mixers or even hand held electric mixers, many a Christmas fruitcake was made by hand in a large mixing bowl with only the aid of a sturdy wooden spoon and plenty of elbow grease. And you know what? They were still incredibly delicious.
Regular readers know that I am a big fan of all the British cooking shows, particularly the baking shows like the Great British Bake Off. Old fashioned baking is having a bit of a renaissance  in the UK and you will still see the traditional "all-in-one" method used for recipes such as a Victoria Sponge Cake.
That method is as simple as it gets and just as the name suggests, all of the ingredients go in at once, are mixed together into a batter and baked.
This Bourbon Apple Fruitcake is pretty much exactly that. I've separated it out into three steps, really, to ensure a good even consistency to the batter but it is essentially all just mixed together in this easy method. 
Essential to this method though, is having the butter very soft and I include my trick in the recipe for making butter soft and spreadable, even straight from the fridge.
I like this fruitcake in particular because it bridges two different tastes. In general, people prefer either light, unspiced fruitcake or dark, molasses flavoured, deeply spiced fruitcake.
This cake is somewhere in between and sure to make everyone happy. The cake can be made now, several weeks before Christmas, if you are planning to soak it in bourbon or other spirits. If not, a week or so before Christmas is perfectly fine to make this delicious addition to your Holiday celebrations.
If you liked this recipe please check out all of our other Christmas Cake Recipes here.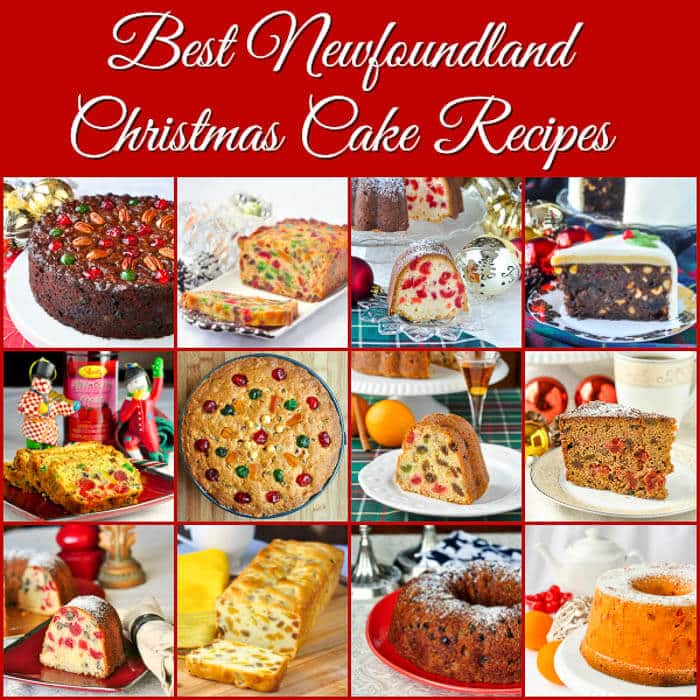 Like this Bourbon Apple Fruitcake recipe?
We have many more great baking ideas for the Christmas season in our Christmas Recipes Category.

To keep up with the latest home style cooking & baking ideas from Rock Recipes plus daily recipe suggestions from decadent desserts to quick delicious weekday meals, be sure to follow Rock Recipes Facebook Page and follow us on Instagram.
Originally published Nov 19, 2016.
You might also like: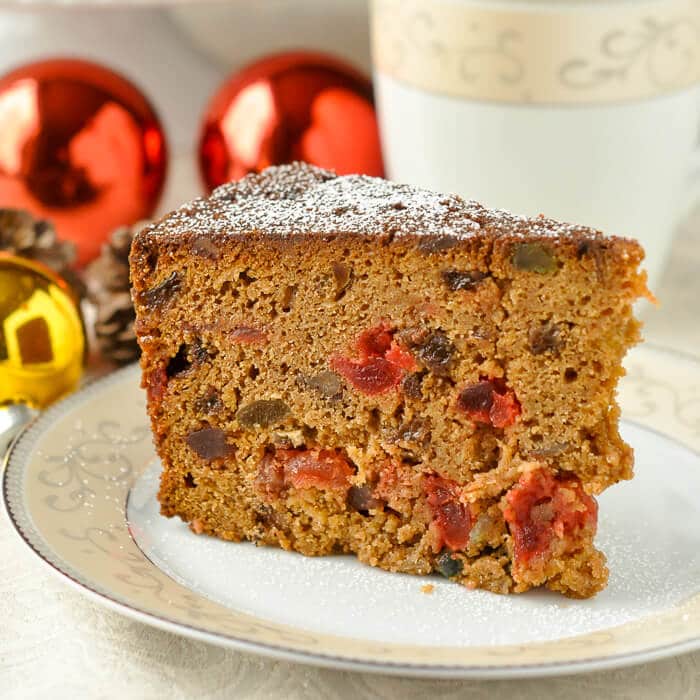 Bourbon Apple Fruitcake
Bourbon Apple Fruitcake - a real old fashioned recipe thats simply mixed together in one bowl and baked. The shredded apples in the batter keep it moist and delicious, while the bourbon enhances the flavour of the cake beautifully.
Servings
:
2
dozen or more servings
Ingredients
2 1/2

cups

flour

reserve 1/2 cup to coat fruit

1 1/2

cups

lightly packed brown sugar

2

tsp

baking powder

2

tsp

cinnamon

1

tsp

ground nutmeg

1/2

tsp

allspice

1 1/2

cups

butter

very soft; see instructions

3

tbsp

mollasses

5

eggs lightly beaten

1

tsp

vanilla extract

1/2

tsp

almond extract

3

medium apples grated

1

cup

raisins

1

cup

mixed fruit

1

cup

glacé cherries

cut in half

1

cup

toasted chopped nuts (walnuts

pecans, hazelnuts...whatever you like.)

8

ounces

bourbon

1 cup, for soaking into the cake when cool, Optional
Instructions
This cake can be made the old fashioned way, simple by using a large mixing bowl and a wooden spoon. If you are using a stand mixer, choose the paddle attachment and keep it on low speed throughout.

Preheat oven to 325 degrees. Lightly grease and flour a 10 inch springform pan. Line the bottom of the pan with parchment paper for easy release if you prefer.

This cake can also be baked in a large tube pan (angel food cake pan). It will be too large for a bundt pan but you may get a bundt sized cake and a small loaf cake out of the recipe.

In a large bowl mix together 2 cups of the flour plus the brown sugar, baking powder, cinnamon nutmeg and allspice. I use a whisk to mix it making sure that there are no lumps of brown sugar in the mix.

Before adding the butter make sure that it is very soft. You can soften butter in the microwave by putting it on defrost for a few seconds at a time, and then leaving it for a minute to rest. Repeat this process a few times until the butter is very soft; to the consistency that it would spread across a slice of fresh bread easily.

Add the butter, molasses eggs, vanilla & almond extracts and the grated apples.

Stir until the flour is almost incorporated. (A few streaks of flour remain in the batter)

Toss all of the fruit with the remaining 1/2 cup flour and add to the batter along with the nuts.

Fold the fruit & nuts into the batter and spread evenly into the prepared pan.

Bake for up to 2 hours or until a wooden toothpick inserted in the centre comes out clean.

Bake at 325 degrees F for 1 ½ to 2 hours depending upon the size of your pan. Mine took the full two hours in a 10 inch spring form pan.The cake should feel firm to the touch at the center and a wooden toothpick inserted into the center should come out clean. The cake should be cooled almost completely in the pan on a wire rack before removing.

At this point you can poke small holes in the top and bottom of the cake with a wooden skewer and very slowly spoon on on 4 ounces of bourbon, half on the top, wait ten minutes, then flip it over and pour the remaining half on the bottom.

(Note that you can add 1/2 the amount one week and half the next as some people prefer.)

Soak several layers of cheesecloth in additional bourbon if you like and wrap completely around the cake, then cover with several layers of plastic wrap and store in a COOL place.

If bourbon is not to your taste, you cause dark rum or brandy of you prefer.
[asa2]1550816551[/asa2][asa2 country_code="CA"]1550816128[/asa2][asa2]1550815555[/asa2]
Rock Recipes a participant in the Amazon Services LLC Associates Program, an affiliate advertising program designed to provide a means for us to earn fees by linking to Amazon.com and affiliated sites. Our product recommendations are almost exclusively for those we currently use or have used in the past.