Bourbon Mushroom Sauce on Grilled Rib Eye Steak. A richly flavoured sauce to compliment the flavour of a top quality prime beef steak.
I am a bit of an unrepentant steak lover and a steak dinner is probably an ultimate celebration meal for me, especially when you up the indulgence by accompanying it with this incredibly delicious Bourbon Mushroom Sauce. The steak recipe was inspired by the Philips Smokeless Infrared Indoor Grill which I was given to review. As regular readers of Rock Recipes know well, I am a grilling addict so when someone mentions a great indoor grill, you bet that gets my attention.
Grilling the perfect steak is a bit of an art in itself but in essence, is also an incredibly simple thing to do. The first thing you need is high constant heat and the Philips Smokeless Indoor Grill delivered. There is no heat control on the grill, you just turn it on and after about a 6 minute warm up, it maintains a constant 446 degrees F.
That level of heat was perfect to sear the outside of this beautiful rib eye steak, sealing the juices in, while cooking the interior to the perfect level you'll want. When steaks hit any grill, they have sizzle if there is sufficient heat and there was no doubt that my steaks sizzled as soon as they came into contact with the grill surface.
Because the heat source is reflected from the sides of the grill there is no hot element under the meat, so when fat drips it doesn't cause smoke. The amount of residual smoke does vary a little in my testing; a very fatty steak like a rib eye will have a little residual smoke from coming into contact with the hot grill plate but nothing that couldn't be handled by my stovetop kitchen ventilation fan on low speed. The boneless skinless chicken breasts and vegetables we grilled for fajitas another day gave off no visible smoke at all.
I was very impressed with this grill overall. The simple design lets it blend in to any kitchen, the uncomplicated controls remove all temperature guesswork and the results in the chicken and steak I grilled were excellent; both turned out juicy and succulent. The cleanup was super easy too because the grill top and drip tray are very easily removed and can be popped into the dishwasher.
I am looking forward to using this grill all winter long and I have a great idea for how to use it in entertaining for the holiday season coming up. I think your guests will enjoy my fun idea and delicious recipe. Stay tuned for that recipe soon.
To learn more about the Philips Smokeless Indoor Grill please visit the Philips website.
Click here for the recipe for the Twice Baked Smoked Cheddar Potatoes.
Like this Prime Rib Beer Bacon Chili recipe?
You'll find hundreds of other great ideas in our Beef Recipes Category and even more in our BBQ & Grilling Category.
To keep up with the latest home style cooking & baking ideas from Rock Recipes plus daily recipe suggestions from decadent desserts to quick delicious weekday meals, be sure to follow Rock Recipes Facebook Page and follow us on Instagram.
You might also like: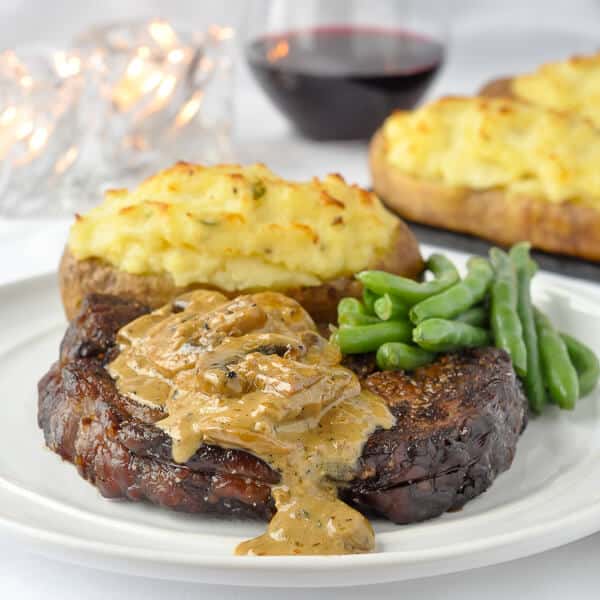 Bourbon Mushroom Sauce on Grilled Rib Eye Steak
Bourbon Mushroom Sauce on Grilled Rib Eye Steak - a richly flavoured sauce to compliment the flavour of a top quality prime beef steak.
Ingredients
2

rib eye steaks about 1 1/2 thick

Strip Loin or Tenderloin can also be used

salt and pepper to season
For the Bourbon Mushroom Sauce
2

tbsp

butter

1

large shallot minced

1

clove

garlic minced

salt and pepper to season

1 1/2

cups

sliced cremini mushrooms

or other mushroom of your choice

2

ounces

Bourbon

1/2

cup

beef stock

pinch nutmeg

1/4

cup

whipping cream

1/2

tsp

chopped fresh thyme

or 1/4 tsp dried thyme

1

tbsp

additional butter

cold
Instructions
Allow your steaks to come to almost room temperature before grilling. Leave them covered in plastic wrap as they come up to temperature.

Season with salt and pepper and cook on the preheated grill until your desired internal preference is reached. I found about 3 1/2 to 4 minutes per side is good for medium rare.

Turn the steaks only once during the cooking time.

Remove from the grill and let the steaks rest for 10 minutes on a plate. Loosely tent the steaks with aluminum foil, leaving a couple of openings for steam to escape.

Serve with the Sauce spooned over the top .
To prepare the sauce
When the steaks hit the grill start the sauce by sautéing the mushrooms over medium heat in the butter until they shrink and just being to turn a little brown at the edges. Season with salt and pepper.

Add the shallots and garlic and sauté for another minute or so until they soften.

Add the bourbon and let that cook off for only a minute.

Add the beef stock and nutmeg and allow the sauce to reduce by almost half for the next few minutes.

Add the whipping cream and thyme and cook for only a minute or two more until the sauce is the right consistency. It should not be too thick but should coat the back of a metal spoon. If you reduce the sauce too much, just thin it wit a little extra splash of beef stock.

Just before serving, remove the sauce from the heat and stir in an additional butter. This gives the sauce good body and while when serving.
Rock Recipes is very pleased to have Philips as sponsor of this recipe post. Both product and compensation were provided in exchange for this review. The opinions expressed are based upon my experience and are entirely my own.
[asa2]1550816551[/asa2][asa2 country_code="CA"]1550816128[/asa2][asa2]1550815555[/asa2]
Rock Recipes a participant in the Amazon Services LLC Associates Program, an affiliate advertising program designed to provide a means for us to earn fees by linking to Amazon.com and affiliated sites. Our product recommendations are almost exclusively for those we currently use or have used in the past.