Chocolate Fudge Cake with Easy Fudge Frosting – a homemade, one-bowl chocolate cake covered in an easy fudge frosting that's made from chocolate chips.
This chocolate fudge cake recipe is really being posted for the easy fudge frosting. The same one-bowl, super easy, chocolate cake recipe has been used several times on Rock Recipes from Black and White Cake to Chocolate Buttercream Cake to Strawberry Black Forest Cake. It's a real tried-and-true recipe that's light , moist and tender and gets a great response every time. I'm adding it again here just to have the complete recipe in one place for convenience sake.
I have made quite a few fudge frostings over the years but they can be fussy things to deal with. One of my old time favourites was a shortening based recipe which was also cooked, but had to be beaten for a long time in a pan of ice water. That requires a had mixer and quite a bit of active time so I don't make that much anymore. A friend suggested this recipe to me and I tweaked it a little to use less sugar and make it a bit more intensely chocolate flavoured than the original. Make no mistake, any fudge frosting is going to be a sweet frosting anyway, but I found that using darker chocolate chips in this recipe rather than the semi-sweet it called for, and the addition of a small amount of cocoa really improved the overall flavour without adversely affecting the fudge consistency.
A few points to keep in mind:
Do not over boil the mixture to begin with or you risk the frosting crystallizing.
Be careful in measuring the butter. Over-measuring can turn a glossy frosting into a greasy frosting.
Do use 50% cocoa chocolate chips which contain less sugar than regular semi sweet chips.
Do not whip it on high speed. Fudge frosting should be dense and introducing air into the mixture can also cause it to crystallize.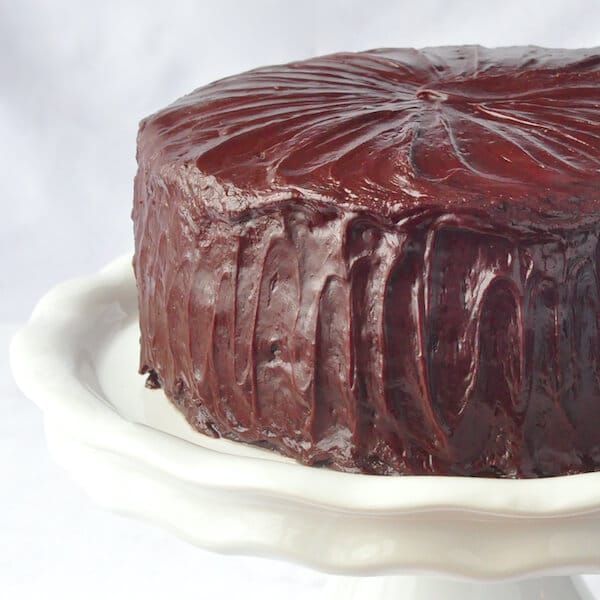 Chocolate Fudge Cake with Easy Fudge Frosting
Chocolate Fudge Cake with Easy Fudge Frosting - a homemade, one-bowl chocolate cake covered in an easy fudge frosting that's made from chocolate chips.
Servings
:
12
-16 servings
Ingredients
For the Chocolate Cake
2

cups

sugar

2

cups

all purpose flour

¾

cup

cocoa

2

tsp

. baking powder

1

tsp

baking soda

½

tsp

salt

2

eggs

1

cup

soured milk

1

cup

black coffee

½

cup

vegetable oil

1

tsp

vanilla extract
For the Fudge Frosting
2/3

cup

butter

2/3

cup

sugar

4

tbsp

cocoa

1

tsp

vanilla extract

2/3

cup

milk

2

cups

dark chocolate chips

50% cocoa
Instructions
To prepare the Chocolate Cake
Combine all ingredients in a mixing bowl and beat with electric mixer for 2 minutes.

Grease two 8 or 9 inch round cake pans and dust with cocoa instead of flour. I also like to line the bottoms of the pans with circles of parchment paper to ensure an easy release from the pan.

Bake at 350 degrees F for 30-35 minutes or until toothpick inserted in the center comes out clean. Cool in pans for 5 minutes before turning out onto a wire rack to cool completely.
To prepare the Fudge Frosting
Add the butter, sugar, cocoa, vanilla extract and milk to a medium sized saucepan and bring to a gentle boil for 1-2 minutes.

Remove from the heat and stir in the chocolate chips until melted and smooth.

Transfer the mixture to a bowl to cool completely. This usually takes an hour or more. Stir the mixture occasionally.

Beat in a stand mixer on low until the frosting thickens to a spreadable consistency. You can place it in the fridge a couple of times for 15 minutes or so to cool it faster if this is taking a long time to become spreadable.

Use immediately to frost the top, middle and sides of the chocolate cake.

Store leftovers in an airtight cake dome.