Christmas Plum Pudding. Bringing back a traditional favourite. A real old fashioned British favourite, with no suet and modern day tweaks to make it perfectly.
Originally published Dec 2020!
First let's start with the basics. There are no plums in Plum Pudding.
Now that may sound a bit weird to some of you right at the outset. However, in these parts, where there are no figs in Figgy Duff, the concept is not so strange.
All of this naming confusion, of course, harkens back to our British heritage. This connection to our roots on the other side of the Atlantic remains a constant influence in Newfoundland cooking and culture.
In pre-Victorian times, both plums and figs were common names for raisins in the UK. In fact, puddings like this are even older and can be traced all the way back to medieval times.
Centuries ago they were simpler affairs, with the earliest only consisting mostly of dried fruit, sugar, eggs, breadcrumbs and spices. While this recipe is a more modernized version, it still stays true to those roots by including all of those original elements.
Stir up Sunday.
A long held tradition that you may also like to revisit, is Stir Up Sunday. That is the last Sunday before Advent when families traditionally made and steamed their Christmas Puddings.
This ritual was a learning experience for children and a way to pass the tradition on to the next generation. The long-held practice was meant to be shared by the entire family, with each member taking their turn to stir the pudding before being steamed.
One ritual was for each person to make a silent wish for the next year as they stirred. Each family member taking part was supposed to ensure good luck in the year ahead. (I think this year we could use that more than ever!)
A more modern Plum Pudding.
Year after year it never fails that I get messages from readers locally, asking me for a local source of suet to make a traditional pudding or cake.
Of course, in modern supermarkets it can rarely be found. I have only ever seen it a couple of times in the frozen food section, and then, only around the Holidays as you would expect.
If you've never hear of it, as many outside the UK will not have, it is a particular type of hard fat around the kidneys of cows or sheep. Finely chopped or grated suet was a very common ingredient in many "puddings" centuries ago and still survives today in British cooking and baking.
Trying to write a modern day recipe for Plum Pudding that includes suet, was a bit pointless if nobody can find it, even if they wanted to use it. I decided to use butter instead.
The suet basically forms small pockets of fat in the pudding mixture, which then melted into the pudding as it cooked, adding flavour and moisture. In this recipe I replace it with very cold butter which can also be grated or processed with the flour in a food processor to mimic the same overall effect on the recipe.
Actually, I think it turned out quite well. I think it also tastes better because, well, butter makes everything better, doesn't it?
Steaming a Plum Pudding.
This is often the thing that intimidates people most about making a traditional plum pudding like this. However, it really should not.
A pudding steamer is a nice thing to have, and indeed we do have a couple of antique versions in our own kitchen. Many are often too small for a decent sized pudding in my experience, as well.
A dedicated steamer is not necessary though, only a little ingenuity is needed to make one out of available items already in your kitchen.
I mostly use a glass or metal bowl as a pudding steamer/mold. I have one set of metal bowls that is the perfect shape for this, which is a sort of oval-ish, half egg shape.
Having more than one size of bowl allows me to make different size puddings as well, which comes in handy when all my family shows up for Christmas.
The pudding bowl/mold then gets covered with a couple of layers of plastic wrap or parchment paper where it is secured with a piece of butcher string. A layer of aluminum foil, then goes over the top.
I place a trivet, small wire cake rack, or even an old tea plate in the bottom of a large boiler/stockpot. The prepared pudding mould is placed on the trivet to keep it away from the direct heat at the bottom of the pot.
Then, I fill the pot with boiling water, just about to the halfway point up the side of the bowl/mold. The pudding then steams away gently for a few hours and that's it.
Serving the pudding.
Reheating the pudding is quite simple because you can just put it back in the steamer for about an hour. I, however, like to serve it differently.
Especially on busy days, like Christmas Day, one more task like this is certainly not needed in the kitchen. I prefer to serve my pudding at room temperature but serve it with a hot sauce like Rum & Butter Sauce or Caramel Sauce.

Serving it this way will allow me to add a hard royal icing at the top as a traditional decoration with a sprig of holly. This particular icing has grated orange zest in it for even more flavour.
Serving it with flaming brandy at the table is always a theatrical event to be anticipated every year. It serves as a reminder of what Christmas celebrations should always be; good food, time with family, and an appreciation for traditions which keep us connected to the past.
I hope you decide to take this nostalgic taste trip with me and resurrect a delicious Christmas tradition. To you and yours, a very Merry Christmas. May it be all that you hope.
Looking for more delicious Christmas ideas?

If you are looking for more recipes like this, we have gathered a collection of our Most Popular Christmas Recipes of the past 14 years.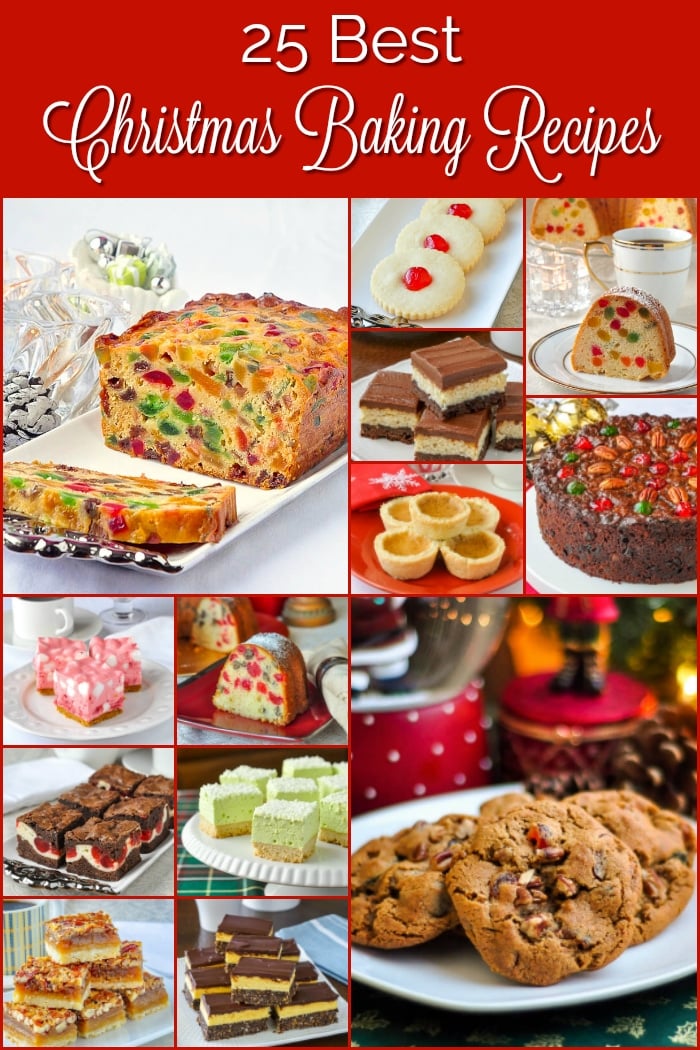 Like this Plum Pudding recipe?
If you're looking for other food gift ideas for the Holidays or just lots of seasonal recipe suggestions for both cooking and baking, be sure to browse our Christmas Recipes Category.
It's easy to keep up with the latest home style cooking & baking ideas from Rock Recipes. Be sure to follow Rock Recipes Facebook Page and follow us on Instagram.
Plus you'll see daily recipe suggestions from decadent desserts to quick delicious weekday meals too.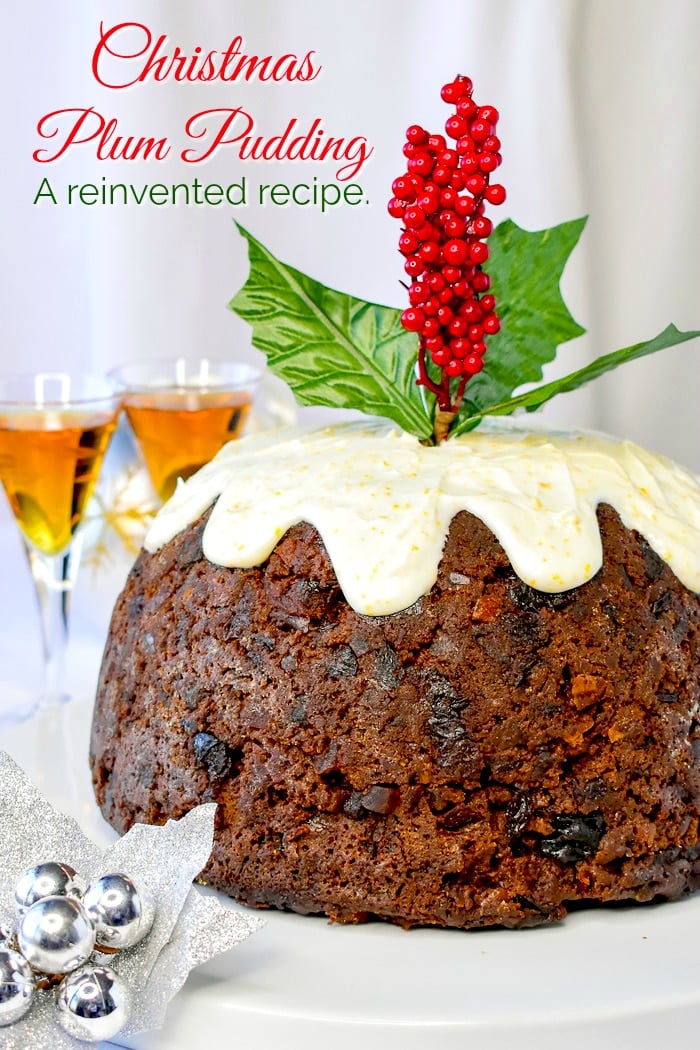 You can also sign up for our FREE newsletter to know immediately when we add new recipes. You'll also get weekly suggestions for great family friendly meals and desserts too!

Rock Recipes a participant in the Amazon Services LLC Associates Program, an affiliate advertising program designed to provide a means for us to earn fees by linking to Amazon.com and affiliated sites. Our product recommendations are almost exclusively for those we currently use or have used in the past.
Visit my Amazon Store for my favourite kitchen gadgets and appliances, plus recommendations from my personal cookbook collection.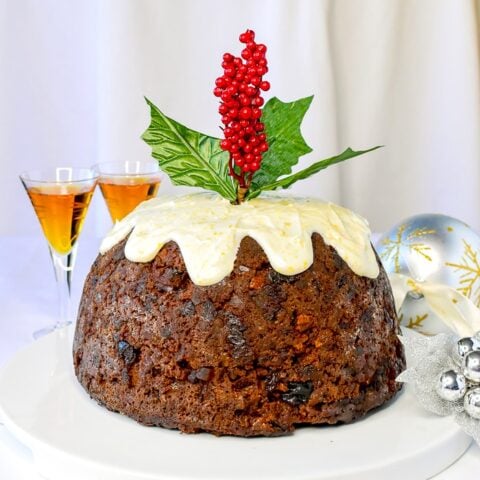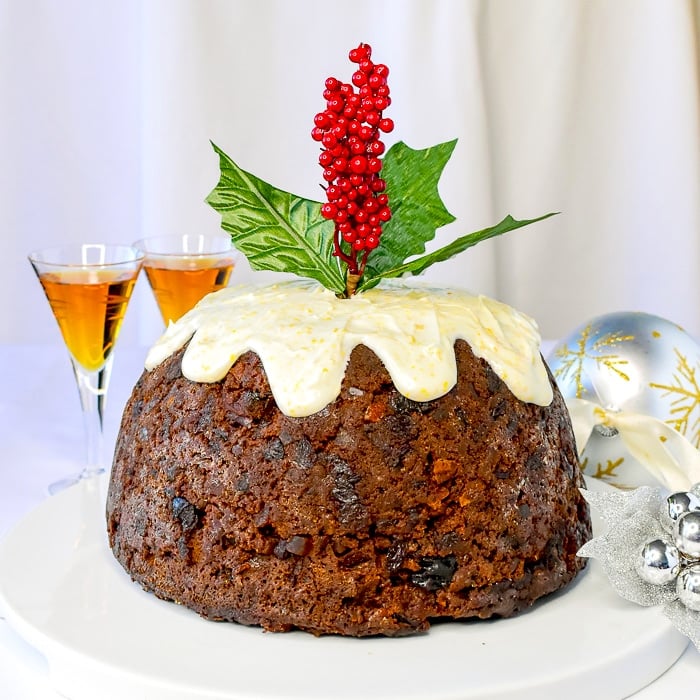 Yield:

16 servings, approximately.
Christmas Plum Pudding. Bringing back a traditional favourite.
Total Time:
4 hours
45 minutes
Plum Pudding. Bringing back a Christmas favourite. A real old fashioned British favourite, with no suet and modern day tweaks to make it perfectly.
Ingredients
For the soaked dried Fruits (See note below)
3/4 cup raisins
3/4 cup chopped glacé cherries
2/3 cup mixed dried fruit or citrus peel
3/4 cup chopped dried apricots
2/3 cup brandy, cognac, whiskey or rum, your choice (If not using alcohol substitute grape juice or apple juice.)
For the rest of the pudding
3 cups stale bread crumbs. (Bread that is several days old is best for making these crumbs.)
3/4 cup hot milk
1/2 cup flour (Yes that's all you need. There is also no baking powder or baking soda in this recipe. It is meant to be dense and rich.)
1/2 cup brown sugar (Dark brown sugar is best.)
1 tsp cinnamon
1 tsp nutmeg
1/2 tsp allspice
1/2 tsp salt
1 cup very cold or frozen butter (Frozen is easiest if you are grating the butter.)
6 eggs
2 tsp vanilla extract
1 tsp pure almond extract (optional)
1/2 cup toasted chopped nuts (your choice) (optional)
For the hard royal icing on top.
2 egg whites at room temperature
2 2/3 cups icing sugar (Approximately) (i.e. powdered sugar)
1/4 tsp cream of tartar (optional)
1 tsp finely minced orange zest or lemon zest.
Instructions
Grease a glass or stainless steel bowl or pudding mold. The bowl/mold should hold about 9 cups.
Line the mold with strips of parchment paper to help with the release of the pudding later.
To prepare the dried fruit
Simply mix together the dried fruits and brandy and let stand overnight or for several days beforehand.
Stir it several times during the soaking time and always have it in a sealed plastic container or bowl covered tightly with plastic wrap. You don't want the alcohol to evaporate.
To prepare the pudding.
Pour the milk over the breadcrumbs and set aside while you assemble the rest of the ingredients.
Sift together the flour, sugar, cinnamon, nutmeg, allspice and cloves. Set aside.
Whisk together the eggs and mix them through the soaked bread crumbs.
Grate the butter and toss with the dry ingredients. (Or use a food processor to pulse the butter through the flour and spice mixture. Small pieces of butter, about the size of small peas should still be visible in the mix.
Add the flour spice and butter mixture to the bread crumb and egg mixture, along with the dried fruits. (and nuts if you are using them)
Stir together well until completely combined.
To steam the plum pudding
Pour the batter into the prepared bowl/mold.
Cover the top of the mold with the lid. If using a bowl as a steamer, cover the top with a couple of layers of parchment paper or plastic wrap. Tie with a piece of butcher string or twine to secure it. Finally top with a couple of layers of aluminium foil and crumple it tightly around the edges.
Steam the pudding by in a stock pot or large dutch oven that is at least twice the size of the mold/bowl you are using, and at least a couple of inches taller.
Place a trivet, small cake rack or an old tea plate at the bottom of the pot. Place the pudding on top of the trivet and fill the pot halfway up the height of the pudding mold with boiling water. Pour the water down the side of the pot and not directly over the pudding mold. You will need to watch this closely and add more boiling water every hour or so, to bring it up to the same level that you started with.
Place the cover on the pot and bring it to a very gentle simmer. This should be done on a low to medium low heat, just enough to get that very slow simmer.
Steam for about 4 hours, topping up the boiling water mentioned above, as needed.
Cool the pudding in the steamer/mold for a couple of hours before turning it out.
TIP:
When storing my pudding after it is cooled, I keep it in the same bowl in which it was steamed. I just cover the top tightly with plastic wrap.
If soaking the pudding in brandy or rum, this is also a handy trick, if you line the bowl with layers of plastic wrap first.
Finishing the Pudding
If you want to add a royal icing topper on the pudding, you can do this a day or two in advance of serving.
Simple beat together the egg whites and icing sugar (+ cream of tartar if you are using it) with an electric mixer for 5 minutes until the mixture stiffens. You may need to add a couple of tablespoons more of the icing sugar if the consistency is too loose/runny. This is normal because the eggs can very slightly in size.
If using the citrus zest, fold it in by hand at the end.Spread the icing on the top of the inverted pudding, in a sort of dripping pattern. Allow to harden overnight to serve the following day.
A brandy or rum soak
Most often these sorts of puddings are infused with brandy or rum to compliment all the flavours inside. This is completely optional and should be done only when the pudding is completely cooled.
As mentioned above, I use the same bowl the pudding was steamed in to do the alcohol soak.
Line the bowl with several layers of plastic wrap and return the pudding to it. I use long skewers to poke a couple of dozen holes into the pudding, to about 2/3 of the depth of the bowl.
Then, I slowly spoon about 1/3 to 1/2 a cup of rum or brandy slowly over the surface.
I usually leave that for 2 or 3 days and then repeat the soak again. If you don't want it too boozy, you can just do one soak.
Notes
There is no hard and fast rule about the dried fruits in this recipe. About 2 pounds of any mixture of dried fruits you like to make your own version. Substitute currants, dried cranberries, glacé pineapple etc for any of the fruits in this recipe to make it your own.
Nutrition Information
Yield
12
Serving Size
1
Amount Per Serving
Calories

353
Total Fat

19g
Saturated Fat

11g
Trans Fat

1g
Unsaturated Fat

6g
Cholesterol

135mg
Sodium

342mg
Carbohydrates

36g
Fiber

2g
Sugar

20g
Protein

7g
The nutritional information provided is automatically calculated by third party software and is meant as a guideline only. Exact accuracy is not guaranteed. For recipes where all ingredients may not be used entirely, such as those with coatings on meats, or with sauces or dressings for example, calorie & nutritional values per serving will likely be somewhat lower than indicated.