Cumberland Sausage. Mildly spiced with common herbs and spices, this traditional meaty British sausage has little filler, freezes well, and can be stuffed into sausage casings or formed into patties.
I began making homemade sausages a couple of years ago. I have to say that it is one of the most satisfying things I've ever done in the kitchen. Sausages are one of those things that I've loved my whole life.
My mother used to get fantastic sausages from Walt Mercer's Butcher Shop in Coley's Point. They were definitely a family favourite. Growing up, we loved to make breakfast for dinner and if pancakes and sausages were on the menu, I was one happy kid .
These days our own family still occasionally does breakfast for dinner and of course we love our weekend brunches too. This Cumberland Sausage would be ideal to serve at either.
Cumberland Sausage comes from the Cumbria region In the Northwest of England. The sausage is traditionally sold in coils as pictured in the photo below. Strict rules are in place to protect the authenticity of the recipes that were, and still are, traditionally made.
Things like no more than 10% rusk or bread crumb filler by weight, a select few herbs and spices that can only be used.
Strict rules for Cumberland Sausage.
There are also quality controls like no skin or connective tissues allowed in the ground pork. All rules must be adhered to in order for one of these coils to be considered a proper Cumberland Sausage.
I've stayed pretty true to these rules with the exception of the addition of one or two spices I like.
This recipe makes about 6 pounds of sausage but you can easily make a half batch. Or even a double batch if you're feeling particularly industrious. I always start with fresh pork shoulder but have used pork sirloin if it happens to be on sale.
In that case, because the meat will be too lean for sausage, I substitute 1 pound of skinless pork belly for one pound of the pork shoulder. This helps to get the right balance of fat.
I also prefer to use dried bread crumbs in this recipe. I coarse grind the bread in a food processor and then spread the crumbs out on an aluminum cookie sheet to bake at 200 degrees for about an hour.
The crumbs get tossed a couple of times during baking. Once baked and cooled, I grind them in the food processor again to get them a little finer.
Freezing and storing your Cumberland Sausage.
A vacuum sealer is ideal for storing the sausage coils for freezing, but Ziploc bags work quite well too. Just try and get as much air out of the bag as possible. When freezing these as breakfast patties, I like to weigh out the portions into 3 or 4 ounces before forming them into sausage rounds.
My method for freezing them is to stack them about 6 high with 2 parchment paper or wax paper squares between each patty. The two squares mean that each side of the sausage patty will be protected on both sides in the freezer.
It also makes them every easy to take apart while frozen so that you need only take out as many as you need at a time.
You might also like our recipe for Easy Homemade Breakfast Sausages.
Like this Cumberland Sausage recipe?
You'll find dozens of other great recipes like this in our Breakfast & Brunch Category and even more ideas in our Muffins, Tea Buns & Scones Category.
It's easy to keep up with the latest home style cooking & baking ideas from Rock Recipes. Be sure to follow Rock Recipes Facebook Page and follow us on Instagram. Plus you'll see daily recipe suggestions from decadent desserts to quick delicious weekday meals too.
You can also sign up for our FREE newsletter to know immediately when we add new recipes. You'll get weekly suggestions for great family friendly meals and desserts too!

Rock Recipes a participant in the Amazon Services LLC Associates Program, an affiliate advertising program designed to provide a means for us to earn fees by linking to Amazon.com and affiliated sites. Our product recommendations are almost exclusively for those we currently use or have used in the past.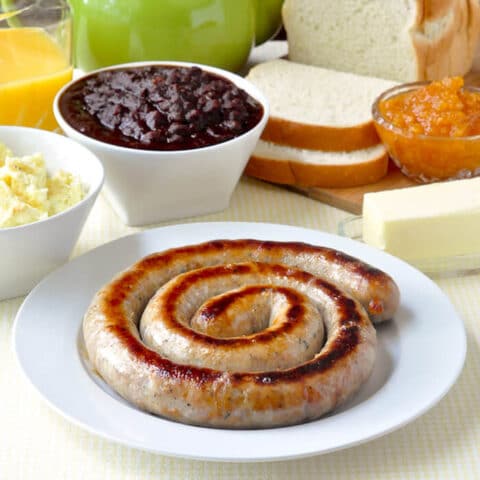 Yield:

6 lbs sausage
Cumberland Sausage
Total Time:
1 hour
20 minutes
Cumberland Sausage - mildly spiced with common herbs and spices, this traditional meaty British sausage has little filler, freezes well, and can be stuffed into sausage casings or formed into patties.
Ingredients
5 lbs pork shoulder, trimmed of skin but not fat coarsely ground
4 cups fine dry breadcrumbs
1 cup water
2 1/2 tbsp kosher salt
1 tsp brown sugar
1 tsp black pepper
2 tsp white pepper
1/4 tsp cayenne pepper
1 1/2 tsp ground coriander seed
1 1/2 tsp ground nutmeg
1 tsp ground mace
2 tsp dried thyme
1 1/2 tbsp dried sage
1 tsp dried parsley, or 2 tbsp fresh chopped
Instructions
Mix the salt, sugar, herbs and spices together until well combined.
Cut the pork into small cubes.
Toss the pork cubes in the spice mixture until they are completely coated. (Note: If you are using pre-ground pork add it to a bowl a little at a time, sprinkling some of the spice mix between the layers before mixing together well. This ensures an even distribution of the spices throughout the sausage.) (Some people like to put the pork into the freezer on a parchment lined cookie sheet for an hour or so before grinding to ensure an even grind and to keep the mix at a constantly cold temperature)
Coarsely grind the spiced pork cubes.
Mix in the dry breadcrumbs and finally the water. Stuff the sausage into the casings or form into 3 to 4 ounce patties.
I like to ket the prepared sausages sit in the fridge for a day to let the flavours blend and develop before freezing or cooking them.
If freezing the sausage, place each patty between 2 pieces of parchment paper to more easily separate them when frozen. Stack a few at a time and wrap in plastic wrap or place in ziploc bags to freeze.
For sausage in casings, freeze about 2 pound coils in vacuum sealed bags or Ziploc bags.
Susage patties can be thawed and cooked in a cast iron pan for a few minutes per side until golden brown.
I also use a lightly oiled cast iron pan to cook the coils of sausage. I brown the coil on both sides and then place the pan in a preheated 350 degree F oven for about 15 minutes or until the internal temperature of the sausage reaches at least 160 degrees F on a meat thermometer.
Notes
The 5 lbs of pork refers to the weight after the skin and bone has been removed. An 8 pound shoulder roast should yield about 5 pounds of usable meat.
Nutrition Information
Yield
6
Serving Size
1 g
Amount Per Serving
Unsaturated Fat

0g