Garlic Thyme Cheese Puffs. These delectable little cheese puffs start with simple choux pastry, which is not nearly as intimidating as some think; learning to make this classic opens up a whole world of possibilities from sweet to savoury.
Perfectly golden little cheese puffs are always the most inviting thing on a Holiday entertaining platter for me. I'm always immediately drawn to them as the first thing I try at any seasonal party.
I know from experience that they are always the first item to disappear at my own get-togethers. Perhaps it's the curiosity of what's held inside these delectable little party bites that's to blame; after all, the possibilities are practically endless.
Many people may never have made the French classic choux pastry which forms the shell of these hors d'oeuvres. But as someone who has made it since I was about 12 years old, I can tell you there's nothing intimidating about it at all.
With only 4 common ingredients, water, butter, flour and the fresh eggs that provide all the lift necessary in these light and airy pastries, really, how complicated can they be?
Temperatures are key to making choux pastry for these cheese puffs.
No, that is not a typo, it is temperatures, plural. The initial baking temperature for choux pastry puffs should always be higher, whether you're making eclairs, profiteroles or these cheese puffs.
The higher temperature quickly heats up the choux pastry batter and begins to rapidly create the steam inside that helps the eggs lift the pastry. Once they've expanded completely, it's then that the temperature gets decreased so that the puffs can stay in the oven as long as possible to create that golden colour and a solid exterior shell that does not collapse.
When people ask me how long to leave them in after the heat gets reduced, my answer always is, "As long as you dare." If the bottoms are not getting too brown, leave them for the maximum time you can.
This strengthens the outside shell and ensures that the puffs do not collapse when they come out of the oven. Honestly, I bake my puffs by colour and not by timing for the most part.
More tips for Choux pastry cheese puffs.
Two tips here are to always use aluminum baking sheets, and always use parchment paper. Aluminum pans buffer direct heat better than other metals or alloys used for baking sheets. Simply put, they are far less likely to overheat and burn the bottom of your puffs before the top portion is completely baked.
Parchment paper is an essential in practically all my baking but it is particularly useful here. It does provide a little additional heat buffer but there is the added bonus of not having to grease the pan. Fat on the pan can conduct heat very quickly too, so eliminating that risk is a bonus.
One guideline never to ignore, like in Yorkshire pudding which also gets its lift from fresh eggs, is DON"T OPEN THAT DOOR! Well, at least not until the very last couple of minutes of baking.
Most especially in the initial rising and baking, constant temperature with no fluctuations is essential. Resist the urge to take a peek at them.
The basic cheese filling recipe here can be used with a myriad of variations. Instead of roasted garlic and thyme, I've sometimes used a little finely chopped smoked salmon and dill or roasted garlic and mixed herbs.
Finely chopped sun dried tomatoes with fresh chopped oregano is also a great variation. Let your taste and imagination conjure up your own favourite version of these popular little Holiday party bites that you just know your guests are going to love.
Like this Garlic Thyme Cheese Puffs recipe?
You'll find lots of other great ideas in our Bread & Baking Category and in our Side Dishes Category.
It's easy to keep up with the latest home style cooking & baking ideas from Rock Recipes. Be sure to follow Rock Recipes Facebook Page and follow us on Instagram.
Plus you'll see daily recipe suggestions from decadent desserts to quick delicious weekday meals too.
You can also sign up for our FREE newsletter to know immediately when we add new recipes. You'll also get weekly suggestions for great family friendly meals and desserts too!

Rock Recipes a participant in the Amazon Services LLC Associates Program, an affiliate advertising program designed to provide a means for us to earn fees by linking to Amazon.com and affiliated sites. Our product recommendations are almost exclusively for those we currently use or have used in the past.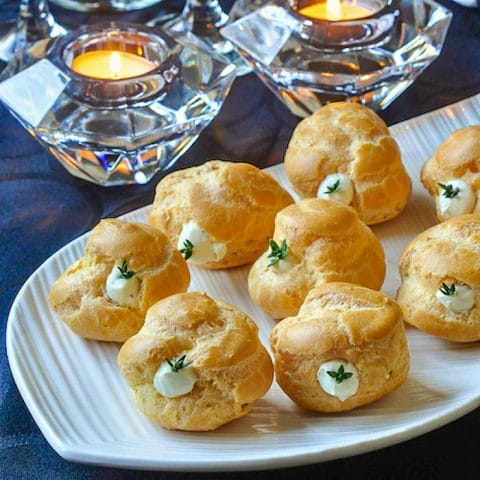 Yield:

4 dozen cheese puffs
Garlic Thyme Cheese Puffs
Choux pastry cheese puffs need not be intimidating. They're quite easy and this recipe has the most delicious filling too!
Ingredients
For the choux pastry shells
1½ cups water
¾ cup salted butter
1½ cups flour
6 large fresh eggs
For the cheese filling
8 ounces goat cheese, 1 cup
8 ounces cream cheese, 1 cup
1 cup whipping cream
pinch salt and pepper
2 tsp finely chopped fresh thyme
8-10 cloves roasted garlic (about ½ a large bulb, you'll need a pinch of salt and pepper and a little drizzle of olive oil for this as well)
Instructions
To prepare the choux pastry shells for the cheese puffs
Add the butter and water to a medium sized saucepan and bring to a gentle boil.
Reduce the heat to medium and quickly add the flour all at once, stirring quickly to form a soft dough.
Cook this mixture stirring constantly for an additional 3 minutes.
Allow this mixture to cool slightly for about 10-15 minutes, stirring occasionally, before adding the eggs, one at a time, stirring until smooth after each addition.
Preheat oven to 425 degrees F.
Drop the batter by rounded teaspoonfuls (or pipe small mounds using a piping bag ) onto a parchment paper lined aluminum baking sheet.
Dip your finger in cold water and tap down the points at the top of the mounds of batter, especially if piping the batter. This helps to keep the tops rounded when baking.
Bake at 425 degrees F for 15 minutes, then reduce the heat to 375 degrees and bake for an additional 15-20 minutes until the puffs are golden brown and do not collapse when removed from the oven. These should be uniformly golden all over with no pale sides and sound hollow when tapped.
Cool completely on a wire rack.
To prepare the filling
To roast it, cut a little off the top of the half bulb of garlic. Place it on a square of aluminum foil and drizzle with a teaspoon of olive oil and sprinkle with a pinch of salt and pepper.
Bring the four corners of the aluminum foil together and twist to seal the garlic in completely.
Roast the garlic on a 350 degree oven for about ½ hour until fully softened and golden.
Let it cool before removing the garlic from the skins and mashing it with a fork before using it in the filling.
Using an electric mixer, bet together the goat cheese and cream cheese until smooth.
Add the pinch of salt and pepper. mashed roasted garlic, chopped thyme and cream. Blend together until smooth.
Cover and refrigerate for an hour or so before filling the choux pastry puffs.
Use a piping bag with a large open round or star tip to fill the cheese puffs. I like to only about half fill the puffs with the cheese filling. Filling them completely is too much of the rich filling for my taste.
Push the tip into the side of the cheese puff shell and squeeze about a rounded teaspoon of the filling inside.
If you do not have a piping bag you can also split the cheese puff shells in half with a serrated knife and spoon the filling into the bottom half before putting them back together.
Chill until ready to serve.
Notes
- You can use reduced fat versions of cream cheese and/or goat cheese if you prefer. - Low fat yogurt can be used as a substitute for the whipping cream as well. - If you do not like goat cheese, you can use all cream cheese in this recipe instead.
Recommended Products
Rock Recipes a participant in the Amazon Services LLC Associates Program, an affiliate advertising program designed to provide a means for us to earn fees by linking to Amazon.com and affiliated sites. Our product recommendations are almost exclusively for those we currently use or have used in the past.
Nutrition Information
Yield
48
Serving Size
4 dozen cheese puffs
Amount Per Serving
Calories

96
Total Fat

8g
Saturated Fat

5g
Trans Fat

0g
Unsaturated Fat

3g
Cholesterol

44mg
Sodium

73mg
Carbohydrates

4g
Fiber

0g
Sugar

0g
Protein

3g
The nutritional information provided is automatically calculated by third party software and is meant as a guideline only. Exact accuracy is not guaranteed. For recipes where all ingredients may not be used entirely, such as those with coatings on meats, or with sauces or dressings for example, calorie & nutritional values per serving will likely be somewhat lower than indicated.
Rock Recipes is happy to be a compensated contributor to the #BeEggsquisite campaign from the "Get Cracking" folks at Egg Farmers of Canada. To learn more about egg farming in Canada, and for the
latest egg recipes and tips for cooking with eggs like them on Facebook, follow @eggsoeufs on Twitter or visit
eggs.ca.