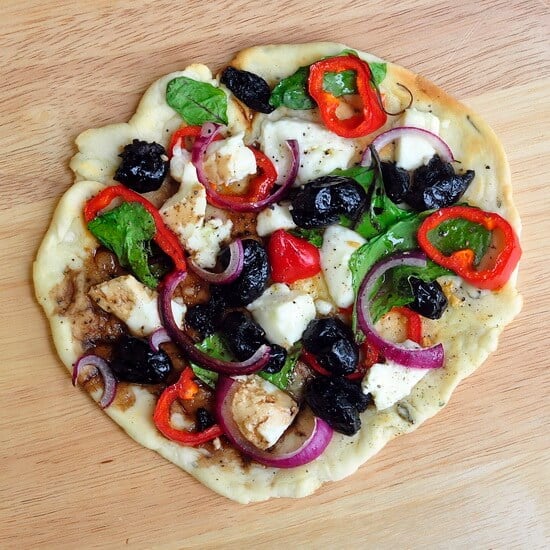 Grilled Flatbread Greek Pizza – One of our family's favorite summer meals is pizza from the backyard grill. We make batches of flatbread dough and freeze individual sized portions of it to use when we need it. For a quick workday meal, we take the dough out of the freezer in the morning and let it defrost during the day so that it is ready for the grill when we get home. Barbeque chicken or pulled pork pizza are a couple of particular favorites and a great way to use up leftover steak too in a steak and tomato pizza. I've even made a pesto and shrimp pizza using this method. The possibilities are endless and you can use whatever is on hand. When we have friends over for a barbeque, we also often serve these as a casual appetizer course before folks sit down to the main meal.
This past week our dinner pizza was inspired by a Greek Salad and this incredibly tasty version certainly did not disappoint. We used the same dough for the pizza as we recently used for the burger buns in our recently featured Double Crunch Fried Chicken Parmesan Burgers and topped it with delicious high quality toppings for a very, very flavorful meal. The only caution with making pizza on the grill is to not overly crowd the pizza with too much topping. These pizzas cook quickly and you will want to heat the toppings well before the bottom browns too much. Use really tasty toppings that pack plenty of flavor punch; quality over quantity is the key to a successful grilled pizza.
Parmesan Herb Pizza Dough
3 cups flour
1 pkg (5 grams) instant yeast
1 1/2 tsp salt
2 tbsp sugar
3 tbsp melted butter
1 cup warm milk
1/2 cup grated Parmesan cheese
1/2 cup chopped fresh herbs (I used oregano, chives, basil and rosemary)
Combine 1 1/2 cups of the flour along with the sugar, instant yeast, cheese and herbs and salt in a large bowl or in the bowl of a large electric mixer that uses a dough hook. Add the melted butter and warm milk. Using a wooden spoon or the regular paddle of your electric mixer beat for 4-5 minutes until the mixture is smooth with no lumps. If using an electric mixer, switch to the dough hook at this point and begin to slowly incorporate the remaining flour. If not using an electric mixer keep mixing in the flour gradually until a soft dough forms that leaves the sides of the bowl. Turn the dough out onto the counter top or bread board to knead. You may need to use a little less or a little more flour, this is not uncommon. Knead the dough for an additional 10 minutes either in the electric mixer or on a bread board or counter top.
Cover dough and leave to rest and rise for one hour. Punch the dough down and knead it for a few minutes by hand before letting it rest for another 15 minutes.
Divide the dough into about 6 ounce portions, rolling them into balls. Let the dough rest for 15 minutes before rolling out on a breadboard to about 8 inch circles.
Preheat your gas grill to medium low heat. Preheat your gas grill to about medium low heat and place the rolled dough portions a couple at a time directly on the grill. Watch these carefully, adjust the temperature and move them around on the grill as needed. When bubbles appear it's time to flip them over and grill for about another minute.
To prepare individual pizzas, turn off the burner/s on one side of the grill and place a flatbread or two on the other side. Add the toppings. Close the cover of the grill and allow the bottom of the pizza to get crispy and the toppings to be heated through.
Toppings
baby spinach leaves
feta cheese, full fat works best here
sliced red onion
sliced sweet red peppers
sundried pitted kalamata olives
chopped fresh oregano
Close the cover on the grill and let cook for about 5 minutes or until the pizza is crispy on the bottom and the cheese warmed and softened. If you like you can drizzle a little good balsamic vinegar over the top before slicing and serving.