How to Roast a Chicken, the quick easy way in only 1 hour! Often the most fuss-free methods are the best and that's exactly the case in learning how to roast a chicken easily and perfectly every single time.
I'll confess that when I first saw chef Thomas Keller's method of roasting chicken I was skeptical. Sure it looked perfect but I still like my chicken to be fully cooked while still juicy inside.
I've seen some other rush roasted methods that were a little too close to underdone, which really turns me off. The white meat is never an issue but I don't like it when the dark meat has any pinkish colour close to the bone.
I first thought that the temperature for this recipe was a bit extreme too, I mean 450 degrees F, come on! Then I thought about roast chicken from wood fired ovens I'd tried and quickly changed my opinion. High heat obviously works well there. It turned out to be the best simple roast chicken I've ever eaten.
Chef Keller doesn't use any fat on the outside of his chicken but I do use a tiny bit of olive oil to rub all over the surface of the bird to ensure even browning. I use less salt than in his version too. I don't prefer a crackling of salt appearing on the skin.
Chef Keller's tips for starting with a dry bird at room temperature are very important. When open roasting large cuts of meat or whole poultry, it is always a mistake to put them straight from the fridge into the oven.
Take the meat out of the fridge at least an hour before roasting it. The closer it is to room temperature when it goes into the oven, the more evenly it will roast.
Adding herb and garlic flavour to the meat is not difficult but don't sprinkle the fresh herbs on the outside of the chicken before cooking. The very high heat will just burn them anyway.
Instead just stuff some fresh thyme or rosemary into the cavity of the bird along with a couple of whole garlic cloves if you like. You can also sprinkle fresh herbs on the outside of the chicken after it is fully roasted and let it infuse flavour into the skin while it rests before carving.
Resting the chicken for a full 15 minutes before carving is also very important to letting the juices settle into the meat. Plus letting the residual heat from roasting dissipate throughout. Any rested meat will always be juicier than if you cut into it straight away.
Follow all these simple but necessary tips and a roast chicken dinner can be easy enough to achieve, even as a welcome weekday comfort food meal.
Like this idea of how to roast a chicken?
Find hundreds of other chicken ideas in our Chicken Recipes Category and in our Quick & Easy Meals Category.

It's easy to keep up with the latest home style cooking & baking ideas from Rock Recipes. Be sure to follow Rock Recipes Facebook Page and follow us on Instagram. Plus you'll see daily recipe suggestions from decadent desserts to quick delicious weekday meals too.
You can also sign up for our FREE newsletter to know immediately when we add new recipes. You'll also get weekly suggestions for great family friendly meals and desserts too!
One last idea to use any leftover chicken! Leftover Chicken Spaghetti.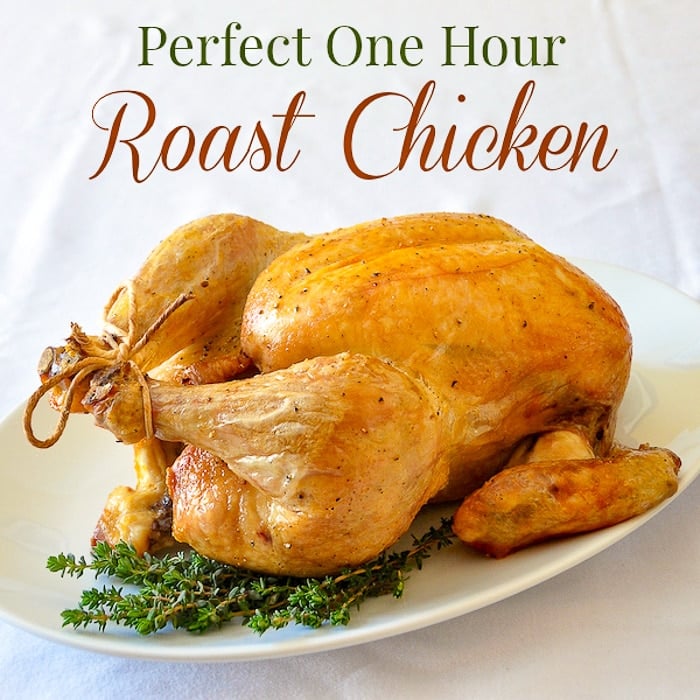 How to Roast a Chicken - the quick and easy way in only an hour!
Often the most fuss-free methods are the best and that's exactly the case in learning how to roast a chicken easily and perfectly every single time.
Ingredients
3 1/2 to 4

pound

whole chicken

at room temperature

2

tsp

olive oil

1

tsp

salt

1/2

tsp

black pepper
Instructions
Preheat oven to 450 degrees F.

Wash the chicken and pat dry with paper towels both inside the cavity and all over the skin surface.

Bend the wing tips backwards and tuck them under the chicken. Tie the legs together with butcher string.

Rub the olive oil all over the surface of the chicken. Sprinkle the salt and pepper all over the chicken and gently rub it into the oil.

Place the chicken on a parchment lined aluminum pan or baking sheet. Roast for one hour or until the skin is evenly golden brown and the thickest parts of the meat register 170 degrees F on a meat thermometer.

Remove the chicken from the oven and let it rest for 15 minutes before carving and serving.

Rock Recipes a participant in the Amazon Services LLC Associates Program, an affiliate advertising program designed to provide a means for us to earn fees by linking to Amazon.com and affiliated sites. Our product recommendations are almost exclusively for those we currently use or have used in the past.