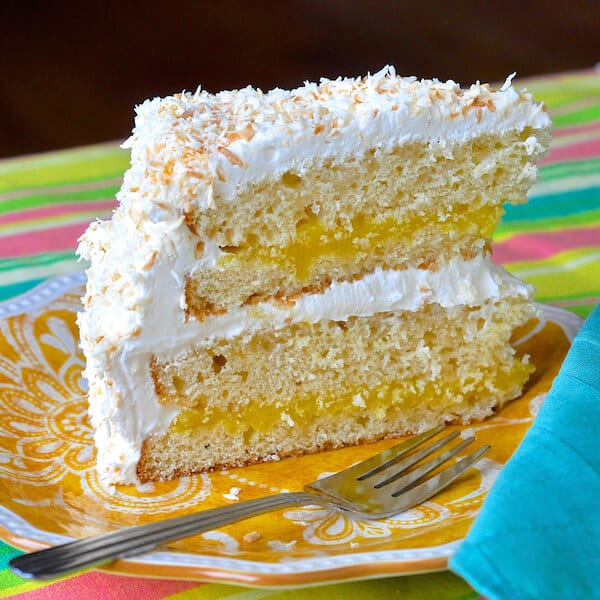 Lemon Marshmallow Coconut Cake
I've had this idea for a while now and with Spouse's help, put one together yesterday which I shared with the folks in my office, where it got rave reviews. The recipe incorporates elements from some of my other favorite desserts, including a gorgeous light moist vanilla cake, a tangy, homemade lemon curd, toasted coconut and my kids favorite marshmallow frosting. These all combined to make a spectacular dessert cake that everybody loved. Spouse might just be enjoying this cake again in a few weeks when her birthday rolls around; it really would make an amazing addition to any celebration.
There are 5 elements to prepare for this cake; a vanilla cake, lemon syrup, toasted coconut, lemon curd and marshmallow frosting.
Vanilla Cake
1 1/2 cups cake and pastry flour
1 1/4 cups all-purpose flour
2 1/2 tsp baking powder
1/4 tsp salt
Cream together until fluffy:
1 cup unsalted butter, at room temperature
2 cups sugar
Add, one at a time, beating well after every addition;
4 eggs at room temperature
Beat in
4 teaspoons vanilla extract
Gently fold in the dry ingredients in three equal portions, alternately with
1 cup undiluted evaporated milk
When adding dry and wet ingredients alternately in any baking recipe, always begin and end with the dry ingredients.
Pour batter evenly into 2 well greased and floured 9 inch cake pans. Bake in a 325 degree F oven for about 35-40 minutes or until a toothpick inserted in the center comes out clean. Watch it carefully, you will not want to overbake this cake, as soon as the toothpick comes out clean, remove the cake from the oven and let it rest in the pans for 5 minutes before turning it out onto a wire rack to cool completely.
In a mall saucepan combine:
6 lightly beaten egg yolks
1 cup sugar
1/2 cup fresh lemon juice
zest of two lemons, finely minced
Cook slowly over medium low heat for about 10 minutes stirring constantly until the mixture thickens enough to coat the back of a wooden spoon. Remove from heat.
1/2 cup butter cut into small pieces
Stir in the butter a few pieces at a time until completely smooth. Cover with plastic wrap and chill completely in the fridge.
Lemon Syrup
1/4 cup lemon juice

1/4 cup water

1/2 cup sugar
Simmer slowly together for about 5 minutes. Cool completely.
Toasted Coconut
On a cookie sheet, sprinkle
1 cup unsweetened dried coconut
Bake at 350 degrees for only a few minutes, tossing every couple of minutes until the coconut turns golden brown. Watch the coconut closely, it can burn very easily and quickly.

Marshmallow Frosting
4 egg whites
1/2 tsp cream of tarter
3 tsp vanilla extract
1 1/2 cups sugar
½ cup corn syrup
1/4 cup water
In a small saucepan combine sugar, corn syrup and water. Bring to a boil over medium heat and continue to cook until the mixture reaches 240 degrees F on a candy thermometer or when a teaspoonful of the mixture dropped into ice water forms a soft ball that holds its shape when cool.
Whip the egg whites, cream of tartar and vanilla extract to soft peaks in a large bowl. With the mixer on medium high speed, slowly begin to pour the sugar syrup down the side of the egg white bowl in a thin continuous stream. Continue to whip the frosting until it forms stiff peaks.
Frost your cake immediately with this frosting while it is still slightly warm as it is easier to spread smoothly than if allowed to cool completely.
To assemble the cake, split the two cake layers horizontally to create 4 layers of cake. Place the first layer on a cake plate and brush with 1/4 of the lemon syrup. Spread this layer with 1/2 of the lemon curd and top with a second layer of cake.
Brush the second layer with 1/4 of the lemon syrup and top this layer with some of the marshmallow frosting. Top with another layer of cake and brush this third layer with 1/4 of the lemon syrup. Spread the remaining lemon curd over this layer and top with the remaining cake layer. Brush this final cake layer with the remaining lemon syrup.
Spread the remaining marshmallow frosting evenly over the sides and top of the cake. Finally press the toasted coconut onto the entire surface of the cake and serve.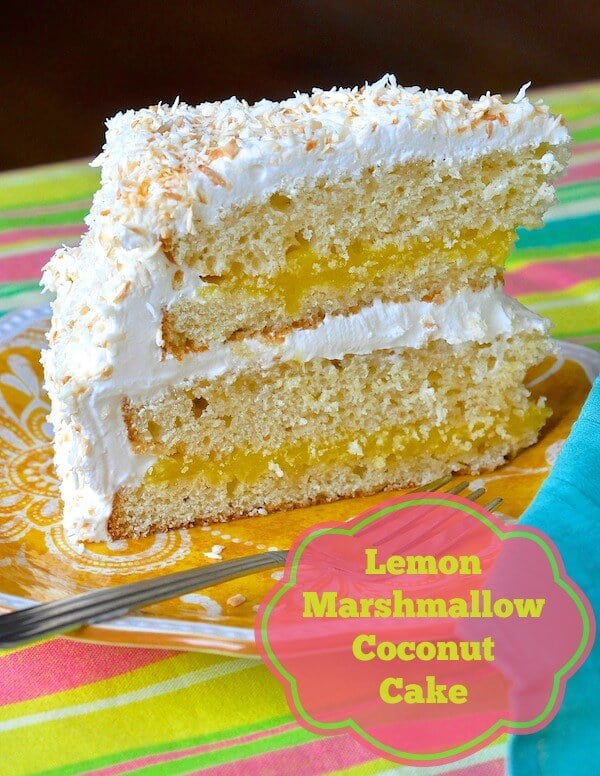 Lemon Marshmallow Coconut Cake