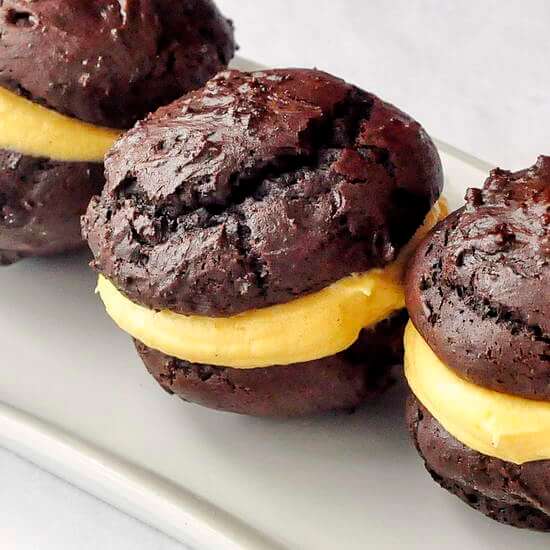 Mini Chocolate Pumpkin Whoopie Pies
Wouldn't these make a terrific take-along treat to a school or neighborhood Halloween party? I saw the idea for these on Pinterest but having my own standard recipe for whoopie pies that I've used for years, I used that recipe for the chocolate cake shells and adapted my cream cheese frosting for the filling. The amount of powdered sugar (icing sugar) used can vary depending on the moisture content of the pureed pumpkin so add enough to get the frosting to a thick but spreadable consistency. (It's perfectly okay to use canned pumpkin or pumpkin pie filling in this recipe but if using an already spiced pie filling, you may want to cut back on the spice level a little. Just taste and add more spices at the end if you think it needs it
If you don't prefer a cream cheese frosting just substitute an equal amount of butter or vegetable shortening for the cream cheese. These can be made in a larger, typical whoopie pie size too, but I made these smaller to be a little more kid-friendly in size.

Makes about 18
Mini Chocolate Pumpkin Whoopie Pies
Chocolate Whoopie Pie Shells
2 cups plus 3 tbsp sifted flour
1 teaspoons salt
1 teaspoons baking soda
1/2 cup cocoa
1 cups sugar
1/2 cup hot water
1/4 cup butter
1/4 cup shortening
1/2 cup sour milk
1 egg 1 teaspoon genuine vanilla extract
Mix together shortening, butter, sugar, eggs and vanilla.
Sift together dry ingredients and set aside.
Add milk, cocoa and hot water. Then add the dry ingredients.
Scoop rounded tablespoonfuls of batter onto a greased or parchment lined cookie sheet and space at least 2″ apart. Bake at 325 degrees for 7-10 minutes or until centers spring back when touched. Cool completely.
Pumpkin Spice Cream Cheese Filling
1/2 cup butter
1/2 cup cream cheese
4 cups icing sugar (powdered sugar)
1 tsp vanilla extract
3 tbsp pureed cooked pumpkin
1/4 tsp nutmeg
1/4 tsp cinnamon
Blend together the cream cheese, vanilla extract and butter. Add the pureed pumpkin and spices, then slowly add the icing sugar, until all the icing sugar is used and the icing is a smooth, creamy, spreadable consistency. If you have to use a little more icing sugar that's okay. For whoopie pies you will want the frosting consistency to be a little more on the stiff side.