How to Make Perfect Yorkshire Pudding Popovers, even for breakfast! Tips, tricks and a great recipe to get them right every time.
Perfect popovers are not as difficult to achieve as many think. I believe the absence of advice on good technique in many recipes out there is the reason why this simple recipe fails so often for so many.
There are very few ingredients which are simply whisked together and baked, so what's the problem, right? Well I'd say careful measuring and careful preparation to create optimal conditions for the popovers to rise is the key.
This recipe has been updated to include instructions for Parmesan Cheddar Popovers.
I don't yet own a set of popover pans which allow great circulation around the individual cups. This undoubtedly adds to the lightness of the popovers. I have been on the lookout for a set but in the meantime I still get excellent results from my very generic set of muffin pans.
(Update I now have a set of popover pans and love them! They are particularly good to fill as sandwiches like I did with the French Onion Brisket below. See that post for a photo. )
Tips for perfect Yorkshire Pudding popovers.
One of the absolutely vital steps in the preparation of great popovers is preheating the pan in a very hot oven. This will give the popovers a great head start in rising, as they don't have to wait for the pan to warm up in the oven.
Do not pre-grease the pans with oil or butter when preheating them or you will quickly have a very smokey kitchen. Instead, I use melted butter which I pour into the bottoms of the muffin tins when they are hot and then very quickly brush it up the sides of the cups before pouring in the prepared batter.
Using this method and making sure your pans are very clean before starting ensures that the popovers will pop straight out of the pan without sticking too…works for me every time.
It is also extremely important that the batter for the popovers be at room temperature or even slightly warmer. I use lukewarm milk in my preparation and make very sure that my eggs are at room temperature.
I sometimes even place the eggs in lukewarm water for 10 minutes to give them just a little extra temperature boost.
A final tip for the batter is about careful measuring. A proper popover batter should have 2 parts flour and milk to one part egg volume. That is why I ALWAYS measure my eggs.
3 extra large eggs typically produce about 175 ml in volume but using different sized eggs will obviously yield different amounts. I've found that 175 ml of beaten egg with 350 ml each of sifted flour and milk produces the perfect amount of batter for 12 muffin tin sized popovers.
Perfect Yorkshire Pudding Popovers, not just for dinner.
The popover recipe is the same whether you are serving them with your favorite roast beef dinner or, as we love to do at our house, serve them at weekend brunch with some great seasonal fruit jam.
This week it was a terrific warm peach compote using amazing Ontario peaches with the added flavours of Chinese five spice powder and fragrant, exotic vanilla (Watch out Georgia, Ontario peaches take a back seat to no other!)
This combination of tender, crispy popovers and sweet intense spiced peaches was utterly amazingly delicious and will have you craving more by next weekends brunch…if you last that long.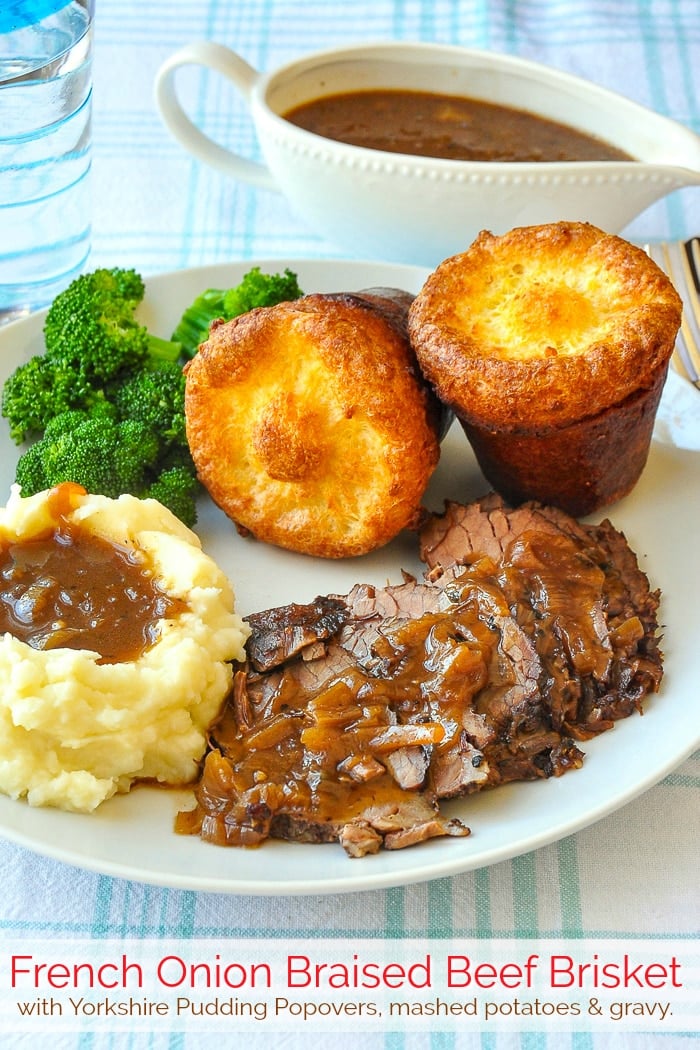 Of course popovers are really individual Yorkshire Puddings, there is rarely a roast beef dinner around here that does not include a batch of these light, tender, perfectly baked, crispy, golden popovers; like with this French Onion Braised Brisket pictured above or Herb Crusted Prime Rib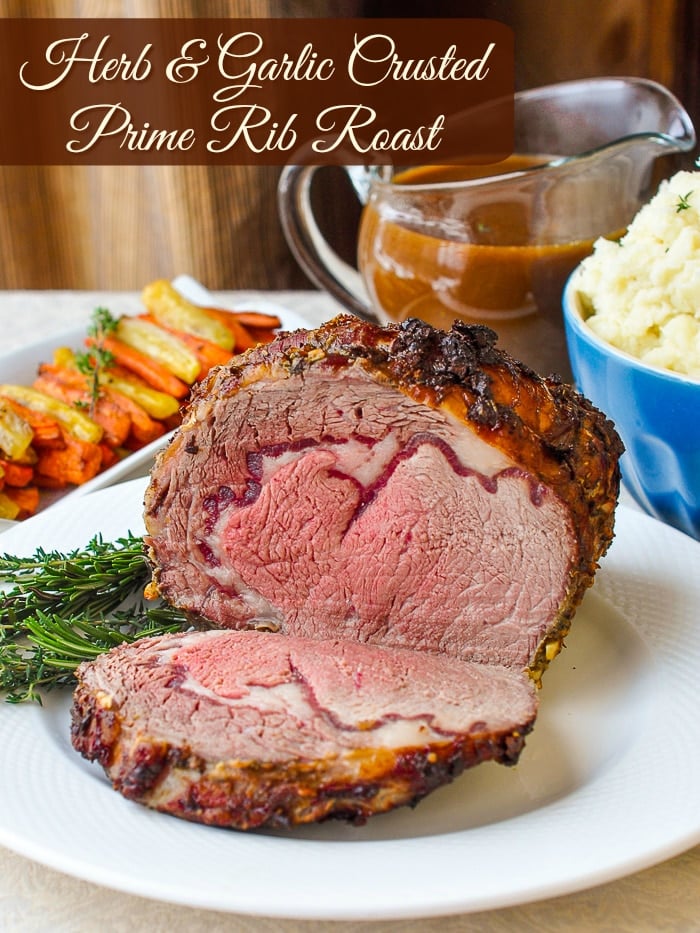 I especially love popovers as a simple addition to the brunch table served with simple seasonal jam, like this Peach Five Spice Vanilla Compote.
Peach Five Spice Vanilla Compote
Makes about 2 cups
6 large peaches peeled and diced small
1/3 cup sugar
2 tsp vanilla extract, or the inside of one small vanilla pod
1/2 tsp Chinese five spice powder
Toss all together in a medium saucepan and quickly simmer stirring every few minutes until it reaches a thickened jam consistency. Serve warm with fresh popovers.
Like this Perfect Yorkshire Pudding Popovers recipe?
You'll find dozens of other great recipes like this in our Breakfast & Brunch Category and even more ideas in our Muffins, Tea Buns & Scones Category.
It's easy to keep up with the latest home style cooking & baking ideas from Rock Recipes. Be sure to follow Rock Recipes Facebook Page and follow us on Instagram. Plus you'll see daily recipe suggestions from decadent desserts to quick delicious weekday meals too.
You can also sign up for our FREE newsletter to know immediately when we add new recipes are added. You'll get weekly suggestions for great family friendly meals and desserts too!
Yield:

12 regular sized popovers
Perfect Popovers
Ingredients
3/4 cup beaten egg, at room temperature ( 175 ml)(3 extra large eggs should be very close)
1 1/2 cups milk, at room temperature (350 ml)
1 1/2 cups sifted all purpose flour, 350 ml
1/2 tsp salt, 2.5 ml
1/3 cup 80 ml melted butter
Instructions
Preheat a 12 piece muffin pan in a 450 degree F oven
Whisk together the eggs and milk.
Sift together the flour and salt and make a well in the center. Pour the egg and milk mixture into the well and whisk together just until the liquid is incorporated. Small lumps are not a problem.
Let the batter stand for 10 minutes. I like to make this batter in a bowl with a spout to make it easier and faster to pour into the prepared muffin pans but if you don't have one I recommend transferring the batter to a large measuring cup.
Working as quickly as you can so that the pan does not cool down, pour the butter into the hot muffin tins to cover the bottom. Using a pastry brush, give it a quick brush up the sides of the muffin cups. Then quickly pour the batter evenly into the muffin pans. A ring of melted butter floating on the batter is normal and necessary at this point.
Quickly return the pan to the hot oven and bake for 15 minutes at 450 degrees F before reducing the heat to 375 degrees F and baking for an additional 15-20 minutes. The popovers should be a deep golden brown. It is VERY, VERY important not to open the oven door at any point in the baking time or you risk your popovers falling.
Remove from oven and let rest for only a couple of minutes before removing them from the pan. and serving.
(For Parmesan Cheddar Popovers, to the batter add ¼ cup finely grated Parmesan cheese, then when the batter has been poured into the pan, before they go into the oven, top each popover with a couple of tablespoons of grated aged cheddar cheese)
Notes
When using popover pans like I did in the photo for the Parmesan Cheddar Popovers, I've found it best to fill them 2/3 to 3/4 of the way to the top with batter for best results. The baking time at 450 degrees F is still 15 minutes but the time at 375 degrees should be increased to 25 to 35 minutes. The longer the better here, just take them out when they get a deep golden brown.
Peach Five Spice Vanilla Compote for Brunch Popovers
Makes about 2 cups
6 large peaches peeled and diced small
1/3 cup sugar
2 tsp vanilla extract, or the inside of one small vanilla pod
1/2 tsp Chinese five spice powder
Toss all together in a medium saucepan and quickly simmer stirring every few minutes until it reaches a thickened jam consistency. Serve warm with fresh popovers.
Recommended Products
Rock Recipes a participant in the Amazon Services LLC Associates Program, an affiliate advertising program designed to provide a means for us to earn fees by linking to Amazon.com and affiliated sites. Our product recommendations are almost exclusively for those we currently use or have used in the past.
Nutrition Information
Yield
12
Serving Size
1 popover
Amount Per Serving
Calories

135
Total Fat

7g
Saturated Fat

4g
Trans Fat

0g
Unsaturated Fat

2g
Cholesterol

62mg
Sodium

171mg
Carbohydrates

14g
Fiber

0g
Sugar

0g
Protein

4g
The nutritional information provided is automatically calculated by third party software and is meant as a guideline only. Exact accuracy is not guaranteed. For recipes where all ingredients may not be used entirely, such as those with coatings on meats, or with sauces or dressings for example, calorie & nutritional values per serving will likely be somewhat lower than indicated.