Rum Raisin Ice Cream. If you are a fan of rum raisin ice cream, this homemade version may well be the best you will ever try. A few simple ingredients truly create something exceptionally delicious.
Spouse's favourite ice cream is Häagen-Dazs Rum Raisin but for some unknown reason it has not been available here for some years so I set out to make my own rum raisin ice cream version.
This recipe is in my humble opinion, even better than the Häagen-Dazs version. Soaking the raisins in the rum for a day or two is essential. Leaving the ice cream in the freezer a day before serving makes it even better after the flavours have been allowed to blend. This is now my new recipe for getting myself out of trouble with the better half. 😉
For those reading from outside Newfoundland, we sometimes call this 'Ragged Rock Rum Raisin Ice Cream'. Ragged Rock is a brand of amber rum sold in this province. You can, of course, substitute your favourite brand but the name won't roll off the tongue quite as well for fans of alliteration. 😉
Like this Rum Raisin Ice Cream recipe?
Find many more tempting and indulgent recipes in our Desserts Category.

To keep up with the latest home style cooking & baking ideas from Rock Recipes plus daily recipe suggestions from decadent desserts to quick delicious weekday meals, be sure to follow Rock Recipes Facebook Page and follow us on Instagram.
You may also want to try another favourite Locally inspired ice cream. Newfoundland blueberries are just exceptional in this Blueberry Ripple Ice Cream.
For the folks who have been asking if you can make this without an ice cream maker, I'm afraid not. To get the proper fine crystal structure and creamy texture you will need one. I have found the ice cream maker that I use
to be well worth the small investment.
You might also like:
Easy Key Lime Freezer Ice Cream – No Ice Cream Maker Required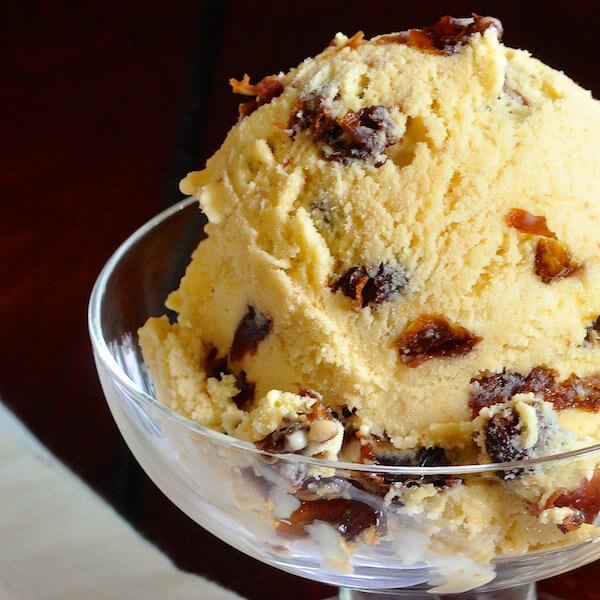 Rum Raisin Ice Cream
Rum Raisin Ice Cream - if you are a fan of rum raisin ice cream, this homemade version may well be the best you will ever try. A few simple ingredients truly create something exceptionally delicious.
Ingredients
1

cup

raisins

4

ounces

dark or amber rum

I like dark for this recipe because it has deeper flavour and also adds some colour.

1

cup

sugar

6

egg yolks

2

cups

whipping cream

35% milk fat or higher

2

cups

whole milk

1

tbsp

pure vanilla extract
Instructions
Soak raisins in the rum overnight in an airtight container. I like to use a mason jar so that I can shake it every now and then to ensure the raisins are evenly soaked.

Combine the milk and cream and heat in the microwave (or on top of the stove over medium heato scalding but not boiling.

In a medium sized saucepan whisk together the egg yolks and sugar very well for about 3 minutes until the mixture is pale and fluffy.

Whisking constantly, add about a cup of the scaled milk to the egg yolk mixture. This tempers the egg yolks so that they do not cook and scramble. Whisk in about another cup and make sure it is well blended with the egg yolk mixture. Finally add the remaining scaled milk and cream and make sure it is well blended in.

Place the saucepan over medium heat and stir constantly but slowly for about 5 minutes until the mixture slightly thickens. At this point you should be able to dip the wooden spoon in the custard and draw a distinct line with your finger on the back of the wooden spoon. Do not boil or mixture may curdle.

Remove from heat and stir in the vanilla extract. Chill the custard very well for several hours or overnight. I chill it overnight while the raisins soak in the rum.

When completely chilled, stir the custard well and pour into your ice cream maker. Process for 20- 30 minutes until the ice cream becomes as thick as possible.

Transfer the ice cream quickly to a chilled metal or glass bowl and very quickly fold in the soaked raisins and any rum that has not been absorbed by them.

Place in an airtight container and freeze in the coldest part of your refrigerator freezer or deep freezer. for several hours or preferably overnight before serving.

I like to fold the ice cream at least a couple of times every couple of hours to make sure all of the raisins do not settle to the bottom of the container and to make sure they get evenly distributed throughout the ice cream.
[asa2]1550816551[/asa2][asa2 country_code="CA"]1550816128[/asa2][asa2]1550815555[/asa2]
Rock Recipes a participant in the Amazon Services LLC Associates Program, an affiliate advertising program designed to provide a means for us to earn fees by linking to Amazon.com and affiliated sites. Our product recommendations are almost exclusively for those we currently use or have used in the past.