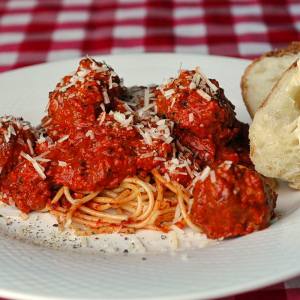 I always make double the amount of meatballs in this recipe, cook them and freeze half. Another quick meal is practically ready in the freezer when I need it. In a pinch I've warmed them up and served them with marinara, honey mustard or barbeque sauce as a quick hors d'ouevre. I've substituted beef and beef sausage and even ground turkey and turkey sausage with great results as well.
Serves 6
For the meatballs:
Mix together until well combined:
1 pound moose sausage removed from casings
1 pound ground moose
1 egg
1 cup coarse breadcrumbs
½ tsp ground thyme
½ tsp chopped rosemary
½ tsp salt
1 tsp freshly ground black pepper
Form into 1 ½ inch balls and fry in 3 tbsp olive oil.
For the sauce:
Sauté in 3 tbsp olive oil
½ minced medium onion
3 cloves minced garlic
Add
28 oz can crushed tomatoes
19 oz can plain tomato sauce
1 tsp ground black pepper
½ tsp salt
2 tsp oregano
2 tsp basil
¾ tsp cinnamon
¾ tsp nutmeg
1 finely grated large carrot
2 tbsp brown sugar
½ cup red wine
4 oz maple cured bacon, chopped into small pieces and fully cooked to crisp.
Simmer for about an hour before adding the meatballs for an additional 10 minutes. Just before serving finish the sauce by adding
¼ cup whipping cream
Serve over 1 ½ pounds fresh pasta, cooked. Top with grated parmesan.