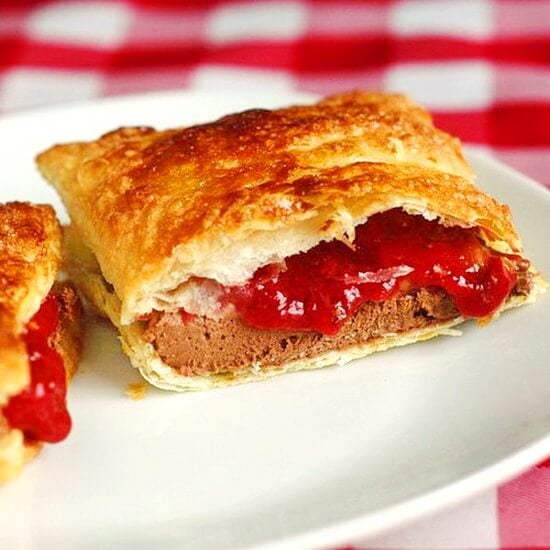 Strawberry Chocolate Puff Bars
The first time I heard the term "Puff Bar" I had no idea what it was. Ann, a friend who grew up in the center of St. John's in the 50's and 60's referred to them as being quite a commonly produced item in bakeries around town, usually containing whipped cream, sometimes with the addition of jam.
My favorite story of hers was a tale of revenge carried out against a tyrannical Nun in her Catholic School. It seems this Nun was very fond of her personal Bible which rarely left her possession and which she never allowed to be borrowed. She must have left it unattended at one point as my friend executed her revenge on the Sister by sticking a puff bar between the pages and slamming it shut! It was the perfect crime as she was never discovered as being the culprit.
This version of the famous "Puff Bar" is a bit of a "kitchen sink" dessert made from leftover puff pastry, chocolate buttercream and strawberry sauce that were all hanging out in the fridge.
Makes 6 pastries
1 sheet frozen puff pastry, thawed
1 egg
Sugar
Chocolate

buttercream

frosting (or chocolate mousse)
Strawberry sauce
Cut pastry in 6 squares. Beat the egg with 2 tbsp water and brush on pastry. Sprinkle the tops with sugar and bake for about 13-15 minutes at 375 degrees F until evenly golden brown. Cool on a wire rack.
Split pastries in half horizontally and fill with chocolate buttercream and strawberry sauce.
NOTES: The recipe for chocolate buttercream frosting can be found here. About 1/4 of the recipe will suffice:
http://rockrecipes.blogspot.com/2008/03/chocolate-buttercream-cake.html
The chocolate mousse recipe found here would be equally good in place of the buttercream frosting, about 1/2 the recipe would suffice:
http://rockrecipes.blogspot.com/search?q=eclairs
The Strawberry compote recipe can be found here, about 1/2 the recipe is plenty:
http://rockrecipes.blogspot.com/search?q=black+forest