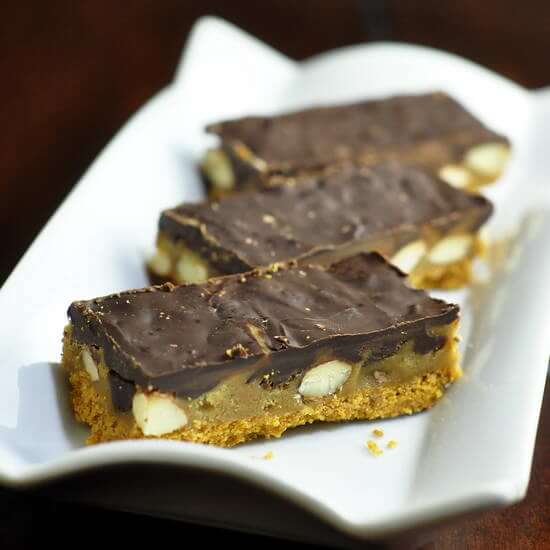 Almond Roca Cookie Bars
Here's a great, easy-to-make cookie bar recipe with the delicious flavor of Almond Roca candy. Caramely, nutty and chocolatey, what more could you want in a great cookie bar?
Mix together:
1 1/2 cups graham wafer crumbs
2 tbsp sugar
1/3 cup melted butter
Press into the bottom of a light;y greased and parchment paper lined 9×9 inch baking pan. Bake for 5 minutes at 325 degrees F.
Boil for 3 minutes (no longer):
1 cup melted butter
1 cup brown sugar
Quickly mix in:
1/2 cup roughly chopped toasted almonds
Pour over the graham crumb base.
Immediately, while still hot, sprinkle on:
1 cup chocolate chips
Let stand for 5 minutes then quickly spread the melted chocolate chips over the surface of the cookie bars. Allow to cool completely before cutting into squares or bars.