Cherry Cake – a moist pound cake based upon a favourite Christmas tradition but using fresh sweet cherries instead of glacé fruit. Make it with frozen cherries too!
Here's another recipe that's been on my to-do list for a long time. The idea is to take the same recipe as a traditional Newfoundland Cherry Cake, which we always make for the Holiday season and use fresh cherries instead of the preserved glacé cherries which are always used at Christmas.
You can find that Newfoundland Cherry Cake recipe and other seasonal favourites in our Christmas Cakes Collection!
Every year during the Holidays I get the same question from readers who are not fond of glacé cherries, light fruitcake or dried fruit in general; "Can I make this with fresh cherries instead." I'd never tried it but didn't see a reason why not, so I generally said, "give it a try".
A few people reported back that the cake was absolutely delicious, so with some very good fresh cherries available right now, I felt the time was ideal to give it a try. After cleaning the dark purplish juice from my stained hands from pitting the ripe cherries I was ready to begin.
I cut the cherries in quarters to make sure they were a little lighter and would not sink entirely to the bottom. The traditional trick of dusting them with some of the flour from the cake was also employed as insurance too.
One of the things that makes the traditional Christmas Cherry Cake so good is that it includes pure almond extract in the batter. Almond and cherries are a naturally complimentary flavour duo and it works incredibly well here too. For one of my favourite cookie bars recipes featuring the all natural flavours of cherries and almonds, be sure to check out this recipe.
There is an additional fragrant, complimentary flavour burst from vanilla here too, which balances nicely. Good vanilla extract is perfectly fine but on this occasion I had purchased a fresh bottle of vanilla bean paste
and used that instead, with a very tasty result. The cake baked up well in my favourite bundt pan
but a tube pan
or even two loaf pans would work just as well. Different sized pans will result in different baking time. Just watch it and let the toothpick test be your guide to when your cake is perfectly baked.
The cake turned out so well, I'll be making it for our next family BBQ too, while great summer cherries are still available. I often use frozen cherries in the winter time, so I wouldn't hesitate to use those either at any time of year…and dare I say it…maybe a new twist on your traditional cherry cake for christmas!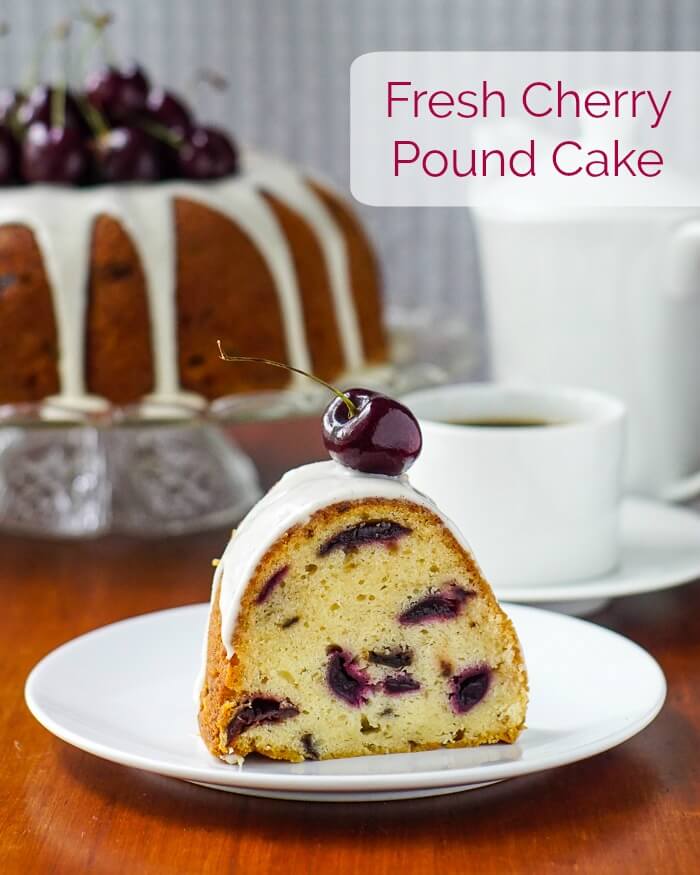 Like this Cherry Cake recipe?
You'll find hundreds of other sweet ideas in our Cakes & Pies Category and even more in our Desserts Category.
To keep up with the latest home style cooking & baking ideas from Rock Recipes plus daily recipe suggestions from decadent desserts to quick delicious weekday meals, be sure to follow Rock Recipes Facebook Page and follow us on Instagram Instagram.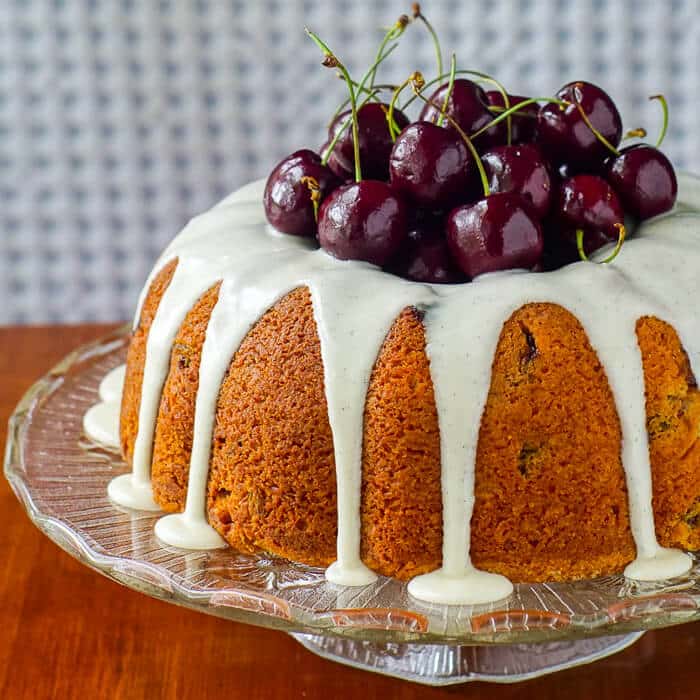 Cherry Cake
Fresh Cherry Cake - a moist pound cake based upon a favourite Christmas tradition but using fresh sweet cherries instead of glacé fruit. Make it with frozen cherries too!
Cuisine:
Newfoundland, North American
Servings
:
16
or more servings
Ingredients
2

cups 

cherries

pitted and quartered + ¼ cup flour

1 ½

cups

butter

2

cups

sugar

3

eggs

2

tsp

vanilla bean paste or pure vanilla extract

2

tsp

pure almond extract

3

cups

flour

1 ½

tsp

baking powder

1

cup

lukewarm

undiluted evaporated milk
Instructions
Pit the cherries and cut them in quarters. They will get tossed in ¼ cup of flour later but not until just before they are folded into the batter.

Cream together the butter and sugar well.

Add the eggs, one at a time, beating well after each addition until light and fluffy.

Beat in the vanilla and almond extracts.

Sift together the 3 cups of flour and baking powder.

Fold dry ingredients into the creamed mixture alternately with the lukewarm milk, beginning and ending with the dry ingredients. As a general rule, I add the dry ingredients in 3 portions and the milk in 2 portions.

Fold in the chopped cherries that have been tossed at the last minute in the ¼ cup flour.

Bake in greased and floured spring form pan, tube pan or 2 loaf pans, lined with parchment paper. Bake at 325 degrees F for 45 minutes - 1 hour depending upon the size of your pan.

Baking times vary greatly on this recipe so rely on the toothpick test to ensure that it is properly baked. (My large bundt pan took 1 hr 10 minutes) When a wooden toothpick inserted in the centre comes out clean, its done. Be careful not to go past this stage or the cake will be dry.

Let the cake cool in the pan/s for 10 minutes before turning it out onto a wire rack to cool completely.
Recipe Notes
If you want to add the vanilla glaze to this cake  just mix together 
1 cup icing sugar (powdered sugar)
1 tsp vanilla extract or vanilla bean paste
1 1/2 to 2 tbsp milk, only enough to bring it to a very thick glaze consistency.