Copycat Shake Sauce & Smoke Shack Burger. A homemade version of Shake Shack's special sauce to try on our version of their famous Smoke Shack Burger.
It's hard for me to get excited about fast food, but this Copycat Shake Sauce on this utterly delicious bacon cheeseburger is one exception.
There has been a quality burger trend in the last several years, with the expansion of a few burger chains like Five Guys, Smash Burger and yes, the very tasty Shake Shack. They have all grown in popularity because of a concentration on 2 things; made to order burgers and high quality ingredients.
The difference in taste to the major burger chain players is very noticeable. There is no comparison. You can taste the difference unfrozen, freshly made burgers make.
These are all good things but unfortunately, nowhere near where I live. I only get to try these great burgers when on vacation.
Tasting the Shake Sauce
Spouse and I have just returned from a few weeks in the sunny south and boy is it hard returning to the freezing temperatures and snowstorms. It is only on vacation when I get to sample any of these burger chains.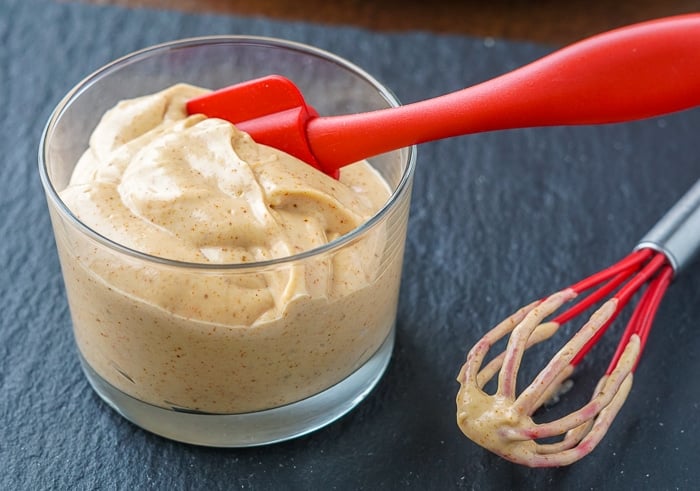 During the few weeks we were away, we visited New Orleans, Montgomery, Savannah, Tallahassee, Tampa and Orlando. During our road stops we tried all there of the aforementioned burger chains.
Honestly, I'd say that I liked all three of the restaurants equally but the standout burger for me was the Smoke Shack Burger from Steak Shack. It was perfectly juicy with lots of applewood smoked bacon, which is always a bonus!
The two things that made this burger extra tasty though, was that signature Shack Sauce and the chopped cherry peppers. I loved the smoky, tangy flavour of the sauce and the sweet, mild heat of the cherry peppers.
Orlando Shake Shack
The location we visited in Orlando was situated bedside a lake with outside seating lakeside. There was even table tennis outside on the patio for guests to play. It was quite a lovely spot.
Replicating the Shake Sauce flavour.
Lots of folks have tried to replicate the sauce on various websites. Shake Shack even put a homemade version of it in their own cookbook.
Now, I don't expect it was the actual recipe. It wouldn't make much sense to reveal such a trade secret. I looked at a number of versions to see which I liked best but in the end ended up tweaking the ingredients most common to all of them.
To bump up the smokiness, I added both smoked paprika and chipotle powder which worked exceptionally well. For more flavour on the tangy side of the recipe I increased the pickle juice to more than double what some recipes called for.
Some recipes used plain yellow mustard but I definitely like the dijon mustard addition better. It added it's own distinct flavour element to the recipe.
Building the burger
Smoke Shack uses soft Potato Buns for their burgers which were delicious. I couldn't find any around here so had to go with Kaiser rolls.
At the Shake Shack restaurants they also butter and toast the buns. I chose to grill the buns in a cast iron pan like you would do for the bread in a grilled cheese sandwich. This, which not only adds to the flavour of the burger, also helps give the sloppy burger a bit more structure.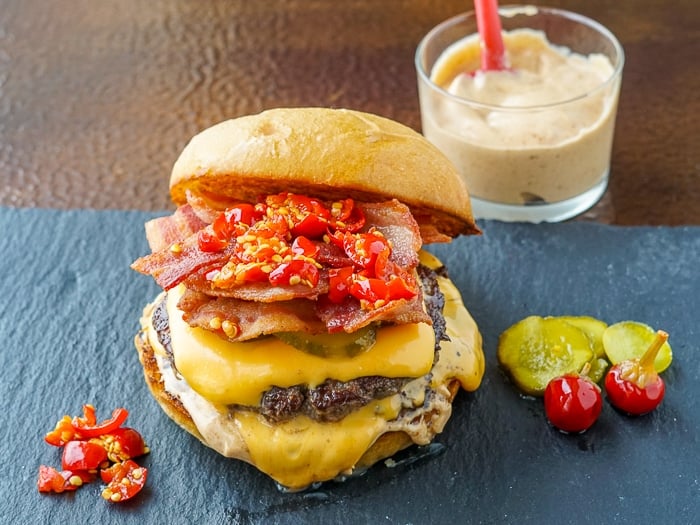 They also use applewood smoked bacon on their burger, which I was lucky to find. Shake Shack uses fresh Angus beef, which I recommend if you can find some.
I have been grinding chuck (blade) beef roasts for many years for burgers. That is a great, flavourful, beefy cut with the right balance of fat and lean. Ideally ground burger meat should be no more than 20% fat.
Once you start grinding beef for burgers yourself, you will never go back. The difference in flavour and texture is astounding.
The Shake sauce and burger verdict.
In the final analysis, when I put my copycat version of the Smoke Shack Burger together, complete with the copycat shake sauce I was not disappointed! I enjoyed my homemade burger just as much as the restaurant version.
I can't wait for the snow to leave and the spring grilling season to begin here. This burger will become a summer grilling staple around here. A heavy cast iron pan will have to do the job for the rest of the year, as it did on this occasion.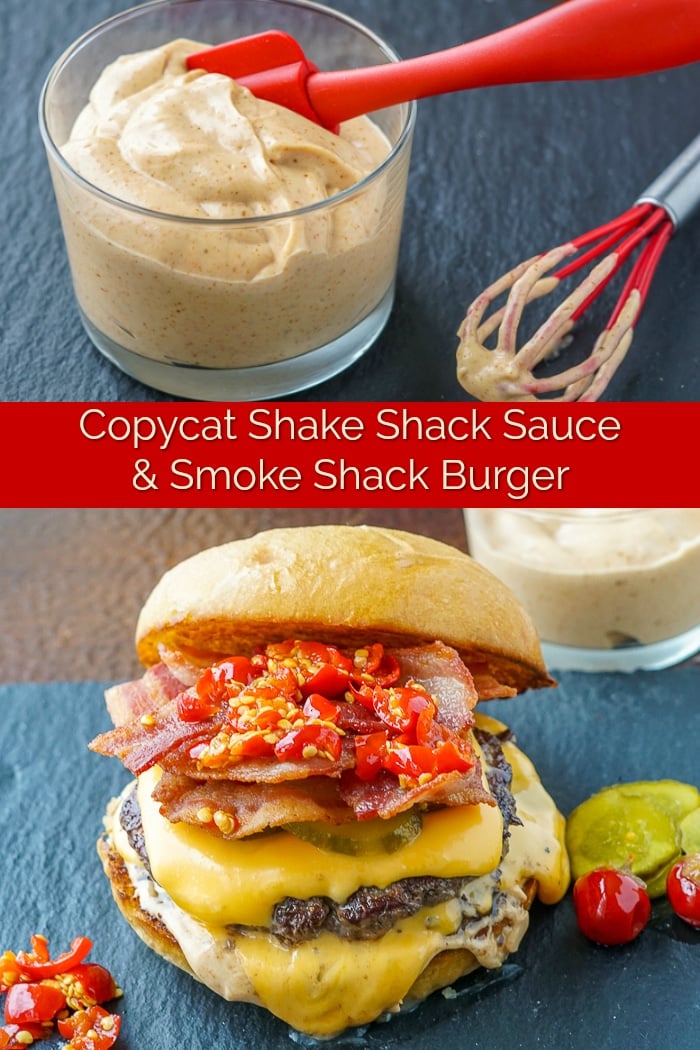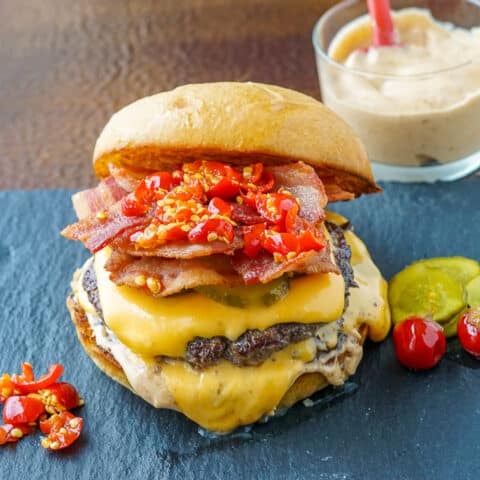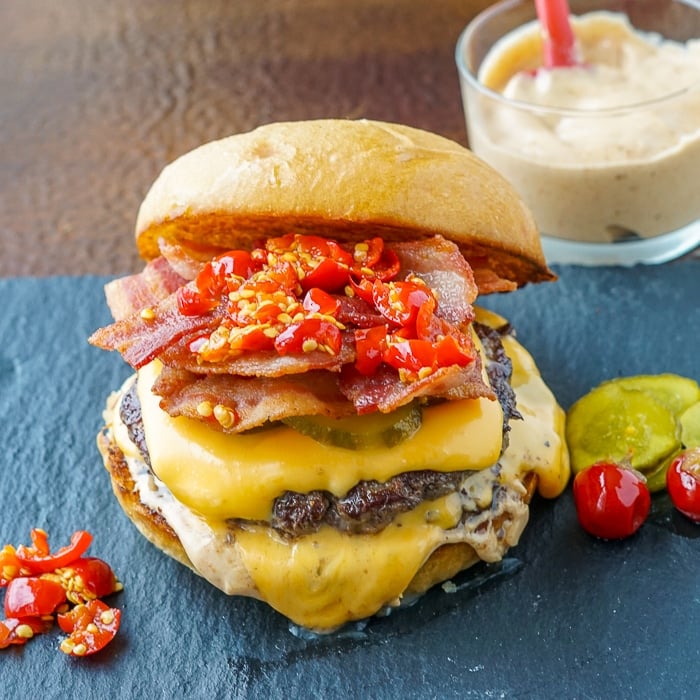 Yield:

6 burgers
Copycat Shake Sauce and Smoke Shack Burger
Copycat Shake Sauce. A homemade version of Shake Shack's special sauce to try on our version of their famous Smoke Shack Burger.
Ingredients
FOR THE COPYCAT SHAKE SAUCE
1/2 cup plain mayonnaise
1 tbsp Dijon Mustard
1 tsp ketchup
1 tbsp pickle juice
1/2 tsp smoked paprika
1/4 tsp chipotle powder (or cayenne pepper)
FOR THE COPYCAT SMOKE SHACK BURGERS
2 lbs ground Angus beef (chuck/blade roast) (double this if making double burgers)
6 kaiser rolls (or potato buns)
4 tbsp butter
1/4 cup sweet pickles
1/2 cup chopped cherry peppers
1/2 pound bacon (applewood smoked and cooked crisp)
6 slices cheese (12 if making double burgers)
Instructions
Stir together tall od the ingredients for the Copycat Shake Sauce and set aside until ready to use.
Form the ground beef into 6 large patties.
Season the patties with salt and pepper and grill. (or fry in a cast iron skillet)
Add the cheese slices in the last minute of cooking.
Butter the buns and toast them under the broiler or flat side down on a griddle pan.
Add the burger patties to the toasted buns and top with the bacon, pickles, cherry peppers and copycat shake sauce.
Nutrition Information
Yield
6
Serving Size
1 burger
Amount Per Serving
Calories

920
Total Fat

70g
Saturated Fat

27g
Trans Fat

2g
Unsaturated Fat

43g
Cholesterol

185mg
Sodium

1029mg
Carbohydrates

24g
Fiber

3g
Sugar

4g
Protein

44g
The nutritional information provided is automatically calculated by third party software and is meant as a guideline only. Exact accuracy is not guaranteed. For recipes where all ingredients may not be used entirely, such as those with coatings on meats, or with sauces or dressings for example, calorie & nutritional values per serving will likely be somewhat lower than indicated.