Double Decker Neapolitan Cheesecake. A chocolate and a vanilla cheesecake get stacked together, then topped with fresh strawberries and a drizzle of chocolate! An exceptional celebration dessert when serving a crowd.
Published on the occasion of our 1000th recipe, January 12, 2013.
Well it certainly is a momentous occasion on Rock Recipes today as we post our 1000th recipe to date. This website started on September 25, 2007 as a means of providing recipes to family and friends who were always asking for them. Before that time I almost never wrote down any of the recipes for my kitchen experiments but that was soon to change.
Around that same time I was preparing for yet another surgery on a badly busted ankle, after which I would spend several months in a wheelchair before spending several more months on crutches while having countless hours of physiotherapy. Knowing that I was going to have plenty of time on my hands to write recipes, (it was actually a full year later that I was finally able to discard my walking cane) I decided a recipe blog was a good thing to use up that free time and at least put it to some productive purpose.
With the able assistance of Spouse and an ocean of patience from her as well, many of the first 150 recipes or so were prepared and posted from that wheelchair. The chair barely fit through my narrow kitchen doorway and one of the strongest visual memories I have of that time is the paint being scraped from the kitchen door frame from the countless times that wheelchair was forced through it.
I later graduated to an office chair on wheels pushed by a cane to move around the kitchen and finally to a high bar stool to reach counter top level before finally being able to stand for short periods to cook after about 6 months.
That all may sound a bit of an ordeal to some reading this, but for me, who had routinely worked two jobs and about 60 hours a week for countless years before my accident, it was a bit of a lifesaver; the prospect of going from flat-out busy to dead stop was not one I would have handled well. Rock Recipes was something to focus on that would make the most of all that time and it certainly filled that purpose very well during those days.
A year after starting the website, I returned to college to study business for 3 years before returning to the workforce in my current position at Memorial University. Through it all, I continued to blog basically what our family was eating and our readership continued to steadily grow.
On that first day, Rock Recipes had 169 page hits, all family and friends no doubt, whom I had emailed to go visit the site. Over 5 years later we now get tens of thousands of page hits a day and in the month heading up to Christmas just past, received just shy of 750,000 page hits. We certainly have come a long way.

Thanks to all or our loyal followers and the many new fans of Rock Recipes who have made our humble little corner of the web such a great success. We really do appreciate each and every one of you for the kind words of support and encouragement we receive on a daily basis. You are the reason for our success and we will always keep that fact foremost in mind as we move forward toward even bigger and better things.
Not forgetting today's recipe, this show-stopping Double Decker Neapolitan Cheesecake just shouts celebration, doesn't it? Two whole cheesecakes, a chocolate and a vanilla, get stacked on top of one another before being crowned with a layer of fresh juicy strawberries and a drizzle of rich chocolate ganache.
This double Neapolitan cheesecake serves up to 30 and would make the ideal birthday cake for a cheesecake lover; as indeed this one did in serving double duty at my office where it was quickly polished off to celebrate the anniversary of my work colleague Tish's 39th birthday. 😉
Like this Neapolitan Cheesecake recipe?
You'll find hundreds of other sweet ideas in our Cakes & Pies Category and even more in our Desserts Category.
To keep up with the latest home style cooking & baking ideas from Rock Recipes plus daily recipe suggestions from decadent desserts to quick delicious weekday meals, be sure to follow Rock Recipes Facebook Page and follow us on Instagram.
If you liked this Neapolitan cheesecake be sure to check out this amazing recipe too: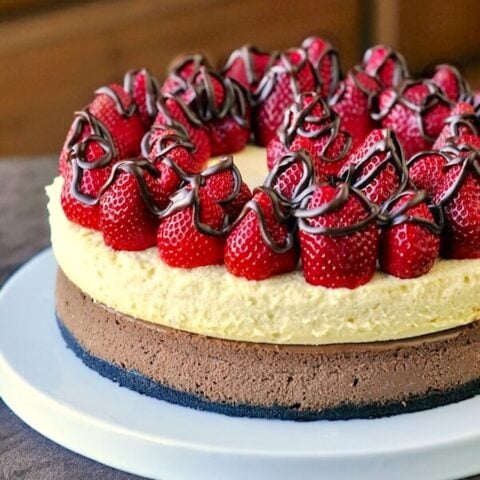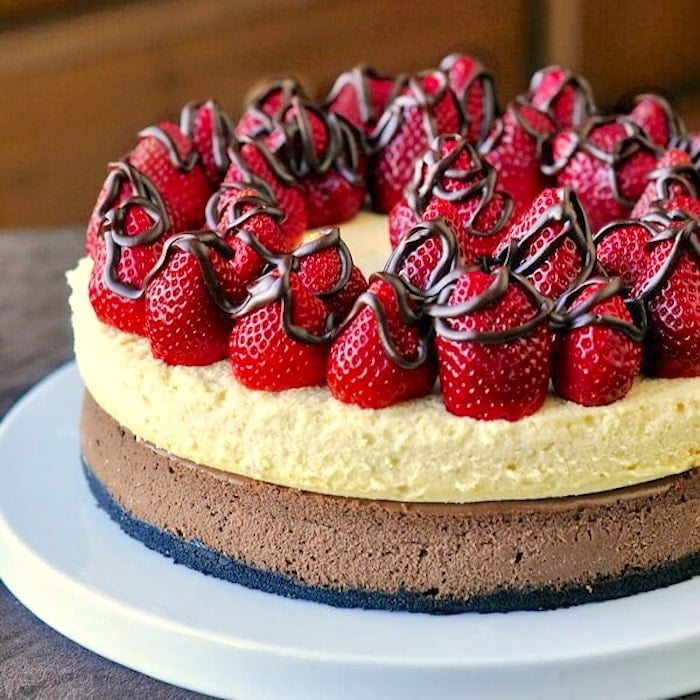 Yield:

24 or more servings.
Double Decker Neapolitan Cheesecake
Cook Time:
1 hour
15 minutes
Double Decker Neapolitan Cheesecake. A chocolate and a vanilla cheesecake get stacked together, then topped with fresh strawberries and a drizzle of chocolate! An exceptional celebration dessert when serving a crowd.
Ingredients
2 pounds fresh Strawberries to garnish
For the Cookie Crumb base layer
1 ½ cups Oreo Cookie Crumbs
1/3 cup melted butter
3 tbsp sugar
For the Chocolate Cheesecake layer
1 ½ pounds cream cheese, three 8 oz (250 gram pkgs)
3 squares unsweetened baking chocolate, melted. (In a pinch you can substitute 1/2 cup cocoa)
1 ¼ cups sugar
1 tsp vanilla extract
3 eggs
1 1/4 cups whipping cream
For the Vanilla Cheesecake Layer
3 eight ounce packages ounces cream cheese
1 cup sugar
3 eggs
1 cup whipping cream
2 tsp good quality vanilla extract
For the chocolate ganache drizzle
¼ cup whipping cream
1 cup chocolate chips
Instructions
To prepare the Cookie Crumb Layer
Grease bottom but not sides of a 10 inch spring form pan. Line the bottom of the pan with parchment paper instead to more easily release the cheesecake from the pan.
Mix together the Oreo Cookie Crumbs, butter and melted butter and press into the prepared pan.
To prepare the chocolate cheesecake layer
Cream together the cream cheese, melted chocolate and sugar.
Add the eggs, one at a time, beating well after each addition.
Then add the vanilla extract and whipping cream, straight from the carton. (unwhipped)
Blend until smooth. Pour into prepared springform pan.
Bake in a water bath (bain marie) at 300 degrees F for about an hour and 15 minutes or until the surface of the cake no longer looks glossy. Cool to room temperature before chilling completely in the fridge.
To prepare the Vanilla Cheesecake Layer
There is no crust layer for this part, instead, just line the bottom of a separate 10 inch spring form pan with parchment paper before you click the sides onto the pan.
Cream together the cream cheese, and sugar.
Add the eggs, one at a time, beating well after each addition.
Then add the vanilla extract and whipping cream, straight from the carton. (unwhipped)
Blend in the vanilla extract.
Pour into the prepared pan and bake in a bain marie at 300 degrees F for 60-70 minutes. The cheesecake does not have to brown at all in order to be fully baked; the surface of the cheesecake should lose any shine when the cake is properly baked. It can still be slightly wobbly just at the centre at this point. Cool to room temperature before chilling completely in the fridge.
Both layers should be well chilled before assembling the final cheesecake. Run a sharp knife around the outside edge of each cheesecake to loosen them from the sides.
Remove the chocolate bottom of the cheesecake from the pan and transfer it to your serving plate. While still in it's pan carefully invert the vanilla cheesecake onto the top of the chocolate cheesecake.
Remove the pan from the second cheesecake and peel off the parchment paper from the bottom of the vanilla cheesecake which is now the top of the dessert.
Cover the top of the cheesecake with fresh ripe strawberries drizzle with ganache glaze.
To make the Ganache Glaze
In a heavy bottomed pot, scald but do not boil the whipping cream.
Then melt in the chocolate chips on low heat, just until melted. Do not overheat the chocolate.
Drizzle over the strawberries or to create ganache lace, cool slightly and spoon into piping bag fitted with a number 3 tip. Pipe over the entire cake in a circular swirling pattern, repeating coverage all over the cake until all ganache glaze is used.
Notes
A word about baking a cheesecake in a bain marie. A bain marie is simply a water bath that buffers the direct heat from the sides and bottom of the baking pan to more evenly bake the cheesecake from the sides to the center. I bake my cheesecakes in a 9 or 10 inch springform pan that has the bottom and sides wrapped in multiple layers of wide heavy duty aluminum foil which forms a sort of boat that the cheesecake pan sits in. The roll of aluminum foil that I use is about 16 inches wide. I use at least 4 layers of foil to make sure that no water leaks in and ruins the crust of my cheesecake. The aluminum foil wrapped pan is then placed inside a larger baking pan; I use a 12 inch cake pan. Boiling water is then poured into the larger pan filling it from 1/2 to 2/3 of the way to the top. I find it best to pour the boiling water into the pan after it is placed on the rack in the oven as you are less likely to splash water onto the cheesecake or inside the aluminum foil. I reuse the aluminum foil for several future cheesecakes, adding a couple of layers to it each time just to be safe.
Nutrition Information
Yield
24
Serving Size
1 slice
Amount Per Serving
Calories

403
Total Fat

28g
Saturated Fat

16g
Trans Fat

0g
Unsaturated Fat

9g
Cholesterol

111mg
Sodium

160mg
Carbohydrates

35g
Fiber

2g
Sugar

30g
Protein

5g
The nutritional information provided is automatically calculated by third party software and is meant as a guideline only. Exact accuracy is not guaranteed. For recipes where all ingredients may not be used entirely, such as those with coatings on meats, or with sauces or dressings for example, calorie & nutritional values per serving will likely be somewhat lower than indicated.
[asa2]1550816551[/asa2][asa2 country_code="CA"]1550816128[/asa2][asa2]1550815555[/asa2]
Rock Recipes a participant in the Amazon Services LLC Associates Program, an affiliate advertising program designed to provide a means for us to earn fees by linking to Amazon.com and affiliated sites. Our product recommendations are almost exclusively for those we currently use or have used in the past.