French Baguette. Authentic baguette has only 4 ingredients; water sea salt, yeast and flour. This recipe shows how to make perfect crusty baguette and mini baguette for sandwich rolls.
One of my favourite breads to bake is an authentic French Baguette. I like to make them mini size as pictured here to use in great sandwiches or just in a bread basket in the center of the dinner table; it is always an empty basket by the end of the meal.
Authentic French Bread is very simple, containing only flour, sea salt, yeast and water. I always bake mine at very high heat on a large pizza stone which makes for a crispier crust. One trick I use these days is to let the mini baguettes rise on a silicone baking sheet which I just drop on the hot pizza stone. The baguette will rise and bake better in a humid environment, so a shallow pan of boiling water on the bottom rack of the oven really helps them bake perfectly too.
Like this French Baguette recipe?
You'll find dozens of other great recipes like this in our Breakfast & Brunch Category and even more ideas in our Muffins, Tea Buns & Scones Category.
To keep up with the latest home style cooking & baking ideas from Rock Recipes plus daily recipe suggestions from decadent desserts to quick delicious weekday meals, be sure to follow Rock Recipes Facebook Page and follow us on Instagram.
You might also like: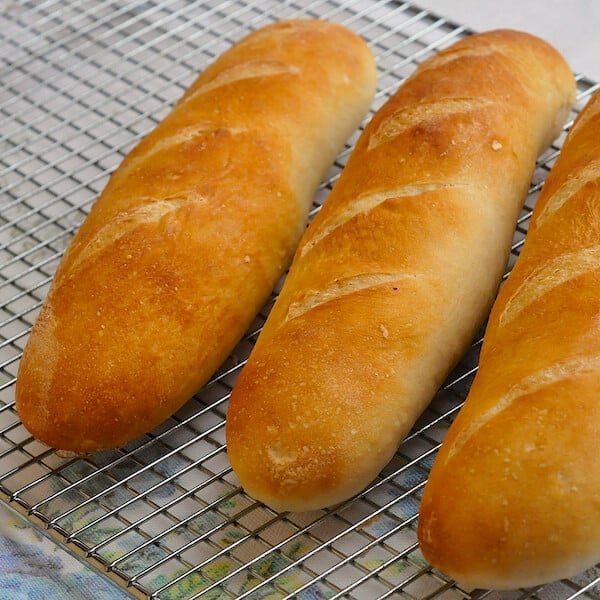 French Baguette
French Baguette - authentic baguette has only 4 ingredients; water sea salt, yeast and flour. This recipe shows how to make perfect crusty baguette and mini baguette for sandwich rolls.
Ingredients
4

cups

flour

for whole wheat baguettes use 2 cups of white flour and 2 cups of whole wheat flour

2

cups

lukewarm water

1

tbsp

instant yeast

2

tsp

sea salt
Instructions
Add all ingredients except 1/2 cup of the flour to the bowl. Using the dough hook on your electric mixer, mix together well and allow to run on low speed for about 10 minutes. The dough will be loose and sticky but don't worry about that, just allow it to rise in a warm spot for a couple of hours or more before turning it out into a bread board and kneading in the other 1/2 cup of flour by hand. You may have to use a little more or a little less flour depending factors like local humidity.

Form 6 ounce portions of the dough into mini baguettes about 8 inches long. Place 4 of them on a silicone baking sheet and score the tops of them with a sharp serrated knife before letting them rise for another hour and a half until about tripled in size. I like to spritz the baguettes with warm water from a spray bottle while they are rising on the silicone baking sheet, which helps them rise better.

Preheat a large pizza stone at 450 degrees F for at least a half hour. (See notes for alternative method.) Place a small pan of boiling water on the rack below the stone. My stone is the size of a cookie sheet but if you have a smaller stone you will have to bake fewer baguettes at a time. You can also form the dough into a larger French Loaf if space is a problem. Carefully pick up the silicone baking sheet, keeping it stretched taut so that the baguettes will not fall off and drop it onto the hot stone.

Bake for about 25 to 30 minutes until the baguette is a deep golden color and quite hard when tapped with a knuckle. Let rest for 15 to 20 minutes if serving warm.
Recipe Notes
If you don't have a pizza stone or a silicone baking sheet, let the baguettes rise on parchment paper and then place them on a preheated cookie sheet in a 400 degree oven instead.