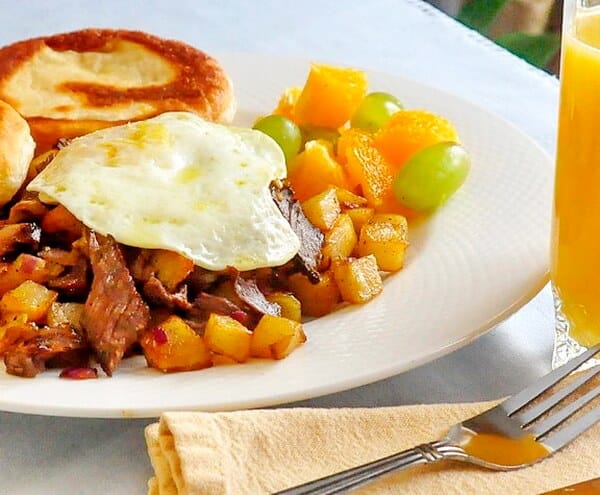 Leftover Prime Rib Hash
After spending the last 3 years as a business student, yesterday it all came to an end with the writing of my last exam so I guess I'm now officially unemployed! Who wants to face that on an empty stomach!? 😉
I'm not normally a big morning eater but we went out to an early supper last night and I woke up famished today. A quick dig through the fridge yielded some leftover prime rib steak and a bag of Coleman's touton dough…cha-ching! Find our touton recipe here.
My mind went immediately to a great brunch recipe that makes good use of leftover prime rib roast or steak. With the Easter holiday starting tomorrow, I thought this was a good time to feature this hearty and delicious prime rib hash which is an outstanding choice for any weekend brunch. For those of us who, on occasion, are fond of eating breakfast for dinner, this certainly would be an outstanding choice too!


Serves 4
4 large potatoes, peeled, washed and diced

3 tbsp butter

3 tbsp olive oil

salt and pepper to season


Heat the oil and butter over medium heat and add the potatoes. Season with salt and pepper And cook until golden brown. In the last couple of minutes of cooking time add:
2 cloves minced garlic

1/4 cup minced red onion


Cook just until the onions and garlic have softened before finally tossing in.
3 tbsp Worcestershire sauce

3 tbsp hot sauce (or to taste)

12 ounces, thinly sliced prime rib roast or steak


Toss together in the pan for only a minute or so to warm the steak. Serve with a fried egg on top.


Click here to join us on Rock Recipes Facebook Page.