Steak Bacon Walnut Blue Cheese Caesar Salad – substitute your favourite ingredients for a bold collision of flavours and textures in an outstanding dinner salad that's a complete meal in itself.
This incredibly flavourful dinner salad was a happy accident waiting to happen in my house! It is a bit of a "fridge cleaner" recipe idea that incorporates a few of my favourite things, some of which are likely not everyone's cup of tea. Still, with a few substitutions, you can make this exactly the way you like it.
During the summer months, there is often leftover steak in the fridge and I use it in a number of ways from steak quesadillas to open face sandwiches. I always manage to get another lunch, for myself at least, out of the steak dinner we had the night before.
On this occasion I was snacking on some leftover walnuts that I had used in a cake recipe, which were hanging out on the counter. I decided to make myself lunch using a few ounces of leftover grilled steak from the night before. I had just made some homemade caesar salad dressing the day before and there was some blue cheese in the fridge as well as some leftover crisp cooked bacon from breakfast on the weekend.
I pulled it all out of the fridge along with some crisp romaine lettuce and threw it together into this very satisfying salad. The earthy crunchy walnuts, the pungent blue cheese, the smoky salty bacon and the roasted garlic caesar salad all worked together incredibly well. It was a real collision of flavours and I absolutely loved it.
Now I know many people are not fond of blue cheese, which is fine. I didn't much care for it myself at first but I have grown to crave strong cheeses over the years. Nonetheless, some good aged cheddar, swiss, gouda or any favourite cheese could be substituted.
Walnuts tend to divide tastes as well, but pecans, pistachios, almonds or even cashews, another favourite of mine, will be just as delicious! The steak can be leftover or cooked fresh and sliced after resting for ten minutes when grilled. This complete meal salad is certainly worth grilling a prime rib or strip loin steak for any day of the week.
Like this Steak Bacon Walnut Blue Cheese Caesar Salad recipe?
You'll find hundreds of other great ideas in our Beef Recipes Category and even more in our BBQ & Grilling Category.
To keep up with the latest home style cooking & baking ideas from Rock Recipes plus daily recipe suggestions from decadent desserts to quick delicious weekday meals, be sure to follow Rock Recipes Facebook Page and follow us on Instagram Instagram.
You may also want to check out a whole collection of great pasta and potato salads in our post for a Newfoundland Cold Plate.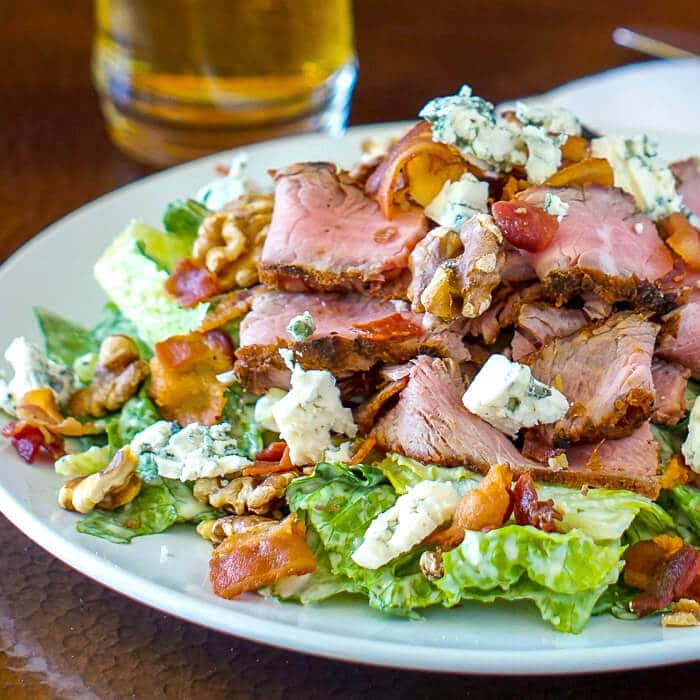 Steak Bacon Walnut Blue Cheese Caesar Salad
Steak Bacon Walnut Blue Cheese Caesar Salad - a bold collision of flavours and textures in an outstanding dinner salad that's a complete meal in itself.
Ingredients
1

pound

thinly sliced steak

3/4

cup

lightly toasted walnuts

6

strips crisp cooked bacon

chopped

3/4

cup

crumbled blue cheese

1

head romaine lettuce
Instructions
Preheat the oven to 350 degrees F.

Spread the walnuts on a baking tray and bake for about 8 minutes, tossing them halfway through that time. Set them aside to cool

Slice the steak thinly, chop the cooked bacon and crumble the blue cheese.

Wash and dry the lettuce leaves and  tear or cut them into bite small pieces.

Toss the lettuce with the salad dressing and share evenly between 4 dinner plates. (Use more or less dressing to taste)

Evenly scatter the bacon, walnuts and blue cheese over the dressed lettuce then top each with a portion of sliced steak and serve.