Roasted Garlic Caesar Salad Dressing. The easy way, using a plain mayo base. Roasting the garlic brings out its natural sweetness and adds a more mellow garlic flavour for an exceptional caesar salad.
This Roasted Garlic Caesar Salad Dressing is one that I've been using for a while now and is the exact same dressing I recently featured on Our Caesar Potato Salad recipe.
I just decided to post it again separately to make it easier for people to search, bookmark or to find in the Salads Category here on Rock Recipes.
Many years ago I worked as a line cook in a restaurant for a short time in downtown St. John's and learned how to make the house Caesar Dressing. A very close version of that dressing, which includes the old school method of using coddled eggs, can be found here with one of my mine and Spouse's all time favourites, Radicchio Almond Caesar Salad.
You can definitely use this simplified version of caesar salad dressing on that recipe too; it has an amazing balance of great flavours.
These days, I often like things more simplified while still retaining great flavour. Some people balk at the idea of salad dressings that use raw garlic because they find that flavour too intense.
Roasted Garlic is the key ingredient
Although you can substitute a couple of cloves of very finely minced garlic in this recipe, roasting the garlic here takes care of that robust garlic flavour, mellowing it considerably.
I am not saying one way or the other is preferable, I like them both, but I have a particular fondness for roasted garlic in general and take every opportunity to us it when I can. Whenever we have English Style Roasted Potatoes, I always roast garlic cloves with them and squeeze the cloves out of their skins to serve with the potatoes and a dollop of sour cream.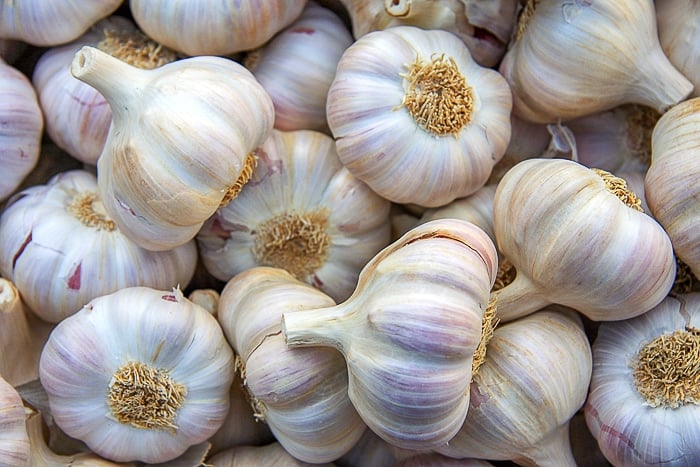 That is probably the best way I have ever eaten potatoes and is as near perfect a side dish as I have ever made. I just love it.
Because the garlic mellows and sweetens when roasted, you can use a considerable amount more than raw garlic. Here, I have added an entire small head, only about the size of a small egg.
If you are concerned about the amount of garlic, try a half head first and see what you think.
Make Roasted Garlic Caesar Salad Dressing in advance
Although this dressing is ready to serve once blended together, it is best made at least a couple of hours in advance so that the flavours can meld together well.
Because there is no raw egg in the dressing it should keep for a few days in an airtight container. I love my caesar salads so much that when I made a batch for this recipe post. I ended up eating it 3 days in a row…and I didn't mind one little bit.
For an outstanding Chicken Caesar Salad use our version of Homemade Shake 'n Bake on boneless skinless chicken breasts, sliced and served on top. This has become a go-to quick dinner at our house.
Like this Roasted Garlic Caesar Salad Dressing recipe?
Be sure to browse the photo index of delicious dishes in our Healthy Eating Category.
To keep up with the latest home style cooking & baking ideas from Rock Recipes plus daily recipe suggestions from decadent desserts to quick delicious weekday meals, be sure to follow Rock Recipes Facebook Page and follow us on Instagram.
Looking for more potato or pasta salad side dishes? Be sure to check out this collection of over 20 Pasta & Potato Salad recipes.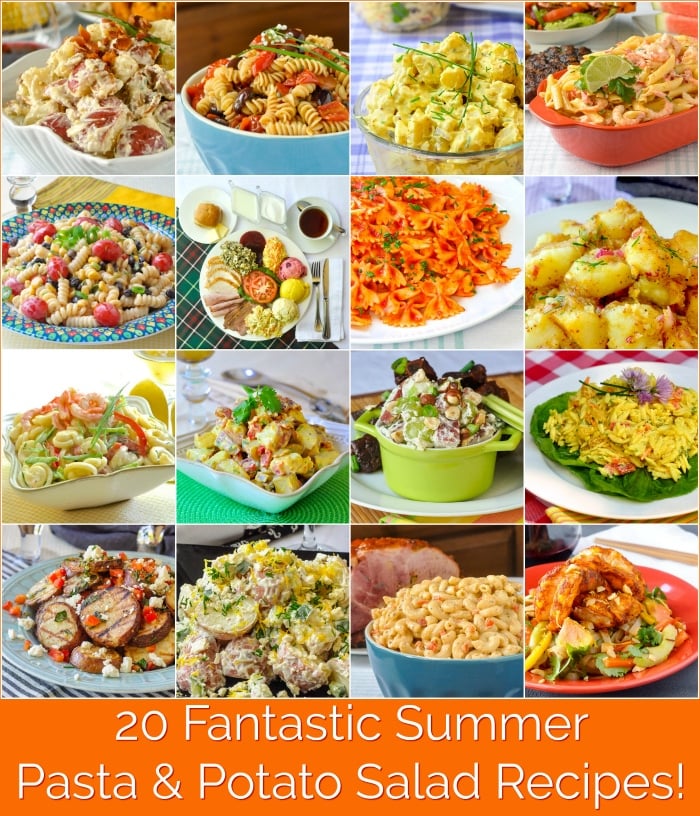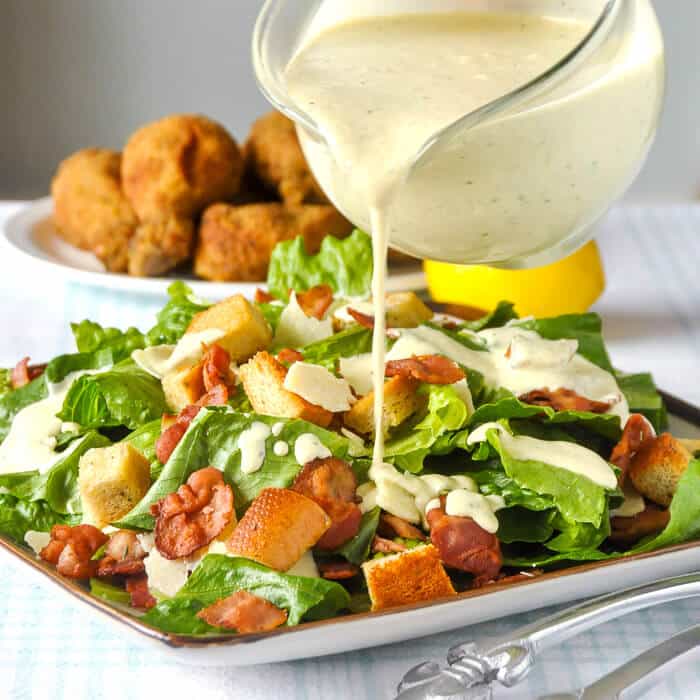 Roasted Garlic Caesar Salad Dressing - the easy way using a plain mayo base.
Roasted Garlic Caesar Salad Dressing - the easy way using a plain mayo base. Roasting the garlic brings out its natural sweetness and adds a more mellow garlic flavour for an exceptional caesar salad.
Ingredients
1

cup

good quality mayonnaise

( you may use low fat if you like)

1

small head of roasted garlic

, mashed (see note)

1/3

cup

finely grated parmesan cheese

1

tbsp

dijon mustard

juice of half a lemon

1

tbsp

Worcestershire Sauce

2

tbs

of red wine vinegar

(or white wine vinegar)

2

tbsp

chopped fresh parsley

1/2

tsp

anchovy paste

(optional or to taste)

pinch salt and pepper to season
Instructions
Mix all of the ingredients of the caesar salad dressing together well. You can do this just with a whisk or in a blender or food processor

Chill well before serving.
Recipe Notes
Total preparation time does not include the time to roast the garlic.
2. To roast a head of garlic, cut a little off the top of the head (1/4 inch or so) to reveal the cloves inside. Place the garlic head on a square of aluminum foil, sprinkle on a little salt and pepper to season and then drizzle with a teaspoon of olive oil. Bring all sides of the aluminum foil together and twist to seal the garlic head inside. Roast in a 350 degree F oven for about 45 minutes. Squeeze the garlic cloves out of their skins and mash with a fork until a smooth paste forms.

Rock Recipes a participant in the Amazon Services LLC Associates Program, an affiliate advertising program designed to provide a means for us to earn fees by linking to Amazon.com and affiliated sites. Our product recommendations are almost exclusively for those we currently use or have used in the past.