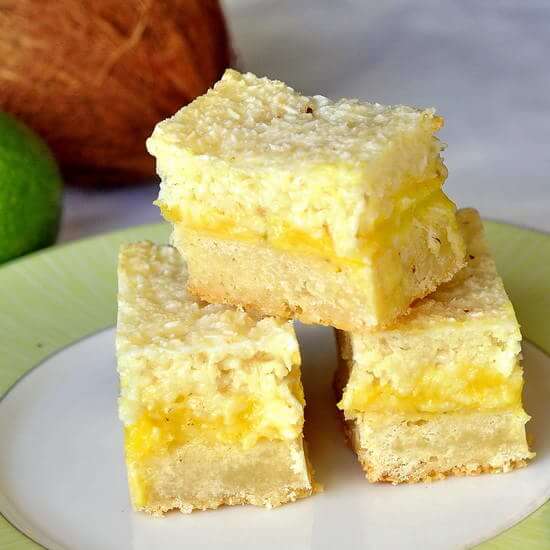 Lime Coconut Shortbread Bars
Today's cookie recipe is the result of combining three elements from other cookie recipes to create a really delicious marriage of flavors. The homemade lime curd is the key to these cookie bars because the tangy lime flavor balances the sweetness of the moist coconut layer. The buttery shortbread supports the other flavors with simple crispy buttery goodness.
Lightly grease and line a 9×9 inch baking pan with parchment paper. Preheat oven to 350 degrees F.
Start by making a lime curd for the center of the cookie bars. It is nest to make this in advance and let it cool down before using. You can even store it in the fridge for a couple of days beforehand.
Lime Curd
6 large or extra large egg yolks
Zest of 2 large limes
½ cup fresh lime juice
¾ cup sugar
½ cup butter cut in small pieces
Whisk together egg yolks, lime juice and zest, and sugar in a small saucepan. Cook over medium low heat, stirring constantly until the mixture thickens enough to coat the wooden spoon. Remove from heat and whisk in the butter, one piece at a time until smooth.
At this point you can press the lime cured through a sieve to remove the zest if desired.
Shortbread Layer
Rub together using your hand or pulse together in a food processor until crumbly:
2 3/4 cups flour
3/4 cup brown sugar
1 1/2 tsp baking powder
3/4 cup butter
Press the crumbly mixture firmly into the bottom of the pan and bake for 20 minutes. Cool for a few minutes before spreading the lime curd layer on.
Coconut Layer
1 can sweetened condensed milk,
2 cups dried coconut
1 tsp vanilla extract
Mix together until completely blended then drop by heaping teaspoonfuls onto the lime curd layer. Spread out carefully and evenly..
Bake at 350 degrees F for 25 minutes. Cool completely before cutting into squares or bars. These will cut best when completely chilled.