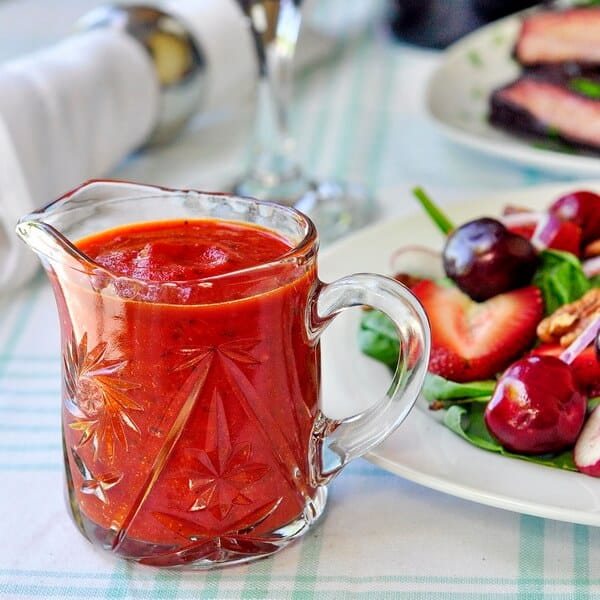 Our family just returned from our summer vacation road trip from Savannah to Boston and let's just say there was a fair amount of caloric indulgence all up the eastern seaboard of the US. With great summer produce still available, we will be seeing even more delicious salads on the dinner table to balance the excesses of the past few weeks. That's not a bad thing, especially when those farm fresh salad greens and other fruits and vegetables get tossed with this delicious, fat free dressing made from sweet summer red peppers and the savory sharp flavor of white balsamic vinegar.If you cannot find white balsamic vinegar, a good quality white wine vinegar will also work well. The dressing should keep for a few days in a covered container in the fridge but the recipe is also very easy to make a half batch.
2 large roasted red peppers
During the summer months when fresh peppers are more plentiful and less expensive, I like to roast the peppers on the grill, getting them almost black before popping them into a Ziploc bag to sweat it out for 5-10 minutes. The charred skins are then very easily removed and discarded leaving the roasted flavor behind. I have also used good quality bottled roasted red peppers at other times of the year which is very good too.
Skin and de-seed the roasted peppers, chop them roughly and add them to a blender or food processor. Puree the peppers until smooth along with:
pinch salt and pepper
4 cloves roasted garlic
1/4 cup white balsamic vinegar (or white wine vinegar)
2 tbsp honey
2 tbsp fresh chopped herbs (oregano, basil or chives or a combination works very well)
The recipe does not call for any oil but you can add a few tbsp of extra virgin olive oil if you choose.