This incredibly delicious recipe for tender roast leg of lamb has a flavourful smoked paprika and garlic rub on the outside and a fragrant summer savory and onion stuffing inside. What an amazing idea for Easter dinner.
Rock Recipes is happy to have this post sponsored by McCormick Gourmet brand, which provided both product and compensation for the development of this recipe.
I have to admit that when I was asked by McCormick brand to create a new roast lamb recipe for this post, I was very pleased indeed. I absolutely love roast lamb and I've been successful in getting the rest of the family on board to enjoy one of my favourite meals more often and in several different ways.
When I immediately thought about stuffing this boneless lamb leg, my mind went in two herb and spice flavour directions. Smoked Paprika is a much loved spice here on Rock Recipes as a quick search of our recipes will reveal.
I absolutely love the subtle smoky flavour that works so well with chicken, beef or pork, so I thought, "Why not lamb?" Newfoundland's favourite herb, summer savoury, makes a tasty compliment to the stuffing in this roast dinner too.
Adding flavour.
Summer Savory is a much underused dried herb that is very popular here in Newfoundland in our traditional stuffing for poultry. It is a mild, fragrant herb with a beautiful subtle flavour that goes well with chicken, pork and even fish.
I've even used a little of it in a version of Hollandaise sauce for my Eggs Benedict which everyone absolutely loves.
As happens lots of times when I come up with two choices for a new recipe, I decide not to decide and use both.
In this terrific recipe the summer savory gets used in a slightly modified version of our traditional Newfoundland savory and onion "dressing" (stuffing). The smoked paprika goes into a simple dry rub for the outside of the lamb to infuse flavour as it open roasts.
The result was wonderfully delicious and would make an outstanding addition to your Easter dinner table where so many folks traditionally serve lamb.
This recipe almost begs to be served with our crispy Roasted Potatoes as shown in the photos.
For other side dish suggestions take a look at our post for Thanksgiving, with side dishes you can use year round.
Originally published march 2015.
Like this Stuffed Roast Lamb recipe?
You'll find hundreds of other great ideas in our Slow Cooked Sundays Category and even more in our Chicken Recipes Category.
It's easy to keep up with the latest home style cooking & baking ideas from Rock Recipes. Be sure to follow Rock Recipes Facebook Page and follow us on Instagram.
Plus you'll see daily recipe suggestions from decadent desserts to quick delicious weekday meals too.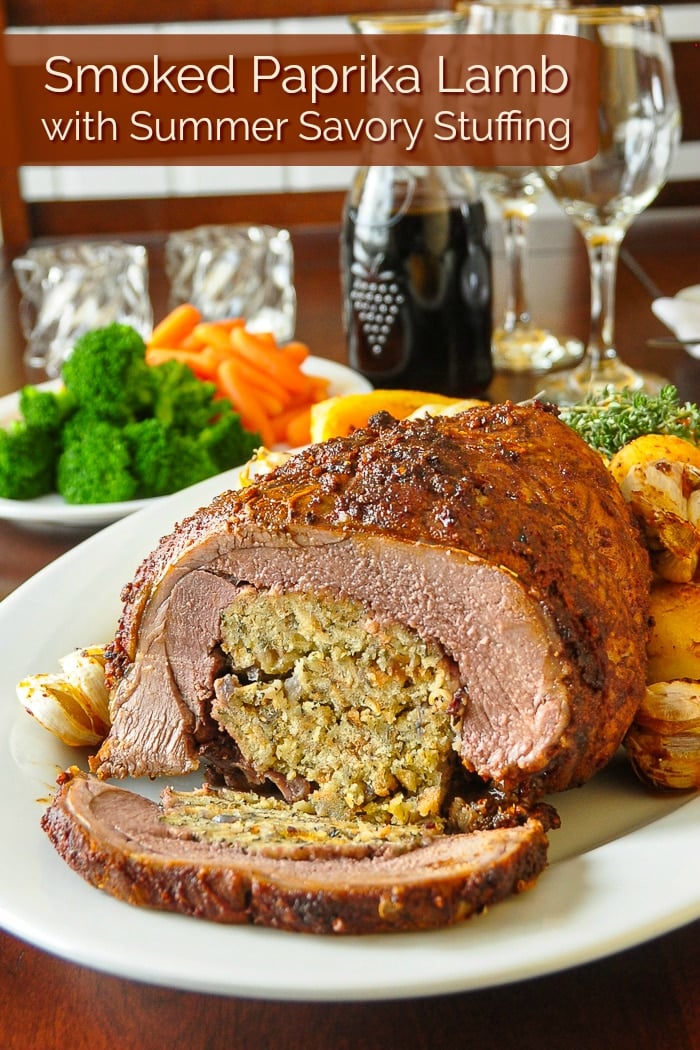 You can also sign up for our FREE newsletter to know immediately when we add new recipes. You'll also get weekly suggestions for great family friendly meals and desserts too!

Rock Recipes a participant in the Amazon Services LLC Associates Program, an affiliate advertising program designed to provide a means for us to earn fees by linking to Amazon.com and affiliated sites. Our product recommendations are almost exclusively for those we currently use or have used in the past.
Visit my Amazon Store for my favourite kitchen gadgets and appliances, plus recommendations from my personal cookbook collection.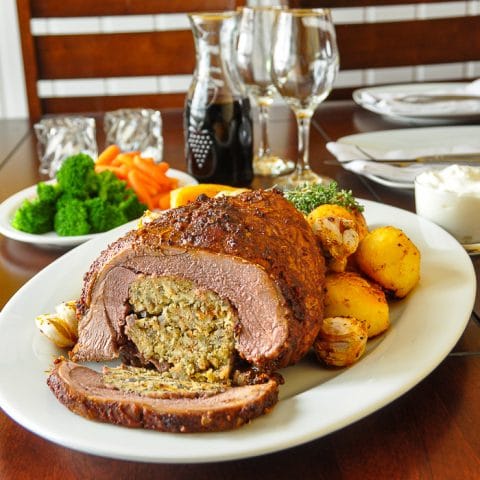 Yield:

8 Servings or more.
Smoked Paprika Roast Lamb with Summer Savory Stuffing
Total Time:
2 hours
30 minutes
This incredibly delicious recipe for tender roast leg of lamb has a flavourful smoked paprika and garlic rub on the outside and a fragrant summer savory and onion stuffing inside. What an amazing idea for Easter dinner.
Ingredients
4 lb boneless leg of lamb
For the Summer Savory Stuffing
1 small red onion, finely diced
3 cloves garlic, finely minced
1/4 cup butter
4 cups coarse bread crumbs
2 tbsp McCormick Summer Savory Leaves
1/2 tsp black pepper
pinch salt
1 egg beaten
1/4 cup vegetable stock or water
For the Smoked Paprika Rub
2 tbsp McCormick Gourmet Smoked Paprika
1/2 tsp black pepper
1/2 tsp kosher salt
3 cloves finely minced garlic
1 tbsp Worcestershire Sauce
1 tbsp olive oil
Instructions
To prepare the Savory Stuffing
Saute the onions and garlic in the butter over medium heat for just a few minutes until the onions have softened but not browned.
Toss together the breadcrumbs with the summer savory leaves, salt and pepper. Next add the sauteed onions and garlic along with the butter from the pan.
Beat together the egg and vegetable stock and pour over the breadcrumb mixture. Mix the stuffing together with a wooden spoon until well combined.
To prepare lamb
Lay the boneless leg of lamb on a cutting board opening it up so that it is as flat as possible on the board. At this point cut horizontally into the thickest parts of the roast but not all the way through, so that you can fold the cut sections back and even out the thickness of the meat. Alternatively you can use a meat mallet to pound the roast to about a 1 to 1 1/2 inch thickness.
Press the stuffing together in handfuls and place it evenly along the center line of the flattened roast.
Bring the sides of the roast up over the stuffing and tie with several lengths of butcher string to close. Use a couple of lengths of butcher string to tie the two ends closed as well, so that they cross the other strings at a 90 degree angle. This helps keep the stuffing inside and ensures more even cooking.
Adding the dry rub and roasting
Mix all of the ingredients in the Smoked Paprika Rub together and spread the paste all over the roast. Use your fingers to rub it in evenly over all surfaces of the tied and stuffed lamb leg.
Let the rub marinate into the meat for an hour or so before roasting.
Preheat oven to 400 degrees F.
Place the prepared roast in a shallow roasting pan or on a parchment lined baking sheet roast for 20 minutes.
Reduce the heat to 325 degrees F and continue to roast for about 1 hour and 30 minutes or until a meat thermometer inserted into the center of the stuffing reaches 160 degrees F. This temperature should cook the lamb to medium well.
Once cooked, remove the roast from the oven and loosely tent it with aluminum foil. Allow the roast to rest for 20 minutes before carving.
Nutrition Information
Yield
8
Serving Size
8 Servings
Amount Per Serving
Calories

359
Saturated Fat

7g
Cholesterol

127mg
Sodium

462mg
Carbohydrates

20g
Fiber

4g
Sugar

3g
Protein

34g