26 Best Barbecue Side Dishes. Now grown to 35 year round tasty recipes! Cornbread, potato salads, baked beans & beyond to make your next backyard BBQ special.
Who doesn't need more great recipes for barbecue side dishes? Whether it's Pulled Pork, Smoked Brisket, Ribs, Chicken or Steak, you've got your main dishes sorted for the big summer barbecue. But what to serve with it?
As with most times of the year, when I post recipes for main dishes, I get the same question.Inevitably, the questions start coming in asking, "What do you serve with that?"
Summer barbecue season is no different. However, one of the things I love about anything grilled or slow smoked from the backyard BBQ, is that there are so many different options to serve as side dishes.
Barbecue side dishes make all the difference.
In fact, in my opinion, what distinguishes a great barbecue party form a mediocre one is the selection of delicious side dishes. The dishes that accompany the delicious grilled and smoked meats are so important too.
Well, I suppose there is one thing needed in order to leave a lasting impression. Naturally, a really fantastic dessert is essential too, like my Ultimate Strawberries & Cream Cake.
So, since we are in the middle of barbecue season, I thought I'd put together a selection of the most popular sides from Rock Recipes. Also, I have added a few personal favourites to help elevate your next barbecue.
No doubt, it will be one your friends will talk about and ask for the recipes.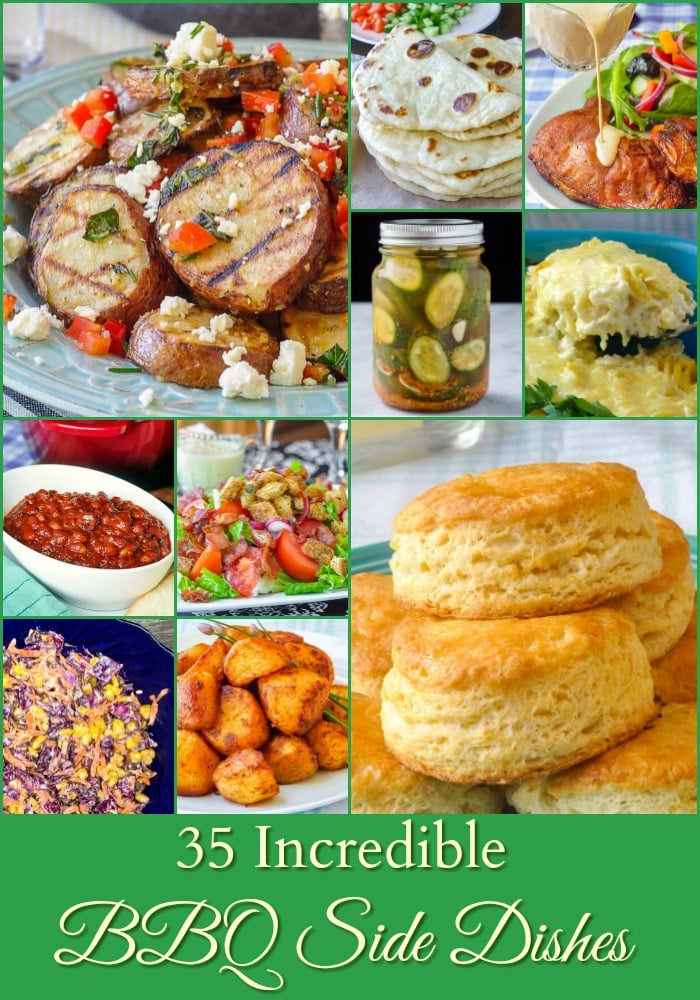 2020 Update!
Lots of new side dishes added, plus BONUS RECIPE for the kids now added at the end of the list!
PLUS…my latest Deviled Egg Potato Salad has beed added. It was so popular that I added a link at the bottom for that recipe too. We're now up to 26 recipes in this collection!
Like this barbecue side dishes recipe collection?
Find plenty more BBQ inspiration in our huge category of Barbecue and Grilling recipes.
Bonus recipe! Our newly updated recipe for an old favourite! Molasses & Bacon Baked Beans!
Honey Lemon Vinaigrette on Peach Bacon Salad
Bacon Potato Salad with Sweet Mustard Dressing
These super simple, super quick Yogurt Flatbreads turn any BBQ main dish into amazing wraps.
Salad with Creamy Dijon Dressing and Garlic Herb Butter Croutons
White Barbecue Sauce – An Alabama Favorite
The Barbecue Side Dishes keep coming.
Southwestern Chipotle Lime Pasta Salad
Tomato Cucumber Salad with Chickpeas & Mint
Barbecue Spice Roasted Potato Nuggets
Copycat Kraft Macaroni Salad
Corn Flour Biscuits with Maple Butter
Warm Grilled Potato Salad with Lemon and Oregano
Lemon Chive Grilled Corn Salad
Creamy Bacon Parmesan Potatoes
Strawberry Spinach Salad with Goat Cheese & Easy Honey Dijon Dressing
Chickpea Salad with Quinoa Lemon and Ginger
Originally published July 2015
It's easy to keep up with the latest home style cooking & baking ideas from Rock Recipes. Be sure to follow Rock Recipes Facebook Page and follow us on Instagram.
Plus you'll see daily recipe suggestions from decadent desserts to quick delicious weekday meals too.
You can also sign up for our FREE newsletter to know immediately when we add new recipes. You'll also get weekly suggestions for great family friendly meals and desserts too!

Rock Recipes a participant in the Amazon Services LLC Associates Program, an affiliate advertising program designed to provide a means for us to earn fees by linking to Amazon.com and affiliated sites. Our product recommendations are almost exclusively for those we currently use or have used in the past.
Visit my Amazon Store for my favourite kitchen gadgets and appliances, plus recommendations from my personal cookbook collection.