Devilled Egg Potato Salad. A simple combination of flavours in a very satisfying version of potato salad that you will use year round, from summer barbecues to winter pot luck dinners.
Regular followers will have noticed that I put together a collection of 21 Best BBQ Side Dishes this past week and the post was an almost immediate hit on our Facebook and Pinterest Pages. Requests for side dish recipes continue year round and the BBQ season is no exception. The response was so good to that recipe collection that I decided to get a few more barbecue friendly side dishes up over the coming weeks.
My mom and her twin sister were coming for lunch along with my Uncle Bill a couple of days ago. Mom has been asking me to grill her a decent burger so that was on the menu and I decided a couple of cold side dishes, that I could prepare in advance, was the way to go.
I always like potato salad made a day in advance; I think it tastes better when the flavours have been allowed to sit for a while and I especially like potato salad to be very cold. There is something very off-putting to me about potato salad that is at room temperature and always has been.
Even as a kid, when preparing a traditional Newfoundland cold plate for Sunday Supper, I almost always did the potato and pasta salads on Saturday. Sunday afternoons could be even lazier then, when the leftover cold cuts from our Sunday roast and the already prepared salads could just be pulled from the fridge and served in a snap.
The idea for a deviled egg potato salad was kind of a cross between "egg and apple" potato salad that I made while growing up, along with a deviled egg recipe that I used years ago and a potato salad that I saw on a cooking show a while back . Their deviled egg potato salad had raw onion in it, which is one of the things I despise in potato salad, so that was out for me.
In the end I just took the things that I like, tossed them together and it was exactly as I wanted it. My guests thought it was delicious too and went home with the leftovers. Mom had the leftovers from the Old Fashioned Peach Crumble that we had for dessert too.
The flavours are very simple and satisfying but what made the salad for me is the chopped sweet pickles. Their crunchy sweetness was great in this salad. You'll love it served with anything from the grill or BBQ this summer or maybe you can have it year round on those simple cold plates that we Newfoundlanders still seem to love.
Like this Deviled Egg Potato Salad recipe?
You'll find hundreds of other great ideas in our Side Dishes Recipes Category and even more in our BBQ & Grilling Category.
To keep up with the latest home style cooking & baking ideas from Rock Recipes plus daily recipe suggestions from decadent desserts to quick delicious weekday meals, be sure to follow Rock Recipes Facebook Page and follow us on Instagram.
You might also like: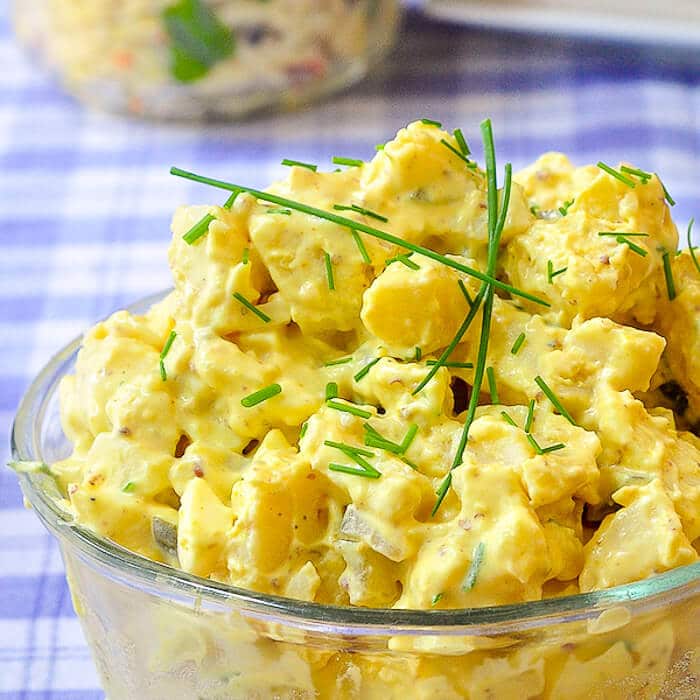 Deviled Egg Potato Salad
Deviled Egg Potato Salad - a simple combination of flavours in a very satisfying version of potato salad that you will use year round, from summer barbecues to winter pot luck dinners.
Ingredients
6

cups

cooked potatoes

cut in small chunks or diced.

6

hard boiled eggs

3/4

cup

plain mayonnaise

not salad dressing or salad cream

1/4

cup

sweet pickle juice

1/2

cup

roughly chopped sweet pickles

1/2

tsp

coarsely ground black pepper

1/2

tsp

salt

1/2

tsp

turmeric

2

tbsp

whole grain Dijon mustard

1

tbsp

honey
Instructions
Cook the potatoes in salted water and let them cool completely, or at least until they are cool enough to handle. Chop them into small chinks or about a half inch dice.

Hard boil the eggs for about 10-12 minutes. Drain off the boiling water, cover the eggs in cold water and let them cool for 10-15 minutes before peeling off the shells and cutting the eggs in half to remove the yolks to a small bowl. Chop the egg whites into small pieces and add to the chopped potatoes.

Add about a tbsp of the mayo to the egg yolks and mash with a fork until the yolks and mayo form a smooth paste.

Add the mashed egg yolks to the chopped potatoes along with all of the remaining ingredients.

Toss together well until all of the potatoes are evenly coated in the dressing that forms.

Cover and chill the potato salad for several hours or overnight before serving.
Rock Recipes a participant in the Amazon Services LLC Associates Program, an affiliate advertising program designed to provide a means for us to earn fees by linking to Amazon.com and affiliated sites. Our product recommendations are almost exclusively for those we currently use or have used in the past.